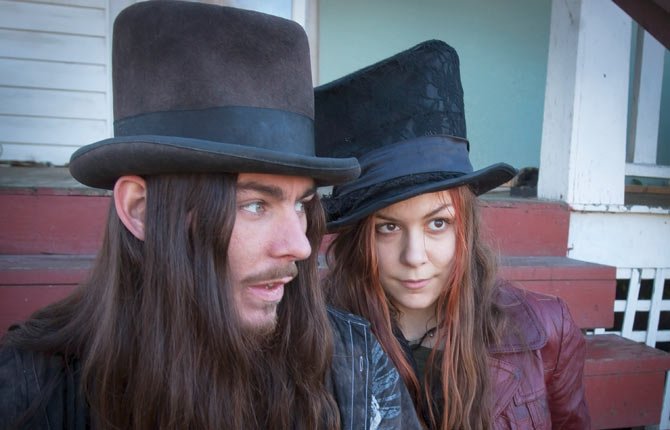 Alexis Melton and Kennie Jones met a few years ago, when both were buying Sobe drinks at Kmart and neither was "in a good mood for people," Melton recounted.
Despite this shared foul mood, Melton's first thought when she spied Jones was: "He'd look good in a top hat."
And that's how Melton, 19, and Jones, 24, eventually became something of a local landmark in The Dalles, a distinctive pair who regularly sport attire from another century — right down to the top hats.
The duo, who met five years ago and are now engaged, can log up to six miles a day on foot, making them highly visible.
Both prefer black clothing, and both wear long, black old-fashioned-looking coats.
Melton was asked to describe the style of her coat, and suggested, "Awesome?" then conceded, "I have no idea, I just know that they don't make them anymore."
Both feel they were born in the wrong era, and both are drawn to the 1800s. They aren't drawn to a particular country, but she simply specified, "Wherever they didn't burn witches."
The duo can identify with being a bit persecuted, though. When they first started wearing their distinctive clothes and head gear a few years ago, they endured a fair amount of razzing.
"It was kind of really dreadful for both of us," she said. Most people just gave them rude looks. The more vocal critics yelled "Halloween is over!" or "Freak!"
They still get the occasional crack about Halloween, but Melton said the feedback they get now is so positive it's one of the reasons they decided to stay in The Dalles and not move to Portland, where they might blend in a bit better.
"Now people are enthusiastic about it, because it's not a phase. When it's not a phase, it's a little more respected," she said.
Motorists "honk and wave and holler and cheer," she said. They've been jokingly called a landmark, had their photo taken, and one person even wanted to paint their portrait. "That was kind of awkward," Melton admitted.
Asked what prompted them to express themselves this way, Melton said, "We've all tried to be like everyone else at first, regardless of what we might've felt. And that didn't really work. And then as you get older you care a little less about what people think.
"If they don't like you for trying to fit in, then they're not going to like you no matter what. It's a freedom, I guess."
Jones said, "I've always been kind of odd, I guess." He said he "always" felt like he didn't fit in.
As for what drew him to their top-hat style, he said, "I don't know, that's just the way we are. I don't do it for any particular, like, reason or anything."
Pinning a label on their style is problematic. They've been called goth, grunge, steam punk, alternative, and Melton's own preferred term, bohemian. "The only reason I say bohemian is because that's the only thing that's entirely undefined." They have their own thing going on that defies a label.
"We're a big mix of everything, but we usually stay away from bright colors. We're not in style, by any means," she said.
She and Jones never expected the positive feedback they've received. "We were just 'whatever' about it. We were just, 'top hats.' But we like the way we dress and it was kind of a shock the way people react towards it."
They even face expectations now. She recounts how once "It was all rainy and we weren't wearing our hats for a few days and people were like, 'Where did it go?'"
The top hat Jones wears was one Melton found when she was 14 at St. Vincent de Paul, where she now works. It's an original felt hat dating to the 1800s, she said. Her own hat, with its angled top, was found at a thrift store in Portland. "I sat on it and now it looks all cartoony," she said.
They do suffer for their fashion a bit. The peripheral vision can be blocked, the famous gorge wind can be a challenge, as can the occasional low-lying branch.
And, even though they walk miles a day — "We just like to walk, really, it's a small town and why not?" Melton said — when asked if she wears sensible shoes, she replied, "Absolutely not. I go through shoes insanely. It's really lucky that we're at a thrift store a lot. Because we walk so much, you don't realize how many miles you put on your shoes until you wear them out."
For his part, Jones said he likes to walk because it's "just being out, moving around."
Melton grew up in The Dalles and Jones moved to Lyle from Portland when he was 15.
She didn't finish high school, but is a self-taught graphics designer — she learned it at age 11 — and considers herself a "nerd."
"I was really good at web design, but things changed and I didn't keep up with it. When I was younger, like 13, I was designing all kinds of websites."
She did lots of work for vampirefreaks.com.
"That's kind of embarrassing because I don't want people to think I'm into Twilight."
Jones is currently out of work with a bad back, but is into etching glass and metal and writing lyrics and playing guitar.
For his part, he's probably glad Melton spied him that day at Kmart and thought he'd look good in a top hat.
"I always liked top hats, you just don't really come across them," he said.
But, thanks to this oft-walking duo, residents of The Dalles come across them quite a bit.