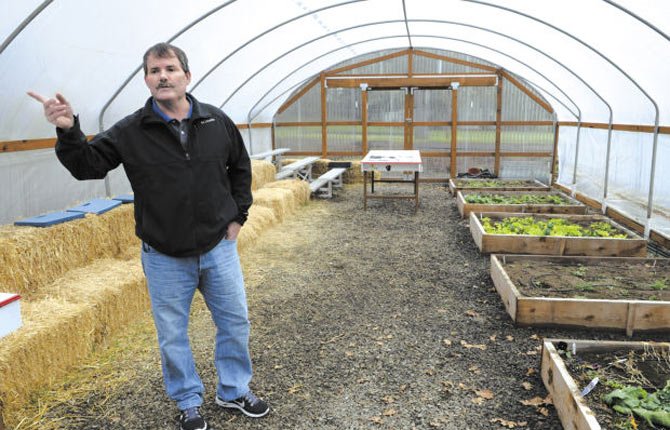 LEBANON — When Rick George was a boy growing up in Lebanon, his family had a sawdust furnace, the kind with a whole room devoted to sawdust as fuel.
Scooping the sawdust into the furnace was one of George's jobs. But one summer day he decided to spread some of it elsewhere: a thick trail all around his backyard, for his own homemade track. There, he held races for the neighborhood kids.
That neighborhood track symbolizes the passions that would follow George his whole career: kids, sports and outdoor learning.
"I grew up kind of a jock," said George, now 61 and semi-retired from his teaching job with the Lebanon Community School District. "But for some reason, I always did like to garden."
Mid-valley athletes may remember George best as the tireless coach who led elementary kids through adults in almost three decades of sports.
They may recall how he was coaching children's teams even before his 1970 graduation from Lebanon High School, or how he scheduled lunchtime games as a teacher's aide at Central Elementary in Albany while attending Linn-Benton Community College.
If they lived in Sherman County in the mid-1970s, they would have seen George just about everywhere: coaching baseball, football, wrestling, track, boys and girls basketball, even a little bit of soccer.
Back in Lebanon as of 1979, they may remember how he built three softball fields at Cascades Elementary School. He was the commissioner for an adult softball league there for several years.
He designed a concession stand for the high school woodshop class to build and and his wife, Deb, ran it at the tournaments. Proceeds went right back into the program.
George was teaching full-time at that point, but still managed to squeeze in a job teaching sports for children through Linn-Benton Community College. The series of 10-week classes lasted for nearly 20 years.
The garden guy
George still helps coach baseball at Lebanon High and at the Boys & Girls Club, but these days, Lebanon students know him better as the garden guy.
He's the man whose interest and dedication helped build five school gardens and who connected with health, nutrition and Master Gardener programs in the community to build the community garden program known as Planting Seeds of Change.
George is quick to point out it takes a whole team to make a school garden grow. Administrators have to give access. Donors have to come through with materials. Teachers must be willing to sacrifice class time. Volunteer labor is critical.
However, he acknowledged, "I'm the one who seems to call the people to get the help, ... and I am committed to this deal.
"Some people think I'm crazy."
Born in the hospital building on Second Street in Lebanon before it became a library (and, later, a teen center), George grew up learning to garden with his family.
Those three big cedar trees behind what's now a Taco Bell? Those are the ones remaining from a grove George planted when the property belonged to his parents, David and Helen George.
In 1979, after his four-year stint in Sherman County, George was hired to teach sixth grade at Lebanon Middle School. Some years later, district crews began putting new school signs on the sweeping lawns.
The new signs looked a little bare to George, who suggested he take some students out to plant bulbs around them.
"Not all bosses are receptive," George recalled. "They see it as taking risks. 'You want to take kids out and plant bulbs?' ... He made me do it on my lunch hour."
Future bosses were more open to the idea. When George was moving to his new spot as a science teacher at Seven Oak Middle School, he was able to choose his own room from the remodel plans.
"I said, I want to claim this classroom, because this area here is good for a garden," he remembered saying to Rob Slauson, then the principal. Seven Oak's garden project was under way.
George began the Seven Oak garden in the fall of 2002. He'd been working with kids for 27 years at that point, in classrooms and clubs and teams and several rounds of Outdoor School.
He'd seen how being a part of a group helped students blossom as individuals. He'd seen how a connection with the outdoors helped spark an interest in the environment. A full-time garden, he figured, would - well - help students grow.
On the surface, George used the middle school garden as a teaching tool for math and science, and for practical skills such as how to use compost and the different ways to handle bulbs, seeds and roots.
Philosphically, however, the garden became a teaching tool for life, and how not everything goes as planned.
"They learned 'hey, sometimes the bugs come get us. Sometimes the rain comes and gets us,'" he said.
These days, Planting Seeds of Change uses the produce from school gardens for cafeterias and summer meal plans. The softball fields George leveled at Cascades now house a greenhouse and the beginnings of an orchard.
George retired from full-time teaching in 2006 but still works part-time for the district. He is a year-round steward for the gardens, leading student volunteers in weeding and watering at the school gardens during the summer and other times when classes aren't in session.
He's still there even if nobody turns out, checking on the plants himself, spraying weeds with high-strength vinegar at 6 a.m. if that's what's required.
On Jan. 14, he'll be in Salem, speaking about greenhouses and how to connect with school administrators, at the first Oregon School Garden Summit.
When the weather dries out a little, he plans to put a new coat of finish on the old concession stand from Cascades, which now houses garden supplies at Hamilton Creek School.
"You know, that's what it takes," he said with a shrug. "I'll just keep plugging away."