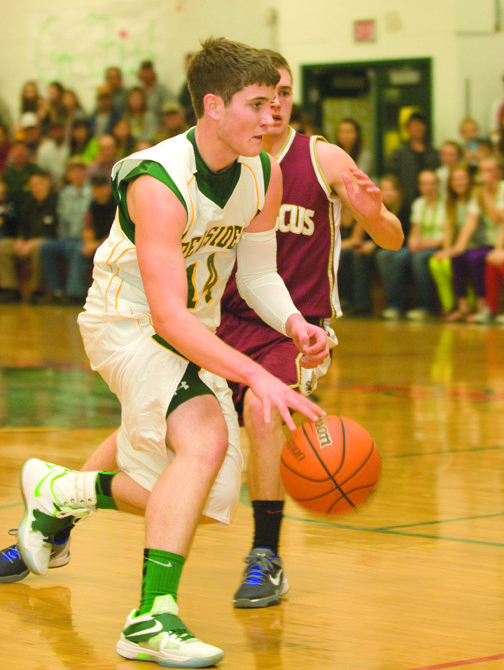 Two nights following an 85-55 loss at the hands of defending 2A state runner-up Irrigon, the South Wasco County Redsides used a stout double-double effort of 25 points and 11 rebounds from senior forward Nathan Duling to drop Culver 92-48 in non-league boy's basketball action Monday at Culver High School.
"Luckily we didn't dwell on the loss. If we could learn from it, we knew we would be better off," said SWC head coach Jim Hull. "That is the good thing about this team. It is easy to point fingers, but instead they dug a little deeper. If it isn't working, we can make those changes quickly and are adaptable. If you are adaptable and can overcome, you are in a better place to succeed."
Both SWC and Culver fought to a near standstill through one quarter of play with the visiting Redsides ahead by a 21-20 score.
After that point, however, SWC flipped the switch and began using its vaunted pressure defense to gain a noticeable edge.
The Redsides forced 24 turnovers, netted 17 steals and forced the Bulldogs into 18 of 46 shooting from the field.
In the second half, Culver managed just seven field goals, as SWC came out with scoring outputs of 28-11 and 17-5.
"We looked at how they were handling our full court pressure and we were able to adjust well to their spacing," Hull added. "As soon as we did that, Culver had a difficult time getting the ball past half court. When we adjusted, our boys came on and created turnovers and we were able to get separation."
As Culver struggled to gain any continuity as the game progressed, the Redside offense appeared to hit a stride nearly at the pace it did nine days ago when posting a school-record 104 points against the same Bulldog group.
In the second stanza, SWC sank 19 of 44 field goals, and went 37 for 87 for the game.
In accounting for his season-high 25 points, Duling hit on 6 of 12 from the floor, adding 4 for 7 from beyond the arc.
Travis Hayes hit five 3-pointers and totaled 19 points, Colton Nannini had 13 and Loreto Morelli was good for 10 points.
Leading scorer, David Ocacio, had an all around game with nine points, seven assists, six steals and four rebounds.
Devan Dammann added nine points, four boards and two steals, Brody Myers rattled off six points and Ty Herlocker chipped in with two points, an assist and a block.
SWC also committed a season-low five turnovers.
"It was good to see in the fourth quarter, of those 17 points, 15 came from all of the bench guys," Hull said. "They were playing against Culver's starters and they stepped up to play well. If you are building for the future, it is good to see them play well."
On Saturday, Irrigon used the first three quarters to impose its will on the visiting Redsides in an 85-55 win.
The Knights stood tall in the opening period with a 30-11 run and padded their lead thanks to a 15-9 surge to lead 45-20 at the intermission.
Irrigon shot 19 of 35 in the opening half, and played out an efficient 13 for 23 in the second stanza, as Adrian Romero led all scorers with 23 points.
For the Redsides, Hayes had 18 points, four rebounds and three assists, Hayes tallied 16 points and Ocacio stroked out 10 points, four rebounds, two assists and two blocks.
Nannini hit six points and Duling added three points for the Redsides, who hit on 19 of 54 from the field and went 12 of 19 from the line.
After nine games, the Redsides are 5-4, but that is facing the toughest schedule in school history with games against Irrigon, Portland Lutheran and Crosshill Christian.
Hull has hopes that, by being put through a meat grinder, his group will be better prepared for the likes of Big Sky conference foes Sherman, Dufur, Horizon Christian and Ione.
"The Big Sky Conference this year is going to be very tough," Hull said. "Sherman has had a good preseason, Dufur is doing well and so are Horizon and Ione. Now is time where we are going to test our mettle. For all of us. If we are going to compete with those teams, we needed to play such a tough schedule to help us get a good gauge on what areas we needed to improve on."
SWC (5-4 overall) hosts No. 8-ranked Sherman (5-3) at 7:30 p.m. Friday for the start of Big Sky play.