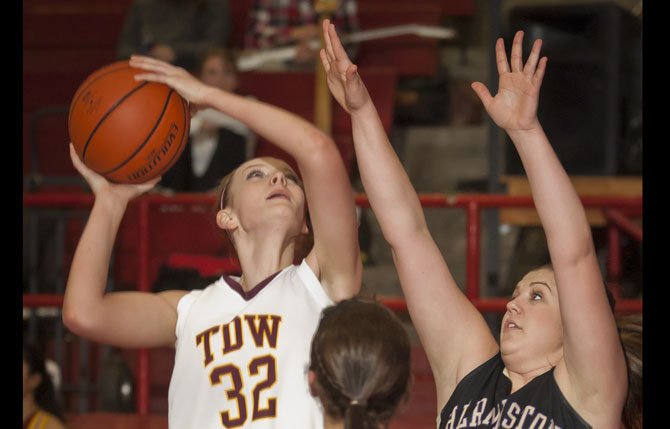 One of the best measuring sticks for a basketball team is playing a higher level of competition in a tournament setting.
The Dalles Wahtonka amassed a 3-1 record for seventh place in four days of play with victories over Rex-Putnam, Centennial and West Salem at the Nike Interstate Shootout Tournament ending Monday night in Lake Oswego.
"This tournament was good for us because we were able to pinpoint some of our strengths and weaknesses," said TDW head coach Dan Telles. "The girls are beginning to understand how to play as a unit, to convert, to trust each other in order to be successful for the rest of the season. I thought that we played well. Everybody that went into the games stepped up and made a contribution."
In Monday's tilt against West Salem, the No. 9-ranked Eagle Indians fell behind early, but managed a 19-11 output in the fourth quarter for the 58-52 victory.
Much of the reason for T-Dub's comeback came from the hot shooting of senior forward Emily Bailey, who sank 11 field goals and went 8 of 10 from the free throw line for a season-high 32 points.
Bailey scored 22 points in the second half, including all 14 of her squad's points in the third frame.
"It was a great game. West Salem is a very solid team," Telles said. "They were strong in every area. Our girls were able to execute and do all of the little things to help us win this game."
The Eagle Indians led 13-11 after one quarter, but then West Salem battled back with a 17-12 spurt to lead 28-25 at the break.
With Bailey's surge in the third, the Tribe inched to within a 41-39 deficit entering the fourth quarter before creating distance in the finale on the heels of a 19-11 run.
Katie Conklin scored eight points, Olivia Starks was good for six and Lori Cimmiyotti added five to the scoresheet to lead TDW, which hit 22 field goals, four 3-pointers and went 10 of 14 from the free throw line.
West Salem's Emilee Silbernagel paced the offense with 14 points and teammate Bailey Olson added 10 points.
In their tournament opener Friday, the Eagle Indians had their toughest matchup opposite Tualatin, losing by a 59-36 margin.
Tualatin got a big jump on the Tribe with an 18-2 rally in the opening frame.
TDW was able to pull to within a seven-point deficit with two minutes left in the third quarter. But the Timberwolves sank consecutive 3-pointers to lead 42-27 with one quarter left to play.
They padded that double-digit lead with a 17-9 run for the 23-point win.
Tess Bullis led Tualatin with 21 points.
"We fell behind early and that was too much for us to overcome," Telles said. "We slowed down and calmed down after that first quarter. They were rushing everything a little too much. I was happy to see the girls fight back though. They got behind and never gave up."
Bailey led the Tribe with 14 points, and both Starks and Conklin kicked in six points apiece.
After that opening loss, TDW bounced back with authority Saturday in Game 2 by building a 13-point halftime lead enroute to a 54-47 victory over Rex-Putnam.
The Eagle Indians struck first blood with a 19-11 rally in the first quarter, and tacked on a 13-8 split in the second quarter to lead 32-19 at the break.
Both teams scored eight points each in the third, and the Kingsmen added a 20-14 output in the final period to make the score closer.
"They tried to press us, but the girls maintained their poise and were able to break the press pretty consistently," Telles said. "We were able to counter what they threw at us. When they tried to front us, we went over the top or we went down low on them. It was a good game because the girls started very strong and kept it going."
In all, the Eagle Indians hit 21 field goals and shot 9 of 19 from the line, as Bailey led all scorers with 19 points.
Brooke McCall and Conklin each scored eight points, Kailin Hoylman added seven and Starks sank six to the scoresheet.
For Rex-Putnam, Mariah Oliver tallied 16 points
On Sunday, the Eagle Indian defense rose to the occasion after falling behind 13-9 through one quarter, holding Centennial to just six field goals over the final 24 minutes in their 46-27 blowout win.
"Centennial jumped all over us with their quick guards," Telles said. "Then we went to a zone and extended our defense to force their shooters to take longer, contested shots. It worked out big for us. We contained them and controlled the shooters. We got out and ran, filled the lanes and got inside on them."
Megan Dailey led the Eagles with 14 points, and Mellisa Dailey threw in eight, as the team nailed 11 hoops, four from long distance.
For TDW, Conklin and Starks notched nine points each, and Bailey tacked on eight, as the group made 20 field goals and went 2 of 6 from the charity stripe.
In addition to seeing some high caliber 6A and 5A teams, Telles said he also had a chance to scout Hermiston and Pendleton, so he was able to get a greater idea of how tough the Columbia River Conference is going to be.
All in all, it was a good test for the four juniors, four freshmen and two sophomores on the roster.
He said they are progressing nicely, but still have a ways to go and work to do.
"We are learning more every time we play," Telles said. "By the time league starts, a lot of these girls will be more experienced and will know what to expect from varsity competition. I hope with that, we will cut down on making some of those young mistakes. If we can, we will be there in the end. We will see soon."
TDW (7-1 overall) has five non-league contests still left on the docket and the next one is slated for 7 p.m. on Friday at home versus Franklin (0-5).