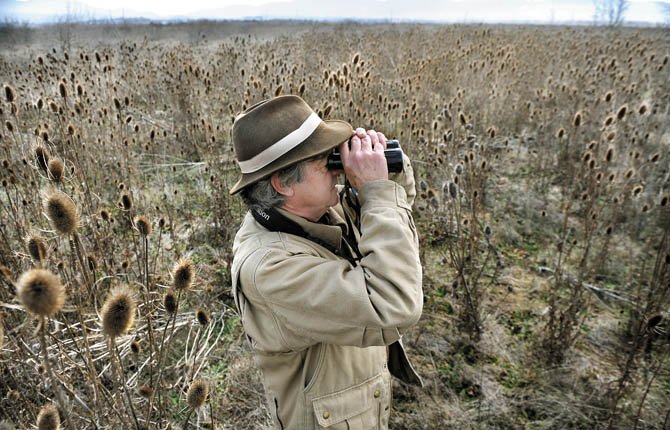 MEDFORD (AP) — Ashland birder Harry Fuller steps out of his car with binoculars in hand, ready to scope a field near the Medford airport for one of the Rogue Valley's more unusual winter visitors.
He's seeking a short-eared owl, an Eastern Oregon denizen known to winter in this field full of mice, jack rabbits and other vittles prized by avian predators.
"They like areas without a lot of cover and no snow so they can find prey easier," says Fuller, 67. "They fly like giant moths over the top of the brush, listening for anything that moves."
For Interstate 5 travelers looking for a short respite from the road, a quick search for owls sure beats calisthenics in a truck stop.
This field is one of more than 200 spots between San Francisco and Seattle that Fuller highlights in his new field guide, "Freeway Birding San Francisco to Seattle," written to give interstate motorists hints on where to mark more species off their life lists during otherwise mundane drives.
Fuller's first book aims to give traveling birders advice on exactly where to meld driving breaks with their avian passions.
From an I-5 rest area near Maxwell, Calif., that's occasionally home to wads of shore birds and ducks to Washington wildlife refuges full of sandhill cranes, Fuller's book details pit-stops for birders and explains what they can expect to find.
The book includes destinations within 20 minutes of the interstate along I-80, I-5 and the various business routes and bypasses around cities such as Sacramento and Portland.
Published by Michigan-based Living Gold Press, the 344-page book will retail for $21.95.
"Everybody from truckers to vacationers could use that thing," says Fuller, a retired television newsman and longtime birding guide.
"People use that corridor all the time," Fuller says. "It's not always apparent that you're really close to good birding sites."
The book relies on Fuller's personal experience, as well as input from gigantic databases such as ebird, an online clearinghouse developed by the Cornell Lab of Ornithology and National Audubon Society, where birders post up-to-the-minute information on sightings and pinpoint directions readers use to join the party.
"Ebird knows more than any of the written guides from the past five to 10 years," Fuller says. The book's genesis can be traced to Fuller's I-5 commutes in 2006 to San Francisco from Ashland. Like all motorists trying to shake road-head along their journeys, Fuller would add a few mindless pit-stops en route to his destination, but he started taking better notice of what was around him.
"I'd stop along the way, get out and stretch my hips," he says. "I started to realize that, at times, some rest stops had some really interesting birds."
He started detailing his findings in his online blog, and heard from readers that his posts were helpful in planning their own birding trips. The project became serious about 20 months ago, with Fuller logging several trips up and down the I-5 corridor strictly for the birds.
The book details unique areas along the commute and what to find there. For instance, the south end of Emigrant Lake in December was home to a rarely seen phainopepla — a desert bird more likely to be a short drive from Phoenix, Ariz., than Phoenix, Ore.
"It should have been down near Bakersfield," Fuller says.
Others are more obvious, such as the various federal wildlife refuges along I-5 in both California's Central Valley and Oregon's Willamette Valley.
"You don't have to be a genius to realize wildlife refuges are good places to go," he says.
One of the Willamette Valley's largest refuges, the Ankeny National Wildlife Refuge south of Salem, can be home at times to thousands of ducks and geese. It's detailed in the book, but visitors will need Fuller's map because there are no signs directing I-5 motorists that way.
"It was amazing to me that a wildlife refuge as big and important as Ankeny wasn't mentioned on I-5 anywhere," he says.
I-5's Siskiyou Summit is the highest point on the interstate and, therefore, a good spot to stop and look for mountain bluebirds and white-headed woodpeckers.
A short detour to Pilot Rock near Ashland will put birders in scattered woods full of lazuli bunting, chipping sparrows and green-tailed towhees.
And then there's that field near the Medford airport, not five minutes from I-5's Exit 30, where a short-eared owl from Eastern Oregon likes to spend its winters.
A day-time hunter, it works the airport field during business hours, often standing in the grass when not on the prowl. They're tough to sneak up on, so you might just catch a glimpse from afar.
Or just read about them and this otherwise nondescript field on page 163.
Information from:
Mail Tribune, www.mailtribune.com