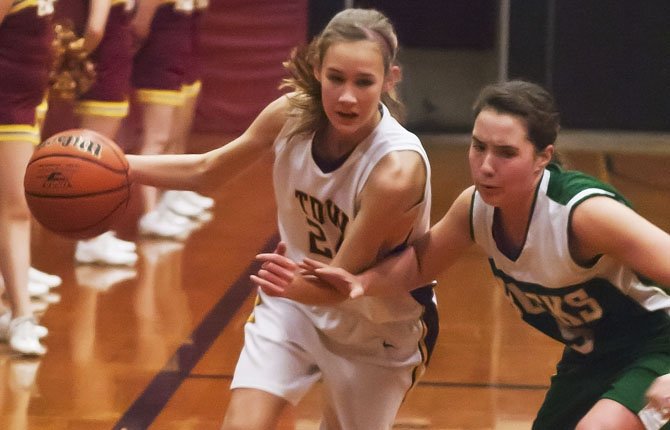 The Dalles — With the memory of a 51-28 loss to Pendleton still fresh on their minds, No. 8 The Dalles Wahtonka responded in resounding fashion.
And defense was the name of the game.
TDW blocked shots, stole passes, wreaked havoc and held Pendleton to its lowest scoring output of the season in posting a 43-24 victory Friday in a Columbia River Conference girl's basketball slugfest at Kurtz Gym in The Dalles.
Tribe senior Amanda Cimmiyotti said her mates took it as a personal challenge to get after the visiting Bucks.
"We had a really hard week of practice because we wanted some revenge against them," Cimmiyotti said. "It lit a fire under each of us. We know that we are better than that. It was kind of our motivation for this game. We really wanted to prove to everyone, to them and our league that we are not going to give up and just roll over."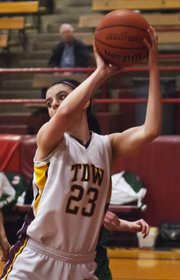 The Eagle Indians led by as much as 15 points in the first half, but in the third quarter, Pendleton reached deep in the inner reserves for a 13-3 surge, including a 10-1 spurt with all of the points scored by Ellie Richards in the final three minutes and 29 seconds to make the score 24-19.
The entire Eagle Indian team banded together just before the start of the fourth frame.
They came out fired up, using a 12-0 run in the first 3:49 to slam the door shut on the Bucks.
It was the perfect statement to make.
"We had more to give. We all came together and told each other that we were going to finish what we started," Cimmiyotti said.
Over that time span, Emily Bailey hit a driving layup, Katie Conklin drained a jump shot and Cimmiyotti rattled home a jumper to give the Tribe a 30-19 lead.
Olivia Starks added two free throws, then Conklin went 2 for 2 from the line and Starks hauled in a dish from Conklin for the easy score to cap the run.
Over the last half of the final quarter, the Bucks committed six turnovers, misfired on two of their last seven shots and added a conversion rate of 3 of 6 from the stripe.
Starks scored 10 points, pulled down eight rebounds and added five blocked shots for TDW, which shot 13 for 44 from the floor, 8 of 21 in the first half.
Conklin spearheaded the Eagle Indian offense with a team-high 12 points, and Bailey rattled off a double-double with 11 points, 12 rebounds, five steals and three blocks.
"After the last game we lost, it was really important to us to come back as a team and really just work together to play the way we know how to play," said senior center Jessica Riggs. "To play our game again felt so good. This was really a team effort to win this game and so it was most definitely a good feeling."
On the glass, TDW held a more than 2-to-1 advantage with a 36-15 margin.
Both teams combined for 61 turnovers, 29 committed by Pendleton.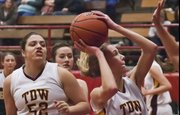 TDW's seventh-ranked scoring defense (40.6 points a game) held Pendleton to a 7 for 45 shooting effort overall, including 2 of 20 in the first half.
Rayne Spencer had two points and five rebounds, and the freshman Richards netted 14 points.

The Lady Bucks also committed 29 turnovers, were out-rebounded by a 36-15 margin and they went scoreless in the second quarter on 0 for 7 shooting.
"We practiced so hard this week on defense. That was our primary focus," Riggs added. "We already have a good defense and so for us to capitalize on our defense and limit the number of shots they can take was very important to us."
Riggs feels there is much more to gain from this performance.
"The biggest thing for us is taking it one game at a time and us never thinking for a second that just because we win, that we are going to come out and win every single game," she said. "It is a mental state because we have the talent and we have the teamwork. We need to give 110 percent in practice every single day and take each game and each quarter as a new game. It is important that we refocus. If we can do that, we can do anything."
TDW (13-5 overall, 3-2 league) heads to Hood River at 5:30 p.m. Tuesday.