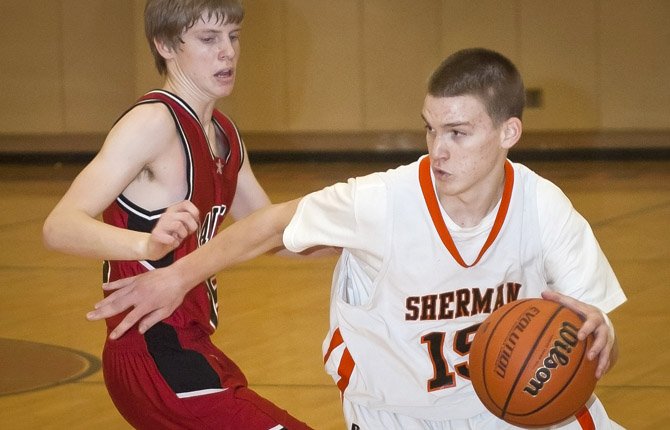 Only a select few know what it is like to be in the zone.
Sherman sophomore Austin Kaseberg can add his name to that esteemed mix.
Kaseberg scored 19 of his career-high 40 points in the first quarter, and the Sherman Huskies hit their highest point total of the season in an 80-67 victory over Dufur in boy's hoops play Saturday in Moro.
In the past two games, Kaseberg has scored 68 points, the best run of his tenure at Sherman.
"It feels pretty good to be able to do this," Kaseberg said. "I feel like I can pretty much do anything I want as long as I try really hard to. I have been busting my butt so I am a little bit surprised I got this, but I think it shows more that if you continue to work hard, you will be rewarded."
In this game, the Huskies enjoyed a lead as high as 16 points, but twice in the fourth quarter, Dufur got to within six points.
With six minutes and six seconds left, Jake Kortge hit a running layup, but Sherman's Riley brown followed with a runner to move his team ahead, 67-59.
On Dufur's next possession, Bradley Newman made good on a running bank shot to make the score 67-61 with 5:27 to go.
Sherman then jumped off the deck over the next 2:37 using a 9-4 run on a rebound and putback by Kaseberg and then pair of long balls by Jailin Conboy. With 2:50 remaining, Brown hit on 1 of 2 free throws to swell the Husky lead out to 76-65.
In the final phase, Dufur missed its next two shots, committed a turnover and added a basket and two free throws.
Sherman led 25-17 after one quarter. In the second frame, both teams scratched across 13 points and the Huskies jumped ahead 38-30 at the break.
Dufur put up 23 points in the third quarter, but the Huskies were one point better with 24 points to lead 62-53.
Dufur coach Jack Henderson liked what he saw from his group.
"I was really proud of our kids' effort tonight. We had kids step up and play hard," Henderson said. "This was one of our best fourth quarters this year. We have been struggling. We have stretches where we play well for a quarter here or a quarter there. We played pretty well defensively for four quarters. We had some lapses and they hit some big shots and shot the ball really well."
Sherman rattled off 30 field goals, nine from long distance, and shot 11 for 19 from the line.
After struggling with fouls in the opening half, Conboy scored 23 of his points in the second half, adding 16 in the third frame.
The trio of Brown, Brian Simantel and Nick Coleman chipped in with five points each.
Sherman coach Mike Somnis was pleased with the offensive execution, but still sees defense as a point of emphasis late in the year.
"Now that we get closer to the playoffs, defense becomes a premium," Somnis said. "We got to focus on that side of the ball. We got to have some great practices here in the next two weeks. The boys have to understand that it is win or go home, 11 or 12 days from now (in the district playoffs). I hope that we can take that mindset into practice, work hard and focus on the little things to get us better."
The Dufur Rangers hit 27 baskets for their second-highest point total of the season.
Cole Parke led the way with 14 points, and both Newman and Caleb Morris cashed in 12.
Bryson Caldwell added nine points and Nick Little and Kortge tallied eight each.
Sherman (14-9 overall, 8-4 league) hosts No. 1-ranked Horizon Christian at 7:30 p.m. Friday.
The Rangers (5-16, 3-9) host South Wasco County (16-5, 9-3) at 7:30 p.m. Friday as well.