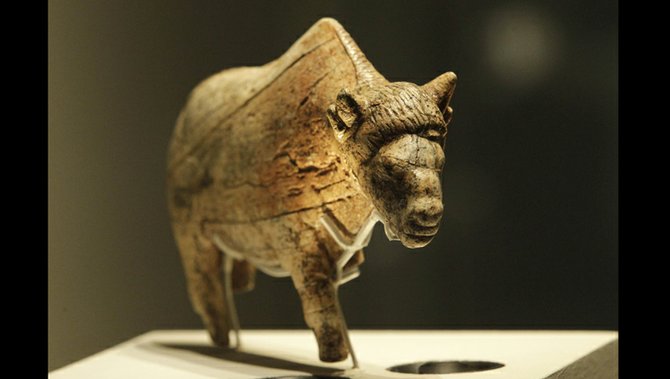 Arrival of the Modern Mind
A sculpture of an adult female bison worked from a large piece of mammoth tusk dates at least 21,000 years old, discovered at Zaraysk, Osetr Valley, Russia, is seen on display in an exhibition 'Ice Age Art : arrival of the modern mind' at the British Museum in London, Feb. 5. The exhibition present masterpieces create from the last Ice Age. AP Photo/Sang Tan
Relatives rejoice in boy's safety
MIDLAND CITY, Ala. (AP) — A 5-year-old boy was back with his ecstatic family and playing with his toy dinosaur after his nearly weeklong ordeal as a hostage in an underground bunker was ended by a sudden police raid and the death of his kidnapper.
His relatives say they feel incredible relief at his safe return.
After FBI agents determined that talks with an increasingly agitated Jimmy Lee Dykes were breaking down, they stormed the shelter Monday afternoon and freed the kindergartner. The 65-year-old armed captor was killed by law enforcement agents, an official told The Associated Press.
Hezbollah implicated in bomb
WASHINGTON (AP) — The White House is calling on Europe to take "proactive action" to disrupt the Hezbollah organization following an investigation that tied the group to the bombing of a bus filled with Israeli tourists in Bulgaria last year.
White House counterterrorism adviser John Brennan says Europe, as well as other international partners, must seek to uncover Hezbollah's infrastructure and disrupt the group's finances and operational network in order to prevent future attacks. Brennan is President Barack Obama's nominee to run the Central Intelligence Agency.
Investigators on Tuesday implicated Hezbollah in the bombing last July, which killed five Israelis and their Bulgarian driver. Brennan commended Bulgaria for its comprehensive investigation and says the U.S. will provide the Bulgarian government assistance in bringing the perpetrators of the attack to justice.
Dell taking company private
SAN FRANCISCO (AP) — Slumping personal computer maker Dell is bowing out of the stock market in a $24.4 billion buyout that represents the largest deal of its kind since the Great Recession dried up the financing for such risky maneuvers.
The complex agreement announced Tuesday will allow Dell Inc.'s management, including founder Michael Dell, to attempt a company turnaround away from the glare and financial pressures of Wall Street.
Dell stockholders will be paid $13.65 per share to leave the company on its own. That's 25 percent more than the $10.88 the stock was going for before word of the buyout talks trickled out last month. But it's a steep markdown from the shares' price of $26 less than five years ago,