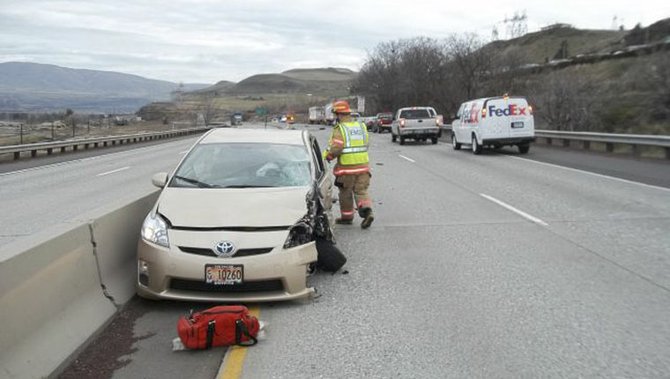 The Dalles — Oregon State police say an 88-year-old wrong-way driver was responsible for a multiple vehicle crash Monday morning that closed the eastbound lanes of Interstate 84 for about 90 minutes.
Senior Trooper Michael Holloran said following the crash about 8:20 a.m. Feb. 4 that a Toyota Prius driven by Jocelyn F. Gay from The Dalles was driving westbound in the left eastbound lane when she collided nearly head-on with an oncoming van.
The Dodge Caravan driven by Rebekah A. Darden, 65, of Umatilla was traveling about 65 miles per hour, the same speed as Gay, when it was struck and then veered into the center median. The vehicle then veered to the right and sideswiped a semi-trailer near milepost 88.
Gay's car had also hit the center median and came to rest about 500 feet from Darden's vehicle.
Both drivers were transported to Mid-Columbia Medical Center in The Dalles with possible minor injuries. Holloran said both women were using safety restraints and the Toyota's airbags deployed upon impact. The driver of the semi was not injured.
Gay was later transported via LifeFlight to a Portland hospital with possible spinal fractures, the OSP reported.
According to OSP reports, Wasco County District Attorney Eric Nisley is now reviewing the results of Holloran's investigation and will decide whether charges should be filed in the case.
Holloran said the
accident occurred after Gay, who had entered the freeway near milepost 85, missed her exit about two miles alter and reportedly realized that had happened after driving 10 miles.
Apparently thinking she was on a two-lane highway, Gay then reportedly made a U-turn before the Celilo interchange and drove westbound in the left eastbound lane. Holloran said other drivers flashed their headlights at her in warning before the crash occurred.
OSP troopers from The Dalles Area Command office were assisted at the scene by The Dalles Police Department, Wasco County Sheriff's Office, Oregon Department of Transportation and Mid-Columbia Fire and Rescue. A detour was put in place to allow traffic to go around the wreck during the investigation.