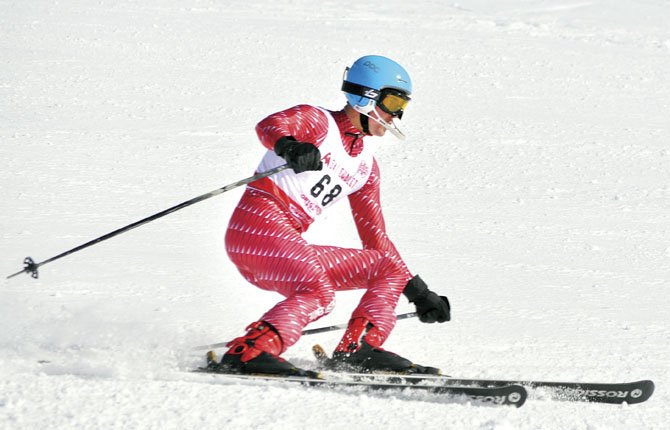 The Dalles — So far this season, The Dalles Wahtonka skier Eli Holeman is having a breakout campaign.
In just the third race of 2013-2013, Holeman captured his second win overall by dominating a field of 36 other Mount Hood League skiing participants in a giant slalom event Saturday on Rams Head at Mount Hood Meadows.
Holeman's win, with a final mark of one minute, 7.07 seconds, put him in an elite class in the annals of TDW history. He is the first boy's competitor to win a GS since the late 1990s.
"Eli had a good day, battling against his Hood River rival, (William) Lamer," said TDW head coach Jeff Cordell. "Eli was about half a second behind him after the first run (33.18 to 32.75), but was completely focused on beating him the second run. And Eli put together a hot second run (33.89) while the other kid (34.91) made a couple of mistakes."
Holeman could not put his finger on the reasons why he is putting together some top finishes.
"I don't think there is anything specifically about the last few events that have me doing so well," he said. "What has me doing so well is the fact that I have two older brothers who have both raced, and that Jeff Cordell is my coach."
With Holeman setting the bar so high, his teammates, Kale Underhill, Mark Johnson and Travis Diede, followed suit.
All four boys finished in the top-11 overall in a combined 3:37.63 for second place, 9.63 seconds behind Hood River Valley (3:28.00).
Sandy (3:51.74) ended up third and Grant High School amassed a 3:57.55 for fourth place.
The nine-second differential is attainable for the TDW boys and Holeman feels the best is coming.
"This has been the best race season that I've ever had, and the best for the team in a long time," he said. "I do not think we are necessarily the most focused or dedicated team The Dalles has seen, but we do have the talent for success."
The senior Underhill started the day with a run of 35.93, a time that put him sixth overall.
On his second try, Underhill stopped the watch in 37.81 to round out to a 1:13.74 and seventh place.
"Kale Underhill had his best race of the season so far — two good runs and a seventh-place finish and a personal best," coach Cordell said. "Kale really likes the speed of GS and it showed on Saturday. I think he is ready to finish the year with some killer results."
Johnson finished both of his attempts, as he kicked off the morning in 37.05 before finishing at 37.81 for his 1:16.97, a career-best.
"Mark Johnson also had a great day," coach Cordell said. "He has been working so hard and has been really focused on getting better. I was really happy to see him do so well."
As the day wore on, the competition reached its fever pitch.
Travis Diede kept things motoring on a PR pace for the boys squad with a 37.82 and a 39.77 for a 1:17.59 and 11th place.
There are still a handful of races remaining, and coach Cordell hopes this hot streak continues.
"The boys are really on a roll," he said. "We are looking forward to the rest of the season."
In the girl's races, Hood River (3:31.47) had four skiers end up in the top-5 led by medalist Lucy McLean, who flew past the group of 38 participants in a time of 1:07.41.
TDW's top-4 skiers racked up a combined 4:00.93 to place second for the second time this season.
St. Mary's Academy (4:03.11), Cleveland (4:05.67) and Sandy (4:07.54) rounded out the standings.
Maya Barnard-Davidson had the Tribe's best tally overall in fourth place.
The senior had a first run of 38.05 to notch fifth place, but she added a 38.59 on her second try to hit a combined 1:16.64 to move into fourth place, 9.23 seconds behind the leader.
Aside from Barnard-Davidson's two-try rally, another skier who rose to the occasion on a personal-best spree was Bailey Cordell.
Cordell had a marker of 39.26 in her opener and she finished up in 40.08 to add up to her 1:19.34, a time just .23 behind the sixth-place racer in Sandy's Holly Duewiger (1:19.11).
Coach Cordell noted that much of Bailey's success is due to staying on path with a rigorous offseason workout regimen.
It is paying off in droves.
"Bailey has been working really hard in the weight room and training hard on the hill and it's really showing in her results," said coach Cordell. "All the girls are working well together and it's a good team effort."
Carsen Cordell had a respectable time of 1:24.95 to put her in 15th place; Alyssa Carrico added a two-run rally of 1:44.24 and teammate Emma Ell-Smith churned out a 1:54.08 to round out T-Dub's list.
To have so many skiers end up in the upper ranks impressed Holeman.
"Everyone stepped up their game," he said. "We had three top-10 finishes for the boy's team, and two top-10s for the girl's team. It was a good race for The Dalles."
TDW hits the ski slopes once again at 9 a.m. Saturday at Skibowl on the Cascade course.