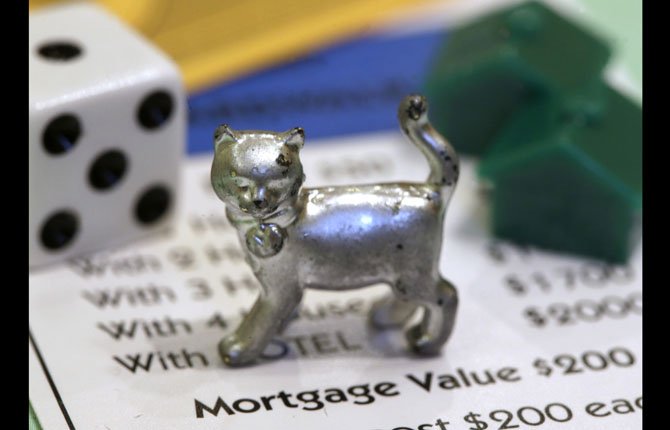 Cat Joins Monopoly
The newest Monopoly token, a cat, rests on a Boardwalk deed next to a die and houses at Hasbro Inc. headquarters, in Pawtucket, R.I., Feb. 5. Voting on Facebook determined that the cat would replace the iron token. AP Photo/Steven Senne
Virginia shooter pleads guilty
WASHINGTON (AP) — A Virginia man has pleaded guilty in the shooting of a security guard inside the headquarters of a conservative Christian lobbying group.
Floyd Corkins II pleaded guilty Wednesday to charges including assault with intent to kill while armed and an act of terrorism while armed.
Corkins was charged in August with opening fire inside the lobby of the Family Research Council building. A security guard was wounded but wrestled away the gun.
Book returned 55 years late
NEW YORK (AP) — A long overdue book has finally been returned to the New York Public Library — 55 years late.
The Daily News says the biography of a 16th-century priest called "Fire of Francis Xavier" was checked out of the Fort Washington branch in upper Manhattan on April 10, 1958.
Library manager Jennifer Zarr tells the newspaper the book arrived at the library on Monday wrapped in a plain brown envelope with a check for $100 to cover the dues inside.
She says library records don't go back to 1958 and there's no way to trace who borrowed the book. She won't reveal the name on the check.
Explosives found in bunker
MIDLAND CITY, Ala. (AP) — As FBI and police negotiators sought for days to coax an Alabama man into freeing a kindergartner held hostage in an underground bunker, the captor was planning for violence, authorities say.
He rigged the bunker with explosives, tried to reinforce it against any raid, and when SWAT agents stormed the shelter Monday to rescue the boy, Jimmy Lee Dykes engaged in a firefight that left the captor dead, the FBI and officials said. They answered questions Tuesday.
After the nearly weeklong hostage ordeal, relatives say the boy who turned 6 on Wednesday appears to be doing well and is back at home.