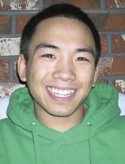 The Dalles — The family of Patti Hong, 46, and her son Randy Hong, 23, slain Feb. 25, 2009, at their own west The Dalles home, were not emotionally ready in January to comment on the death of the accused killer but issued written statements Wednesday.
Kent Hong, husband and father of the homicide victims, said he and his eldest son, Brian, 28, needed time to collect their thoughts after Roark David Smith, 53, was found dead in his jail cell about 5 a.m. Jan. 15, of what later was determined to be a heart attack.
Smith was a diabetic who also had high blood pressure and other chronic health problems.
He was arrested Feb. 25, 2009, and accused by Wasco County District Attorney Eric Nisley of crossing West Chinook Street to the home of his neighbors, the Hongs, early that morning and shooting Patti in her vehicle. He then reportedly kicked in the front door of the residence and shot Randy, who was asleep in bed.
"Our family was relieved and grateful to hear the news of Roark Smith's death," wrote Kent and Brian Hong on Feb. 6, one day after Smith's six-week trial had been set to begin.
"However, we will never know why he did this to our family. He has taken the lives of two beloved people in cold blood. Our family and friends will have to continue on without an explanation of the actions of this coward and selfish individual."
They said with the fourth anniversary of Patti's and Randy's deaths just around the corner, "the death of Roark Smith couldn't have come at a better time."
Although Smith called 9-1-1 immediately after the Hongs' deaths and confessed to shooting them — the murder weapon was reportedly found at his home — he later recanted those words. He said the statement had been made under duress because he was the victim of a plot by his ex-wife to put him behind bars for the rest of his life. He claimed she had been poisoning him with arsenic in herbal tea and hatched that plot after warning him when they divorced that he would not "last a year" without her.
The legal proceedings against Smith were delayed by more than two years after his arrest so that he could undergo a mental evaluation at the Oregon State Hospital. His three attorneys, the most recent William Falls of Portland, claimed their client, who had been diagnosed with delusional disorder, was incompetent to stand trial.
In December 2011, Judge Donald Hull heard the testimony of three mental health professionals about Smith's condition and determined the case should move forward. He said Smith could understand the nature of the aggravated murder and burglary charges against him and the consequences of a guilty verdict.
Smith was then moved to the Northern Oregon Regional Correctional Facilities but, in recent months, a small brain tumor that had been known about by medical experts since 2007, became a potential source of further delay.
Falls lost his bid in court to have Smith undergo a new mental evaluation once the tumor was removed in the event it had caused his disorder. However, he gained agreement from Judge Paul Crowley that if medical complications arose from the removal of the growth, which took place days before Smith's death, then the trial date could be set back.
Smith's death took away the possibility of him standing in court and being declared guilty by a jury but the Hongs say it is enough that he is no longer on the earth.
"We are definitely satisfied with the outcome," they wrote in their joint statement. "This man killed Patti and Randy in cold blood. As the coward he is, Smith would not face prosecution for his evil actions. He used the mental health defense to drag this case on for nearly four years. Our family couldn't proceed forward with our lives while Smith was taking advantage of the judicial system.
At the time of the homicide, the Hong family was in transition, with Kent and Brian living at the new home in Portland and Patti and Randy set to follow as they found employment opportunities.
Kent had transferred to a Safeway in the metro area and Brian was attending college. They returned to The Dalles on days off or weekends to spend time with Patty, who worked at the local Safeway, and Randy, a certified welder.
"We truly believe that if we were home that tragic morning, he would have killed all four of us," wrote Kent and Brian.
"Words cannot express the pain and anguish our family and friends have endured since their murders. It took everything from us. It took our security and our innocence. We have lost our faith and trust in people. We have trouble finding joy in the simple pleasures of life."
Also weighing in this week on the unexpected end to the murder case was Patricia Lewis Hong, the niece of Patti and cousin of Randy. In an early 2012 interview, she said Smith had made Patti uncomfortable enough by watching the house that she had started keeping the living room curtains closed.

"Almost four years have passed and the grieving of our loss is as great as if it had happened yesterday," she stated in written comments submitted to the Chronicle Feb. 6.
"The memory of that horrid day is as vivid as my memories of all the good and fun times that I shared with my aunt and cousin. The one bit of relief I have had since that day is that is it finally over. True justice would only be served if we could take back that day. Our family's healing process has only begun; living day-to-day is all we can hope for, and pray time does heal. They will forever be loved and are greatly missed – we will never forget you Patti and Randy Hong."
Since the death of their family members, Kent and Brian had been attending group support sessions with the Portland chapter of Parents of Murdered Children and Survivors of Homicide Victims.
Kent said in a 2012 interview that these meetings provided him with an outlet for the incredible stresses that followed the loss of half his family and the lengthy delay in judicial proceedings.
On Wednesday, he said the death of Smith also provides closure for the entire community of The Dalles because he can't harm anyone else.
"It's been a long dramatic four years, but imagining that the nightmare is over with is unimaginable," he wrote. "This grief has been such a huge burden on our shoulders. Now our family can put Roark Smith behind us and start living our lives once again. The memories of Patti and Randy will never be forgotten."