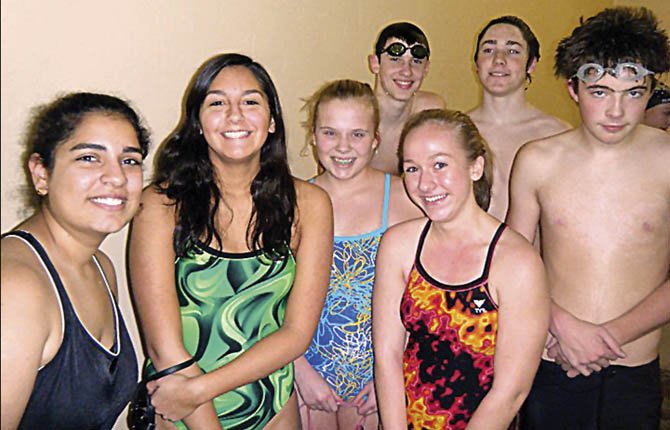 Every senior on The Dalles Wahtonka swim team now has his or her moment to shine on the biggest stage.
It is district time this Saturday at the Hood River Aquatics Center and now they have one last opportunity to earn their marks for a shot at grabbing a spot in the state tournament.
"The team is excited to end the season on a positive note – particularly for the six seniors on the team," said TDW head coach Scott McKay. "They have been training hard throughout the season, but success at districts will depend on how bad the team wants it – by preparing mentally for a long day of swimming and giving their best in finals."
In looking at this senior crew of Mika Hernandez, Audrey Miller, Brandon Gilmore, Anna Daggett, Will McClennan, Caleb Weiss and Ben Dlala and all of their contributions, McKay displays a fatherly pride in how much they have developed over their high school careers.
"The seniors have been a real joy to work with over the four years particularly Audrey Miller, Anna Daggett and Mika Hernandez – the three freshmen when they arrived four years ago," McKay said. "It is going to be real tough to fill the depth of the senior class next year."
Any of the racers competing this weekend have a shot at taking the top two places to punch their state tickets, but McKay is especially looking forward to watching Daggett, Miller, Will McClennan and Ming Ou hit the water.
"There are four swimmers I would highlight when it comes to hard work and meeting the challenge," McKay said. "For the girls it is Anna Daggett and Audrey Miller. They are tough cookies and they will give all they have in their races. With good rest before districts, Audrey could place very well in the 100-yard butterfly and Anna could help us place 1-2 in the 500-yard freestyle."
Hernandez has shown her wares in the 100-yard butterfly and the senior is seeded first in that event.
"The 100-yard butterfly will be the race to watch," McKay said.
McKay added that both McClennan and Ou have been working hard and could surprise a few spectators in their races.
McClennan can compete well in all of the strokes and it was tough to decide which events for him to swim.
His best event is the 100-yard freestyle, and while Pendleton has some strong participants on tap, there is a realistic chance he can place in the top three.
Weiss will swim it out in another breaststroke event as well as the 500-yard freestyle and he can show his fellow participants how he can step up to the challenge.
Dlala, a foreign exchange student, has dropped time by a third of a second from his first meet in his top event, the 50-yard freestyle, and could be a contender.
Aside from that crew, 2012 state qualifier, Erin Nelson, is a hot commodity who can gain some ground for a state run.
Since battling sickness over the holiday break, Nelson has been battling hard in practice in preparation.
"She is the top seed and favorite in the 500-yard freestyle, which she barely lost last year in the district finals – which was a huge disappointment," McKay said. "She is entered in the 50-yard freestyle and is a dark horse in that event, but could surprise everyone."
The district meet is slated to be a one-day spectacle with preliminary action starting at 11 a.m. and the final rounds taking place at 3:30 p.m.
Overall, the girls have a legitimate opportunity to jump up the ranks against Pendleton, Hood River Valley and Hermiston when action concludes.
Daggett, Nelson, Hernandez and company solidify that notion.
"The girls have a chance to finish second if they swim like they are capable of swimming," McKay said. "They have put the effort in during the season and now it is the mental aspect of competing that will be key."