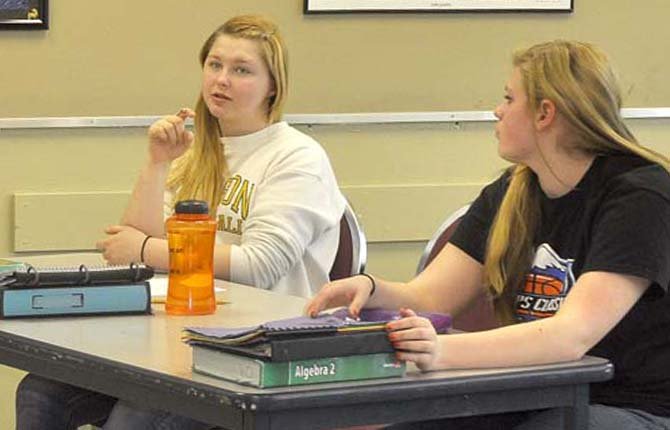 Small rural schools often get overlooked in the discussion on education reform, but they frequently outperform their larger counterparts.
At the end of the 2011-2012 school year Sherman, Dufur and South Wasco's school districts all had graduation rates above the state's average of 68 percent of students earning a regular degree after four years.
Sherman County School District had 94 percent of its students graduate on time with a regular diploma last year, but Superintendent Wes Owens said 100 percent of the class of 2012 completed high school with some sort of diploma or degree.
He attributed the district's success to the people involved.
"We are fortunate to have dedicated and caring staff members, supportive parents, a gracious community and strong leadership from our board members," he said.
He also credited a strong selection of after school programs, from robotics to gardening, that supplement students' learning after the regular school day is over. He said students benefit from guidance counselors, a good mental health program and an online academy too.
"As a district we're always looking for ways to make students' educational experience meaningful, exciting and rigorous," he said.
Last year Sherman County's scholarship association awarded $110,000 in scholarships to graduating seniors, at a school where the average graduating class is between 20 and 25. Owens said the availability of scholarship money makes more students realize college is possible for them and gives them motivation.
Even though being a small school can mean fewer resources, Owens said there are also advantages, because the educators can make more individual connections with students.
"We're developing relationships with kids so they feel comfortable coming to school and connected to their learning and the teachers know what excites them and what they're interested in," he said.
Even though the state is mostly interested in the number of students who graduated on time with a regular diploma, Owens said educators should really be looking at the total number of "completers," because a GED or some other kind of certification can give a student the same types of opportunities in the workforce that a regular diploma can.
Last year 79 percent of Dufur School District's high school seniors graduated on time.
Superintendent Jack Henderson said while Dufur's numbers are good, there is always room for improvement.
"You always look at those numbers and if they're not 100 percent you need to delve into that and determine why," he said.
With an average graduating class of about 22 students, a couple of students can make a big difference to the graduation rate. That's why Henderson said while that kind of data can be helpful, small schools need to be wary of reading too much into fluctuations in the percentage points from year to year.
According to data from the state, Dufur's graduation rate was 78 percent in 2010-2011, 85 percent the year before and 81 percent in 2008-2009.
Henderson said one thing that Dufur is doing to improve academic performance in their schools is giving students extra support in core areas like math and reading. He said the traditional hour long period per subject is going away in favor of doing more to integrate support for the most important subjects throughout the day.
He said that students are facing "increased academic rigor at every turn," so it may be that the state needs to stop looking down on taking five years to earn a diploma.
"I'm not sure if we will be able to maintain that stance," he said. "Maybe it needs to take longer. It mirrors post-secondary education; most students don't get their college degree in four years anymore."
South Wasco County School District saw 75 percent of its high school seniors graduate on time with a regular diploma during the 2011-2012 school year.
For a tiny district like South Wasco, which usually has a graduating class of about 12 students, the statistics don't always mean much. In the past five years the graduation rate has fluctuated wildly, anywhere from 48 percent to 93 percent.
Superintendent Ryan Wraught said the school's numbers are affected quite a bit by the life circumstances and abilities of the students who happen to be in a certain class.
He said, like any superintendent, he always wishes the numbers were higher. He is striving to help his district to achieve the governor's goal of having every student in Oregon graduate from high school by 2025.
"Really, if we can't do it, who can, when we're the ones who know all the kids' first and last names and where they live?" he said.
The biggest roadblock to making graduation rates higher is dwindling resources, Wraught said. South Wasco is now down to a single administrator for the entire district because of budget cuts.
"There are only so many balls you can juggle," he said.
One thing the district is doing to help students be inspired to finish high school is integrating state requirements about senior binders and career related-learning standards directly into the curriculum. Students can get help choosing a college, look into future careers, apply for scholarships and work on college applications in the classroom.
The district is also expanding into online learning to give students in the area more options.
"Not every kid is going to be successful in the mainstream classroom," Wraught said.