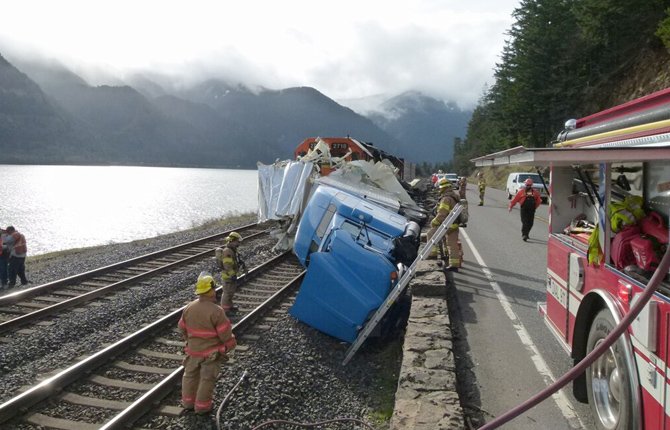 STEVENSON, Wash. (AP) — Officials say a freight train collided with a tractor-trailer rig that landed on rail tracks in the Columbia River Gorge after veering off Washington state Highway 14 and going over an embankment.
While the Washington state Department of Transportation tweeted that the "train peeled back the semi-trailer like a can of sardines," no one was injured in the Thursday afternoon crash east of Stevenson.
Burlington Northern Santa Fe owns the rail tracks. Spokesman Gus Melonas says the truck ended up on its side in front of the train. The crew driving two locomotives and two freight cars managed to slow to about 17 mph before hitting the truck from behind. Melonas says the trailer was empty.
The Columbian reports that the train didn't lose its timber cargo but a locomotive suffered significant damage.
Hazmat crews responded to clean up some spilled diesel fuel from the truck.
Melonas says freight trains were able to use a side track while the main track was cleared.
Information from:
The Columbian, www.columbian.com
Copyright 2013 The Associated Press.