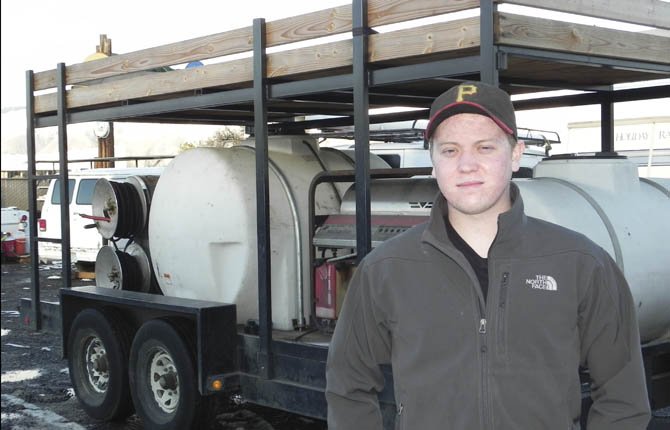 Alex DeVlaeminck and his new Tuff Wash business are in the super-clean business.
DeVlaeminck runs a mobile pressure-washing and steam-cleaning business in The Dalles.
"It does a better job than regular washing," Devlaeminck said. The heat and water pressure do a more efficient job of removing grime than standard washing.
DeVlaeminck is a 2009 graduate of The Dalles Wahtonka High School and is following in the family footsteps where business ownership is concerned. His parents own Devco Mechanical and his grandparents operate an orchard.
He plans to raise the next generation of DeVlaeminck entrepreneurs, his 6-month-old son Aiden, here in the gorge.
Pressure-washing is a good fit for washing the exteriors of commercial and residential buildings, driveways, business vehicle fleets and heavy equipment. DeVlaeminck says no special preparation is required.
"I can pretty much come in under whatever circumstances and get it done," he said.
DeVlaeminck says pressure-washing equipment has evolved and his 10,000-pound commercial outfit has some of the most modern features, including the ability to recover wastewater.
He welcomes calls for service at 503-616-8013.