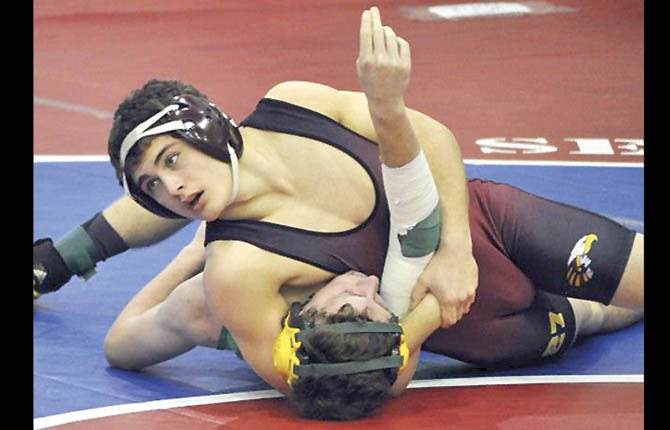 The Dalles — Coming off a 72-12 loss to Hermiston on Jan. 31, The Dalles Wahtonka wrestling team went back to work Thursday night in a Columbia River Conference clash with Hood River Valley.
The host Eagles landed plenty of pins, decisions and forfeits in a 70-10 victory in a varsity duel at Hood River High School.
Just like their previous duel in Hermiston, where the Eagle Indians got a forfeit win by Mason Bansch and a pinfall triumph by Bryan Sanchez, the Tribe had another forfeit and a major decision go their way Thursday.
At 170 pounds, TDW junior Eric Morales went to work against his HRV opponent, Kyle Weseman.
In the opening round, Morales got off to a solid start with a takedown and rode Weseman tough until getting him turned in an arm bar.
Morales repeated the point of attack in the second period after starting out on top, using an early takedown and another arm bar to rack up some big points. Staked to a sizeable lead, Morales chose down, immediately picked up an escape, then a reversal, and then turned him again.
With seconds remaining, Weseman tried for a comeback bid and put Morales on his back.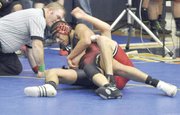 TDW's grappler hung on while time expired and he took hold for a 17-7 major decision.
"He probably had the most solid match of our wrestlers," Burkart said. "He was in relatively good position all through his match. He wrestled tough and strong."
With a few wins under his belt, including some tournament placings, Burkart complimented Morales' consistency.
"He is one of the kids who has been noticeably tougher as the season has gone on," Burkart said.
"He has a good wrestling partner in Bryan Sanchez and they are really getting after it in practice. It is starting to show."
While this is still his first year with the program, Burkart said it has been tough in many ways, especially since the team has been decimated with injuries and sickness through the year.
Freshman Joe Linebarger suffered a season-ending injury and teammates Connor Shortt, CV Regalado and two-time state qualifier Daniel Madrigal have also been on the shelf for long stretches.
Aside from a few athletes who were bitten by the injury bug, Burkhart expressed his satisfaction in the overall results of Morales, Sanchez, Luis Herrera, David Saylors, Cash Mathewson, Daniel Spurr, Damion Morris, and a few others.
It is pleasing to him as well because all these standouts participated in the junior varsity ranks until this season.
"At the beginning of the season, we took our lumps and then we had to decide if these guys were going to fight back or were going to cave in," Burkart said.
"We asked, Are they going to continue to work better and stay in it for the long haul? Or become frustrated and pack it in?' To their credit, they have shown a lot of fight back. Instead of weakening in the face of that adversity, I think they have actually shown obvious signs of strengthening."
Much of what Burkart has learned through the year is how, in order for this program to compete for the long haul with the Pendleton, Hermiston and Hood River schools, there is an urgency to develop club and middle school programs.
He mentioned that Hood River had as many as 50 athletes in their wrestling room.
"That is what we are trying to work on," said the Eagle Indian coach.
"We are trying to build from the club and the middle school up and it is going to be a process. It is not going to happen overnight. We are going to try to build in that direction."
After tonight's three-way dual with Jefferson and Franklin, the Eagle Indians will prepare for the CRC/PIL regional tournament on Feb. 15 and 16 at Marshall High School in Portland.
Burkart said his message to the masses is that this is what the entire season is all about.
"No tickets to the state tournament are punched before that," Burkart said. "We figure everybody in the league and region going into the tournament next is 0-0.
"At the regional tournament, anything can happen and it usually does. So, we are going to go out there, throw our lot in, work as hard as we can to get the results that we can get."
Regardless of the outcome there, his principles lie in the intangibles of his wrestlers.
It is all about building up and progressing down the line.
He has a young team and with an influx of talent coming up from middle school, the rise could come sooner rather than later.
"We knew coming in that we were an inexperienced team," Burkart added.
"If we were going to be result-oriented from the very beginning, we were going to be a very frustrated team.
"What we are looking for is improvement on a weekly basis, from match-to-match competition, building confidence and building in toughness."