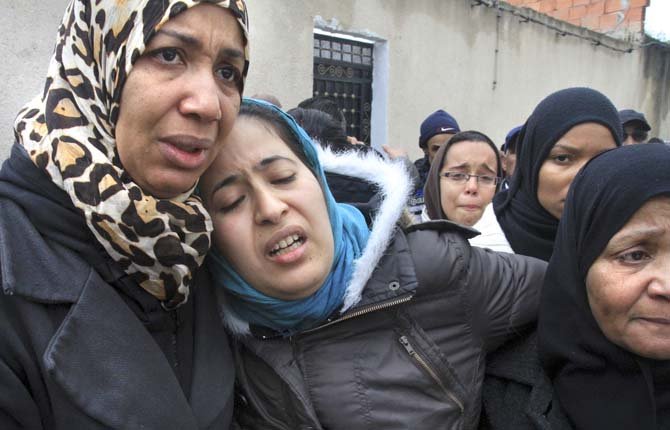 European officials agree to budget
BRUSSELS (AP) — European Union leaders have agreed to a budget worth €960 billion ($1.3 trillion), a significantly reduced sum that represents the first decrease in a budget in the union's history.
European Council President Herman Van Rompuy said Friday that the agreement had been reached after two days of negotiations.
A senior EU official said the final number for the seven-year budget was €960 billion — much less than the €1.03 trillion that the EU's executive arm, the EU Commission, originally proposed.
The two-day fight over what the EU pledged to spend on everything from infrastructure to development aid laid bare divisions over what the role of the union should be.
"It's done!" a spokesman for German Chancellor Angela Merkel tweeted. "The 27 EU members have agreed on a budgetary framework for 2014-2020. Europe has shown itself to be capable of acting."
The EU Parliament must still approve the deal — and they have suggested that such drastic cuts are unacceptable.
Car bomb in Iraqi market kills 36
BAGHDAD (AP) — Car bombs struck two outdoor markets and a group of taxi vans in Shiite areas across Iraq on Friday, killing at least 36 people and wounding nearly 100 in the bloodiest day in more than two months, as minority Sunnis staged large anti-government protests.
Sunni protesters have rejected calls to violence by an al-Qaida-linked group, but there is concern that Sunni insurgents could step up attacks ahead of the April 20 provincial elections — the first country-wide vote since the U.S. troop withdrawal more than a year ago.
On Friday, tens of thousands of Sunni protesters rallied in five major cities against Prime Minister Nouri al-Maliki, a Shiite accused of monopolizing power. Sunnis also complain of official discrimination.
In the city of Samarra, rally speaker Sheik Mohammed Jumaa sent a warning to the prime minister. "Stop tyranny and oppression," he said. "We want our rights. You will witness what other tyrants have witnessed before you."
In the cities of Fallujah and Ramadi in restive Anbar province, demonstrators blocked the main highway to Jordan and performed Friday noon prayers, the highlight of the religious week. Anbar is a former al-Qaida stronghold