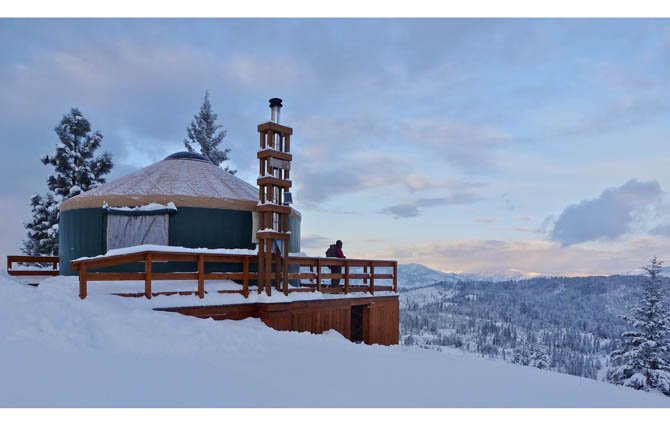 IN THE BOISE MOUNTAINS, Idaho (AP) — Daybreak's rose-colored light glows over the snowy mountain peaks surrounding Stargaze Yurt in the Boise Mountains.
It's minus 6 outside, and the January air is so cold and clear it crystallizes and sparkles in the sunlight.
Each dawn in one of the Idaho City backcountry yurts brings amazing winter experiences, like the changing colors of a rose, pink and purple sunrise in snow country, the ultimate silence of the dead of winter and fresh animal tracks in silky snow.
A favorite sight each morning on the way to the outhouse is the trail left by a nocturnal snowshoe hare.
The yurts provide an easy way for snowshoers and Nordic skiers to "camp" in the backcountry in the winter and take in these experiences in relative comfort.
You don't have to be a hardcore winter trekker like those pictured in a Patagonia catalog to see winter in a remote setting.
Despite the temperature outside, a glowing fire in a wood stove keeps the yurt around 70 degrees.
The yurts also are equipped with bunks, cookware, a propane stove, firewood and wood stove for easy and convenient overnight stays.
Visitors have to bring only personal items, sleeping bags and food.
It doesn't take much effort to crawl out of a sleeping bag in the morning when the wood fire is roaring to get sausage, eggs and hash browns sizzling in a frying pan over the propane stove.
After breakfast, it's time to think about chores. Yes, there are chores at the yurts, and they are a unique experience for urbanites.
You've got to haul snow and melt it over the wood stove for water for cooking, washing dishes and drinking. Remember to boil it for drinking.
You also have to bring in a load of firewood from the storage shed so you'll have a warm, cozy fire for your whole stay.
You need to shovel the deck and pathways to the outhouse and woodshed, but you get into a rhythm as the days go on.
Soon, it's time to head out on trails right out the front door. The yurts make great jumping-off points for hitting trails way off the highway.
They lead to woodsy hollows, open ridges and viewpoints that most folks wouldn't see in the winter. The snowy terrain seems endless — and what a way to spend the day.
Plan several winters in advance and give each yurt a try. Here's a quick look at them:
BEAVER CREEK
SUMMIT
Stargaze Yurt Distance: 1.2 miles.
Trail: Not groomed. Breaking trail can be difficult. Elevation gain: 680 feet. It's a steady climb all the way in from the parking lot, not for the faint-hearted.
Dogs: Allowed.
Why people like it: The yurt sits on an open point with incredible views of the stars and night sky.
BANNER RIDGE AREA
Banner Ridge Yurt Distance: 2.5 miles.
Trail: Groomed.
Elevation gain: 750 feet. It's a steady climb to a ridge where the terrain mellows out a little across the ridge.
Dogs: Not allowed in winter.
Why people like it: The yurt offers beautiful views of the South Fork of the Payette River drainage.
Skiers who like groomed trails have an 8-mile ski loop to enjoy. Telemark skiers and snowboarders can explore the open bowls and slopes off the ridge near the yurt.
Elkhorn Yurt Distance: 3.5 miles. Trails: Groomed to about 200 yards of the yurt.
Elevation gain: The climb is the same as for Banner Ridge Yurt because you pass the turnoff to that yurt. Once past that point, you continue on the groomed trail through rolling terrain. It's the longest trek of all the yurts.
Dogs: Not allowed in winter.
Why people like it: It's got a huge party deck. Well, that's part of it.
GOLD FORK TRAILS
Whispering Pines Yurt Distance: 2.4 miles.
Trail: Groomed.
Elevation gain: 300 feet. It's a long, but gradual climb to the yurt.
Dogs: Allowed.
Why people like it: There's plenty of Nordic skiing on an 8-mile groomed loop. Snowshoers like the woodsy backcountry trekking and trails that crisscross through the forest.
Skyline Yurt Distance: 2.5 miles.
Trail: Groomed.
Elevation gain: 650 feet of steady climbing.
Dogs: Allowed.
Why people like it: It's located on a knoll surrounded by pine trees right off the groomed Skyline Trail, a popular loop used by Nordic skiers and snowshoers.
WHOOP UM UP TRAILS
Rocky Ridge Yurt Distance: 1.75 miles.
Trail: Not groomed. Breaking trail can be difficult.
Elevation gain: 150 feet. Most of the elevation gain is right out of the parking lot. Most of the trail is level with a few gradual ups and downs. It's great for beginner snowshoers.
Dogs: Allowed.
Why people like it: It's easy terrain for off-trail snowshoe trekking. You'll find lots of rock formations in the Crooked River drainage. There aren't too many hills for Telemarking, but you can ski the ungroomed trail from the yurt back toward the parking lot.
The yurt is in a woodsy area, but it sits on an open knoll with mountain views.
The parking lot is shared by skiers, snowshoers and snowmobilers.
IF YOU'RE PLANNING TO GO ...
Idaho City yurts
About them: There are six backcountry yurts about one to three miles from Idaho 21 parking lots. Each yurt sleeps six to nine people.
Getting there: The yurts are 56 to 63 miles from Boise. It's about 1.5 hours of driving time in winter.
Availability: Idaho City yurts are popular and weekends are booked through March. However, if you can break away during the week, there are openings available.
You can reserve a yurt nine months out, so it's important to start thinking about next winter.
Prices: From Nov. 1 to April 30, $75 for a week night and $90 for a weekend night.
From May 1 to Oct. 31, $55 for a week night and $65 for a weekend night.
(Weekday nights are Monday through Thursday. Weekend nights are Friday through Sunday.) There is a $12 nonrefundable reservation fee charged at the time of booking.
Rentals are for up to six people. There is an additional $12 fee per person, per night for more than six people, with a maximum of nine people allowed.
Reservations: parksandrecreation.idaho.gov/activities/yurts
Information: Email judy.ditto(at)idpr.idaho.gov or call 208-514-2418 or 208-514-2419.
Idaho State Parks Yurts
If you want to visit a yurt but don't feel comfortable in the backcountry, you can rent them at Winchester, south of Lewiston; Lake Cascade at Cascade (group yurts); Harriman, northeast of Idaho Falls; and Castle Rocks, southeast of Burley. For details, check the above website.
---
The original story can be found on The Idaho Statesman's website: http://bit.ly/WTv4xj
---
Information from: Idaho Statesman, http://www.idahostatesman.com
Copyright 2013 The Associated Press.