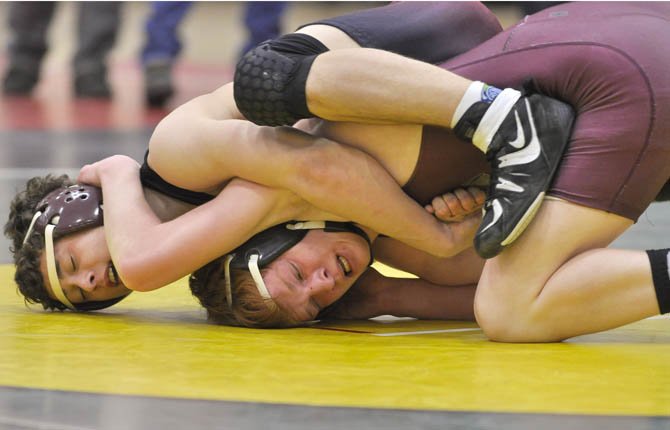 The Dalles — In his final wrestling dual, The Dalles Wahtonka senior Junior Fernandez could hardly come to grips with the fact that his four-year ride is over.
TDW wrapped up its regular season with a pair of dual victories over Jefferson and Franklin in a PIL/Columbia River Conference dual on senior night at The Dalles Middle School.
"I have been contemplating it for quite a while now," Fernandez said. "It is really heartbreaking knowing I will not be able to wrestle any more in my life."
Along with Fernandez, teammates David Saylors, Bo Anderson, Nate Mullins, Daniel Garcia, and Alex Hernandez were honored for their dedication.
Fernandez said he speaks for all the seniors and past wrestlers in saying that wrestling teaches so many life lessons.
"I heard a quote that says, 'Once you wrestle, everything in life is easy.' That is true," Fernandez said. "Wrestling teaches discipline, teamwork, leadership and being a role model to all these freshmen and helping them out and pushing each other. We are a family. We are all in this together. That is how we need to approach wrestling for now and in the future."
The Eagle Indians first got after Jefferson and secured a 45-33 win. In the nightcap versus Franklin, the Tribe notched three pins and a major decision to run away with a 46-28 win.
Mason Bansch won two matches on this night, one by pin over Daniel Negru with 34 seconds left in the second round.
Damion Morris also added a second-round pin at 132 pounds, once leading by a 12-2 margin on Franklin's Matt Cardwell.
"I thought I did pretty good tonight," Morris said. "I have been able to keep working and I think as the season has gone on, I have improved so much. I started as a freshman and an unknown, so I had to adjust. Things are getting better for me and I want to keep it going."
Bryan Sanchez enjoyed a successful night at 152 pounds with his lone win coming in the second round over Franklin's Bryan Ciupei.
"I worked on taking my shots and being aggressive," Sanchez added. "You have to keep the pressure on a wrestler and not give him an inch. I thought I did that good tonight."
At 170 pounds, Eric Morales dropped a 17-7 major decision on DeAnthony Hartley and he was a master out on the mat with expert skill.
With the next week to work on fundamentals, Coach Greg Burkart is getting his team prepared for this next test.
Friday's effort showed some promise.
"Mentally, these performances are a positive thing as we go into the regional tournament," the coach said. "From a coaching perspective, it is a step in the right direction. The reality of the situation is though, that things are going to get tougher for us come Friday and Saturday."
Sanchez, a junior, said tournament action is a team thing and that this group is heading into regionals with a game plan.
"We can't give up points, we have to stay off our backs and we have to work hard," Sanchez said. "We have to focus on what we have to do and give everything we have. We need to focus on the fundamentals and never give up. We need to give 100 percent all the time and work hard."