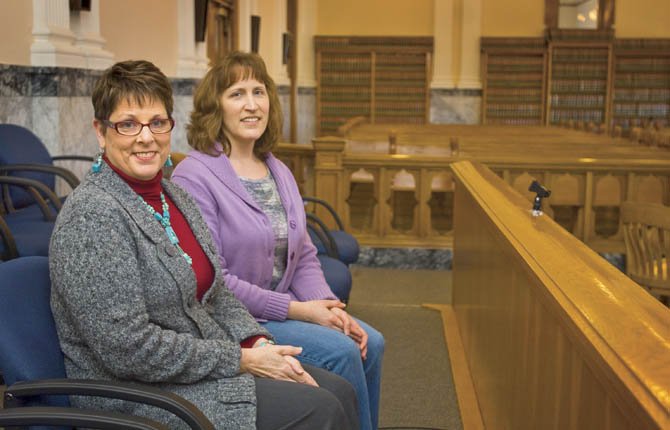 When Mohamed Mohamud was accused of trying to detonate a car bomb at Portland's annual Christmas tree lighting event, it wasn't the FBI agents who arrested him, the attorneys who prosecuted him or the judge who presided over his case who ultimately decided whether he would be convicted.
It was a jury of his peers — everyday people, some of whom had probably never been in a courtroom before — who declared him guilty.
Wasco County residents who receive a summons for jury duty have the same opportunity to participate in the justice system by delivering a "guilty" or "not guilty" verdict.
"People think of it as a civic duty, but it's also required by law," said Wasco County Circuit Court jury coordinator Julie Proffitt. "The judicial system requires jurors. It's part of being an American citizen."
Potential jurors are chosen at random from the state's voter registration rolls and Department of Motor Vehicles records, so one person might serve three times in 10 years even though their neighbor has never been asked to be a juror.
Proffitt said she gets a list of about 2,000 potential jurors for the year from Salem, then sends out letters to 500 for each three-month period of jury service. She said out of the 500 she usually only gets about 100 who are legally eligible to serve and haven't gotten a court-approved hardship exemption (like being away at college or dealing with serious health problems).
"I get a lot of non-citizens calling me saying 'Why did I get this?'" she said.
People who are not U.S. citizens, are under 18, not a resident of the county or have been convicted of a non-traffic-related felony in the last 15 years aren't eligible to serve on a jury, but they might be sent a letter anyway because they are on the DMV roles.
Sherry Smith, the trial court administrator for Oregon's Seventh Judicial District, said if a person is older than 70 they can choose to be excused without giving a reason.
"It's kind of remarkable how many people over 70 want to serve in this county," she said.
Smith said for a lengthy high-profile trial, like the one that was being prepared for accused murderer Roark David Smith before his untimely death, the court will send out letters to an extra 500 people and create an entirely separate jury pool just for that trial.
Jurors are paid $10 per day for the first two days of service and $25 a day after that, plus mileage. An employer cannot legally fire an employee for missing work for jury duty and cannot make them use vacation days or sick leave for it.
Proffiitt said once a potential juror fills out a survey about themselves they are asked to report for an orientation and receive a juror number. During their months of service they are expected to call every weekend to see if their number has been called for any trials in the coming week.
They also need to call the night before to see if the trial is still happening, because Proffitt said trials are cancelled more often than not because the defendant decided to take a plea deal. Sometimes jurors show up to court, only to be dismissed because the defendant didn't show up or changed their mind and agreed to settle minutes before the trial was scheduled to start.
Jurors can ask in advance to be excused for a day for a doctor's appointment, vacation, important business meeting or other conflict, but it is up to the jury coordinator to grant the request.
"I think we try to be very accommodating," Smith said. "But there are those times when we are really short and have to say, 'Sorry, we cannot excuse you for that.'"
Proffitt said she has to have a minimum of 36 people come in for a 12-person jury trial and at least 19 for a six-person jury trial.
"If not I have to ask a sheriff's deputy to go out and literally bring citizens in off the street," she said. She has had to round up volunteer jurors to allow a trial to proceed more than once. If the court chooses, it can charge people who blow off jury duty with contempt of court.
Once the day's jurors show up for a trial, about 14 are randomly called up front to answer questions from the defense and prosecution, a process known as voir dire.
Defense attorneys in criminal trials usually ask if the potential jurors are capable of seeing the defendant as not guilty unless the state proves their guilt "beyond a reasonable doubt." They might ask if jurors would automatically believe a police officer over a witness not in law enforcement, if they have ever been accused of something they didn't do or if they have ever been a victim of a crime.
Prosecuting attorneys might ask if potential jurors have had a bad experience with police in the past, if they have friends or family who have been arrested for the crime at hand, or if jurors have a problem with the idea of passing judgment on someone. Jurors are asked to reveal if they know any of the witnesses, the defendant, the victim or the attorneys.
Both sides are looking for signs that a potential juror might already have their mind made up and won't be able to listen to all the evidence impartially. A person whose sibling was killed by a drunk driver, for example, might have a hard time putting their feelings aside in a DUII (driving under the influence of intoxicants) case.
After the questioning the judge dismisses jurors while the attorneys choose the jury. Sometimes the jury —12 or 6 members, depending on the nature of the case — is selected right then and the rest of the potential jurors are dismissed. Other times too many jurors get dismissed based on their answers in voir dire and attorneys conduct another round of questioning with more potential jurors who reported in for the day.
Proffitt emphasized that she and the rest of the court are extremely grateful for those who show up when they are asked, even if they are dismissed or the trial is cancelled at the last minute.
"I know if they are called to come in on a Wednesday, even if the trial goes away they probably already made arrangements for the day," she said.
Smith said the judges understand jury duty can be a huge inconvenience, but lately their dockets have been "extremely full," so it is doubly important to have people who serve willingly.
Once potential jurors are seated on an actual jury, their task is relatively simple—pay close attention to the evidence and testimony presented, take notes if they need to and follow the judge's instructions.
"The judge gives very, very strict instructions about what they can and cannot do," Smith said.
Those instructions include not discussing the case or looking up information related to it if they are allowed to go home for lunch or the trial stretches over more than one day (most don't).
After the attorneys' closing statements jurors are sent to the jury deliberation room with a very detailed set of instructions and definitions for the charges they are contemplating. When they come to a decision they are brought back to the courtroom, where the judge asks for a "guilty" or "not guilty" verdict for each charge in question. Then their work is done.
"I think people come away from the experience with a better understanding of the court system and the different roles people play … It doesn't work like T.V.," Smith said.
Proffitt, who has worked for the court for 13 years and has been a jury coordinator since 2010, said coordinating jurors and ever-changing trial schedules is difficult but overall it is a good job.
"I enjoy working with the jurors," she said. "For the most part I find people are kind and interesting and funny."