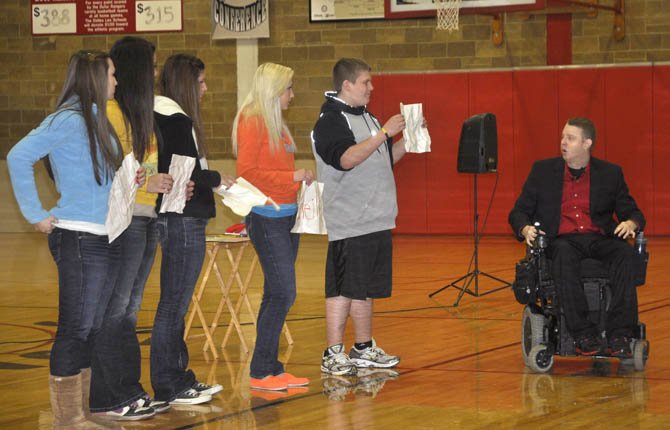 Dufur — A motivational poster on the wall of the hospital gave Jake French words to live by after the accident that left him in a wheelchair: Life is 10 percent what happens to you and 90 percent how you react to it.
It's a message he has been spreading far and wide as a motivational speaker since then, and he returned to his alma mater this week to teach students in Dufur about finding happiness no matter what their circumstances.
"A change of mindset allowed a devastating accident to become a priceless learning experience for me," French told students during an hour-long assembly.
He said three weeks after he began his first post-college job he visited friends in Eagle Creek, where he once lived. Coming home at 2 a.m. after a night of drunken partying, they stopped at a gas station, where French saw one of his best friends. They had an enthusiastic reunion and then French turned around to get something from the truck.
That's when his buddy decided it would be funny to grab him from behind in a headlock. Both drunk, they lost their balance and French's head hit the pavement, snapping his neck under the full weight of two people.
"I thought I was just stunned; I never imagined it would be longterm," he said.
He recalled waking up to hear a surgeon tell him he was paralyzed from the collar bone down "a defining moment of my life, but not the defining moment."
He described several defining moments in the hospital: seeing the motivational poster, moments of kindness from nurses and seeing the impact he was able to have on the people in his hospital room when he told his mother to stop crying and feeling sorry for him.
He said it was easy to drown in a "pity pit" because he couldn't do many of the outdoor activities he loved, his forestry degree he had just spent four years earning was now more or less useless and he wasn't sure any girl would ever want to date him again.
"One thing that really helped was the ability to laugh at myself," he said.
He joked with friends about his hospital wheelchair, which was hot pink, and later used the pickup line "Is your heart handicapped accessible?"
He told students they can't predict what is coming down the road, but they can learn to be more resilient so that they could deal with whatever did come. He said one thing they had to do is look for three trigger words that signaled they needed to consciously dig themselves out of their pity pit: can't, won't and don't.
"I consider them the most vile of bad words because they sabotage our chances of success," he said.
He talked with students about goal-setting, and also about taking responsibility for their future instead of getting stuck on blaming people in their past.
"How easy would it be for me to blame [the friend who jumped on him] for everything wrong in my life?" he asked. "But guess what: who was the person who thought it was cool to drink to the point of not being able to stand up? Me."
French also talked with students at length about bullying and the devastating mental scars it can have. He encouraged them to muster the courage to build people up instead of tearing them down and to stand up to others who are bullying.
He also cautioned them against pushing people around physically.
"I know you're just goofing around and don't mean to hurt each other, but this accident happened so fast that it went from this guy just messing around to 'oh my gosh, Jake is almost dead.' There was no chance to hit the reset button," he said.
French ended the assembly with a slideshow showing the wonderful moments he has had despite his 2008 accident, from fishing to camping to just hanging out with friends, and once more emphasized that happiness is a choice that students can make no matter what happens to them.
He gave students who helped him with his object lessons a signed copy of his book "Life Happens, Live it."
As part of the program the school signed up for he will also be sending regular newsletters and videos from "Coach Jake" answering students' questions. At the end of the school year he will come back for a follow-up assembly.
For more information on Jake French visit jakefrenchinspires.com.