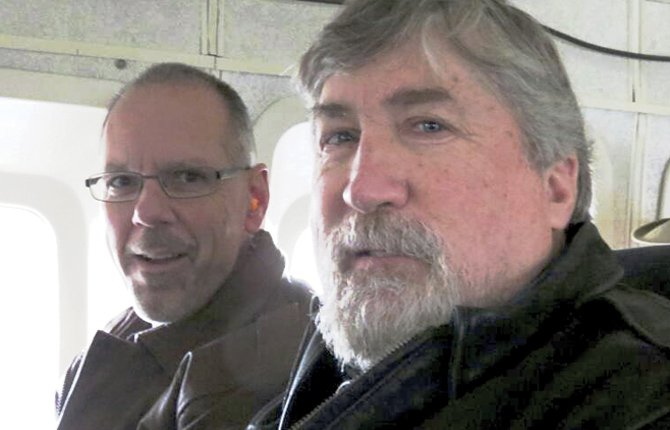 Two Wasco County officials recently caught a ride to an Oregon Air National Guard base in Portland but their mode of transport wasn't a car or van, it was a C-23B+ Super Sherpa, a military plane that transports personnel and cargo.
"It was ugly; it looked like a miniature Spruce Goose, but it got us there," said Rod Runyon, county commission chair.
He was joined on the flight from Boardman to Portland by Rep. John Huffman, R-The Dalles, and government leaders from Wheeler, Crook, Gilliam and Morrow counties.
They met up with representatives from U.S. Sen. Ron Wyden's office and Gov. John Kitzhaber's staffers at the 142nd Fighter Wing base on the grounds of the Portland International Airport. They were given a briefing about future Guard plans to have F-15 Eagle jet fighters perform more aerial exercises in Eastern Oregon.
"It appears to me that the Oregon Air Guard's request for additional air space for training makes perfect sense and should not create a disruption to the residences and businesses," said Huffman, who is an Army veteran, in a follow-up comment.
"I wasn't sure what to expect when I got to Boardman and found out we were headed to Portland," said Runyon. "But I thought it was a great experience."
After arriving in style, if not comfort in the "no frills" Sherpa, Huffman and Runyon were shown maps and given a briefing of the Air Guard's future plans. They also got a close-up look at the F-15Cs that are kept in a state of readiness for response 24/7.
Capt. Steven Bomar, spokesperson for the Guard, said the military department will save about $7 million per year by taking planes a shorter distance. He said F-15s currently do most of their training near Klamath Falls, which is much farther to travel.
The flight distance from Portland to Klamath Falls is about 240 miles and that distance is about halved if the jets head east to a training ground that is about 90 percent in Wheeler County.
Bomar said F-15s travel as high as 18,000 to 20,000 feet and are unlikely to even be seen when passing through the gorge.
"You may get a glimpse of them on a clear day," he said.
He said the proposal to change the training territory of the planes still has to go through an extensive environmental assessment process that has not yet even started.
"The general [Major Gen. Raymond Rees] is just trying to give people an advance look at what we'll be doing in the near future," said Bomar.
By changing training destinations, the Air Guard expects to re-apportion about 350 F-15 flying hours per year, a 10 percent increase in efficiency.
Each F-15 is valued at $756 million, with almost another $52 million of support equipment. The single-seat all-weather tactical fighters are kept at the ready to provide response to any threats "at a moment's notice." The planes are designed by Boeing for superiority in aerial combat with a variety of air-to-air missiles and rockets on board.
Runyon said it was interesting to learn that the entire weapons system on the jets is controlled by helmet-mounted sights that allow the pilot to cue their release by the direction of his head. He said there are 30 pilots at the Portland base to fly the aircraft and about 1,000 support personnel to work behind the scenes to keep operations rolling.
"They wouldn't let us take pictures, but they did let us go out in the hangars," he said. "Those planes were awesome!"
According to information provided to Runyon and Huffman, modern military fighters require more airspace to train due to increased radar detection ranges and increased capability of air to air missiles.
Wheeler County Judge Chris Perry, who also attended the briefing, said the jets would be training largely over uninhabited areas. He brought two concerns to the Air Guard base Jan. 28 and said they were both sufficiently addressed to allay his reservations.
Perry was concerned that air space for commercial plans would be restricted by the presence of F15Cs, and he didn't want jamming devices deployed that would interfere with normal life for the 1,430 residents, which equates to less than one person per square mile.
"If they are looking for an area that's not inhabited, we kind of fit the bill," he said.
After learning that radar used at elevations of 11,000 feet or above wouldn't cause a problem for inhabitants and other planes could fly unimpeded, he is supportive of the Guard plan.
"The military has been using air space over Wheeler County since 1950, so this is nothing new to citizens," he said. "There really isn't a down side to this other than the fact a person might hear a jet once in a while. But even that isn't a problem when you think this is more training time for a pilot that is providing protection for our citizens – how do you put a price on that?"