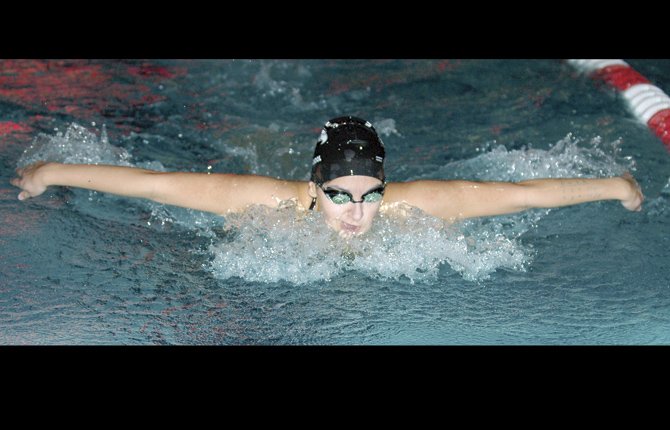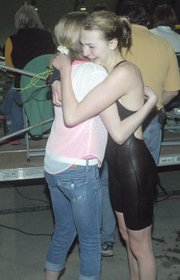 On the biggest stage in front of their contemporaries, The Dalles Wahtonka swimmers Erin Nelson and Mika Hernandez both knocked it out of the park.
This dynamic duo grabbed top honors to go along with personal records, while Nelson completed the trifecta with a district record at Saturday's 5A Columbia River Conference district swimming championships at the Hood River Aquatic Center.
In one way, there was a sense of relief and accomplishment, as Hernandez enjoyed her first district-winning performance in her senior season.
She had come close before in her freshman season, and waited three years before a return to glory.
Against seven other competitors, Hernandez had splits of 32.19 seconds and 36.81 for her final marker of 1:08.96, a little more than one second ahead of Hood River's Rebekah Galvez.
"It is pretty special because I worked very hard to get to this level," Hernandez said. "I was pretty close to making it to state in the butterfly in my freshman year and I was like 46/100ths of a second away. Three years later, I finally made it, so that is pretty cool."
Hernandez admitted that the pressure was on to earn a state slot, especially since she had strung together so many silver medals – It also provided her with some extra motivation.
"There were a lot of people expecting me to get first place this year, so the expectations were high for me when the season started," Hernandez said. "If I had never made it to state, I would have felt slightly disappointed, but I would at least know that I had a great four seasons and that I had a fun time being a part of this team."
It is a great feeling to extend her season by another week.
Hernandez is prepared to go up against some top gunners from across the state.
This challenge will not be easy, by the longest stretch, but she is going to give it her best shot.
"I have to drink a lot of water and get myself in a good mental state of mind for this because it is going to be really tough," Hernandez said. "There are a bunch of good swimmers out there. I know I need to be 100 percent."
Nelson endured a long road to make it back to the top ranks, dealing with several obstacles and a hectic schedule in the process.
Once she completed her 20 grueling laps in the 500-yard freestyle, Nelson stopped the watch in 5:46.85, shattering the previous record set by Danielle Miller (5:47.65) by more than one second.
Moments after looking up at the toteboard, the junior let out her emotions – she had gone through so much to punch a state ticket for the second straight season.
"It was the best time I have done all season. I have never gone under six minutes," Nelson said. "I have been battling the flu and some colds for the first half of the season, I work, and I have a job and go to school, so it is a crazy schedule. I was really proud of myself that I was actually able to accomplish so much given the busy schedule I have."
After hitting times of 36.28, 36.46 and 36.43 leading up to her final lap, Nelson scorched the field with a 32.61 to seal her win.
The junior did not feel she was moving through the water that quickly, but added that she pushed her way through this race with a little extra drive.
"I don't think about anything, I just swim," she said. "Sometimes, I may think to myself, 'I want to win this race, I want to do good, I want to make an impression on people,' so that is all I can think about during my race. Just getting through it was a matter of determination. Getting a personal record and being proud of my accomplishments means a lot too."
Nelson teared up as she realized what was accomplished.
She received several hugs from well-wishers, and little sister Molly, grandmother Kathy Smith and her mother Katie, eventually met her.
"It means a lot to make it to state for two years in a row," Erin said. "It makes me feel like I really worked hard this season. A lot of my hard practices, like in between school and work and all of it, everything paid off as I tried to get back to state."
The two-day state tournament starts at 2 p.m. on Friday, Feb. 15 for the prelims at Mount Hood Community College in Gresham.