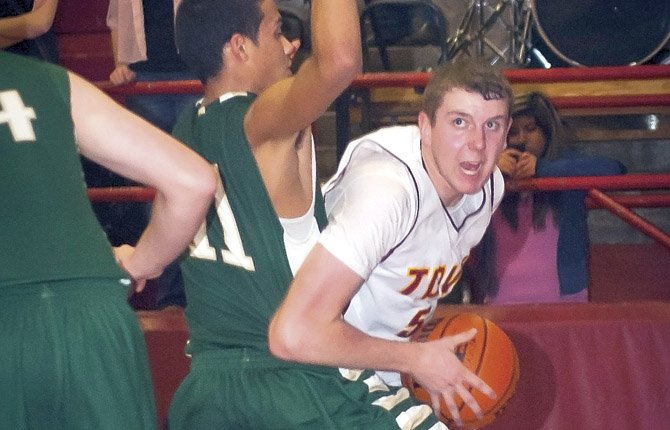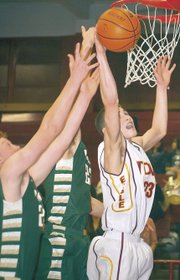 Needing a win to keep their playoff hopes alive, The Dalles Wahtonka boy's basketball team fought and battled until the very end against a Pendleton squad that was not willing to give an inch.
With the lead down to one point, TDW went on a 16-8 run in the final three minutes and 20 seconds to defeat the Buckaroos 60-51 in Columbia River Conference action at Kurt Gym in The Dalles.
Now ranked 24th in the state, TDW needs to win its final game and get some help from other squads in order to retain one of the final playoff slots.
After stumbling out to a tough opening stanza, Clay Copper felt as though his team had a sense of urgency in the final 16 minutes, where the Tribe outscored Pendleton, 41-30.
"I am really proud of this team," Copper said. "We are all out here to win and we don't care what the odds are, we are going to go out there with what we have and we are going to give it all we got. We are not going to give up — even if it is with a chance to play another game after Friday."
Box Score
TDW 60, Pendleton 51
Pend........9 12 8 22 — 51
TDW.........6 13 20 21 — 60
---
Pendleton (51)
Polhamus 0 1-2 1; Robinson 5 1 3-4 15; George 1 2 0-0 8; Anderson 5 3-3 13; Boozer 1 1-2 3; Schnetzky 1 0-0 2; Lane 4 0-0 8. Totals 17 3 8-11 51.
TDW (60)
Nerdin 3 9-10 15; Bartells 1 1 4-6 9; Byers 4 2 7-10 21; Mathisen 0 1-3 1; Malcolm 3 0-1 6; Wilson 3 0-1 6; Copper 1 0-0 2. Totals 15 3 23-31 60.
Late in the third quarter, TDW held a lead as high as 10 points at 39-29, but Pendleton rallied in the first four minutes with an 11-2 spurt to close the gap to 41-40 with 4:02 left in regulation.
On the Eagle Indians' next possession, Zach Nerdin hit 1 of 2 free throws and after his second-shot miss, Pendleton center Joel Boozer chased down a loose ball and saved it inbounds, but his pass went right to Nerdin, who scooped up the pass and sank a layup to move the Tribe ahead, 44-40.
CRC Standings
Girls Basketball
Team Overall Lg.
Hermiston 13-8 7-1
TDW 15-6 5-3
Pendleton 10-12 4-4
HRV 7-14 0-8
---
Boys Basketball
Team Overall Lg.
Hermiston 9-13 7-1
TDW 10-13 5-3
Pendleton 10-11 4-4
HRV 4-16 0-8
Pendleton's Quincy George followed that play with a 3-pointer to inch his team closer at 44-43 with 3:20 left.
Austin Wilson answered right back for TDW with a driving layup to make it 46-43.
Pendleton was then whistled for an offensive foul on its next time up the floor to give the ball back to T-Dub.
After that call, Pendleton coach David Norton and one of his assistant coaches were hit with technical fouls.
From that point on, the Eagle Indians went on their 16-8 run, as Pendleton could muster only three field goals, while T-Dub had a layup by Nerdin and the team combined to sink 12 of 16 free throws (Nerdin was 6 of 6, Connor Mathisen nailed 1 of 2 and Grayson Byers hit 5 of 8).
"We just didn't play well enough in stretches during the game," Norton said. "We committed too many turnovers and we didn't take advantage of our opportunities to score.
Really, the biggest difference in this game was when they (officials) called the two technicals on us. I think that put the game out of reach."
After one quarter of play, Pendleton enjoyed a 9-6 lead. In the second quarter, there were three ties and three lead changes, but the Bucks ended the frame with a 21-19 halftime advantage.
TDW used the first 5:17 of the third quarter to go on a 14-4 run with a basket by Hunter Malcolm, two free throws by Steven Bartells, a jumper by Austin Wilson, and two long balls, a rebound and a putback by Byers to run the count up to 33-25 with 2:43 on the clock.
"Breaking their press was a big thing for us," Mathisen said. "They brought that press late in the game and tried to get to us. It was a real weak press and we were able to break it easily without many turnovers. On the offensive end, we took care of the ball very well. We had some real long possessions that ended in baskets."
Byers rattled off a team-high 21 points, Nerdin ended up with 15 and Bartells poured in nine to lead the Eagle Indians.
In all, six different players hit on 18 field goals. From the line, TDW swished 23 of 31 shots.
"We had big plays from key contributors down the stretch with big shots, big rebounds and that just shows that the team has no quit," said Coach Bob Townsend. "As a coach, that is really what you would like to see."
Even with the loss, Hermiston still has a chance to earn a postseason berth, if it defeats rival Pendleton this Friday.
The TDW situation is similar, but more than anything, Friday's 5:30 p.m. contest represents an opportunity to finish league undefeated at home and with eight wins in nine games.
"To lose only one game overall for these seniors will be a great accomplishment," Townsend said. "It will be the first time since I have been here that we have had only one loss at home. That is an impressive streak no matter what we are playing for. That just gives us some extra motivation."
Radio station KODL 1440 AM will broadcast both games Friday with girls game following the boys game at 5:30 p.m.
All night, there will be added concessions of barbecued hot dogs and hamburgers available for fans.