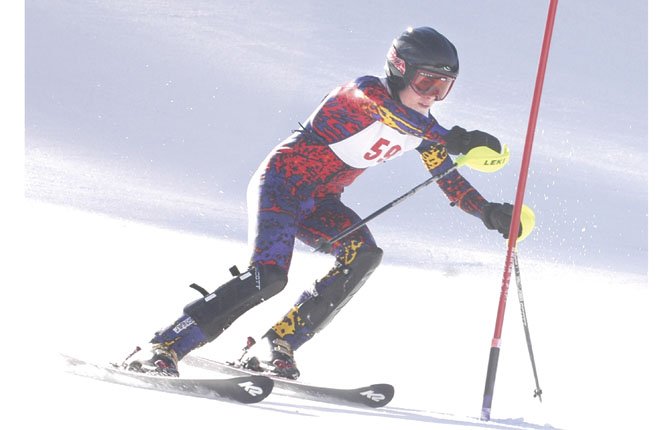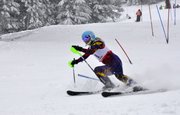 He keeps going and going and going – It is not the Energizer bunny, it is Eli Holeman.
The Dalles Wahtonka's sophomore ski standout scored his third consecutive victory and added the Mount Hood League's slalom title to his record Saturday on Ski Bowl at Mount Hood Meadows.
This was the second straight year a TDW skier secured slalom supremacy, matching Brent Dugick from last season.
Entering his initial runs, Holeman had a specific game plan on how to defeat his 24 competitors, namely his biggest rival, Hood River's William Lamer.
"Because I did so well in the past few races, there wasn't as much pressure to win at this race," Holeman said. "I could have gotten fifth place and still won the league for slalom, but that was not going to stop me from going all out."
Through the opening run, Holeman got a big jump with a time of 36.91 seconds. Lamer was right behind at 37.62 for second place, and so was HRV's Patrick Crompton (38.67).
Holeman's second run was just as hot and he crossed the line in 37.38 to finish at 1:14.29, breezing past Lamer, who had a second try of 37.07 for a 1:14.69.
"Lamer is a great skier, but he would have had to have the run of his life to catch up with me after my first run," Holeman said.
This current trend comes through hours of practice on the slopes.
He also adds weight training and other elements to gain an edge.
"Eli is out there to win it, not just make it through each run," said TDW head coach Jeff Cordell. "He is not skiing conservatively. As a sophomore, he has nothing to lose and he is going out there with a sense of purpose.
Added to the Eagle Indian mix were the efforts of Kale Underhill, Travis Diede and Mark Johnson, whose times kept them in second place as team and still in state contention.
"Eli has been leading the team and they have been practicing super hard," Cordell added. "They are just on a roll. Last week is not going to slow them down at all."
Underhill had another solid outing, as he notched times of 39.09 and 40.13 for seventh place, a time five seconds off Holeman's pace.
Diede wound up 19th with a 1:43.06, but after his first try, he rebounded with a 45.84 on his second run.
Rounding out the Tribe racers was Johnson, who scored a 2:01.10. Johnson struggled in his opening set, and came back on a roll in turn two at 45.26, good for 15th best.
"Kale had a good race," Cordell said. "He charged hard too. He wasn't holding back. The other two kids were just skiing like crazy. They could see Eli ski all out and finish, so they are doing the same thing."

After Saturday's event, the TDW girls placed fifth, but maintained a hold on second place in the season standings. They need a top-3 finish for a state berth.
Leading the Tribe was Bailey Cordell, who continued her ascension.
Cordell turned in a sixth-place rally of 45.02 on her first try, but she settled in on her final slalom journey with a 44.08, fourth-best in the field of 32 for her combined mark of 1:29.10.
The Hood River trio of Korey Cimock (1:17.79), Sadie Shepard (1:24.34) and Molly Clarke (1:24.73) finished top-3 in the individual standings to lead the first-place Eagles.
After her first slalom try, it appeared as though TDW senior Maya Barnard-Davidson was headed to first place, as tallied a 39.68 for second place behind Cimock (38.29).
However, on the second attempt, Barnard-Davidson was cruising through the course, and on the second-to-last gate, she slid out and had to hike to end up with a 54.98 for her total of 1:34.56 to place 13th.
Carsen Cordell churned out a top-20 effort in her own right with two runs of 50.27 and 51.40, which equaled out to a 1:41.67 and 19th place.
Coach Cordell remains encouraged by the numbers this trio has put out.
"I have seen huge improvements from all three girls, especially Bailey. She is making a big run. She is getting better with every race," the TDW coach said. "Carsen is just solid as a rock and Maya is doing really good. They work together well."
TDW's Alyssa Carrico had a marker of 1:56.41, Emma Ell-Smith grabbed 30th with her 2:29.33, and Zoe Ley tacked on a 4:04.29 to round out the Eagle Indian participants.
Next week, the Eagle Indians head out to the Stadium Course in a giant slalom event.
The last time TDW's girls were on Stadium, the top trio ended up in the top-15 and combined for a 4:00.93 for second place.
We just need a good race this weekend and we should be qualified for state," Coach Cordell said. "We are still in second. We need to hang on to second or third. I think we have the talent to do it."