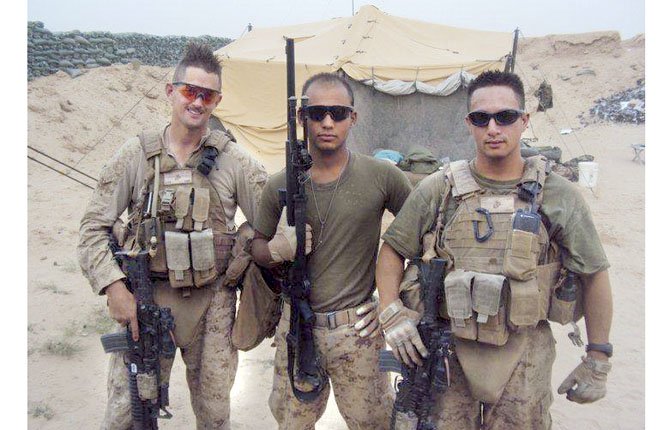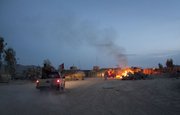 Thousands of U.S. combat troops exposed to toxic chemicals from burn pits at military bases in Iraq and Afghanistan could end up with potentially deadly health problems.
President Barack Obama signed legislation Jan. 10 that directs the Veterans Administration to establish a registry of soldiers, sailors, airmen and Marines that served in locations where hazardous materials were disposed of in open air fires. The registry will allow the medical histories of affected veterans to be tracked and enable the government to alert them about new treatments for conditions associated with chemical exposure.
Wasco County Veterans Service Officer Russell Jones said the VA will provide directions for people to sign up when the registry becomes available. He plans to send out a public notice when that happens so veterans of the Middle East wars from the Mid-Columbia region can get on the list.
"I'll keep an eye on it and let veterans know when it comes time to do something," he said.
Meanwhile, he said Post 9/11 veterans in the region who are experiencing respiratory problems should seek out medical attention. He said troops have health care coverage for five years after coming home from a combat zone to help cover these bills.
He said once a diagnosis of a respiratory condition has been made, the veteran should then make an appointment to sit down with him or Patrick Wilbern, intake coordinator at the 201 Federal Street office, and file a claim.
"We will have to do a little more legwork until the registry is ready and research into the problem is done but the claim should still be made," said Jones.
He said even if the initial claim is denied, it can be refiled in a few years when the data has been collected to support the condition — and compensation will be retroactive.
For more than a decade, pits have been used to burn everything from feces to plastic water bottles, computers and medical waste at bases in the war zones.
Jones said dioxin, a class of super-toxic chemicals, is one of the pollutants that troops might have been exposed to while stationed in either Iraq or Afghanistan.
That same family of chemicals was present in the herbicide Agent Orange that has been linked to an array of fatal or life-altering illnesses among Vietnam-era veterans. The defoliating substance was sprayed over the jungles of Southeast Asia where U.S. forces lived and fought between 1962 and 1971.
The diseases and chronic illness among Vietnam veterans that were eventually likened to the dioxin compound in the herbicide include: prostate cancer, respiratory cancers, multiple myeloma, Type II diabetes, Hodgkin's disease, non-Hodgkin's lymphoma, soft tissue sarcoma, chloracne, porphyria cutanea tarda, peripheral neuropathy, chronic lymphocytic leukemia, B cell leukemia, Parkinson's disease and Ischemic heart disease.
Children of Vietnam veterans have also been found to have a higher rate of Spina bifida and other birth defects.
Because of these major health problems, Jones said Vietnam veterans who were in-country from January 1962 through May 1975 have health care benefits for life.
Since a Senate hearing on the health issues of Post 9/11 veterans in 2009, the armed forces have taken steps to shut down or limit the use of burn pits and have built incinerators that burn waste more cleanly. However, Marines and other combat units living at outposts in rough conditions still use pits on a daily basis because there is no viable alternative.

Some veterans have complained that the plume of smoke from the pits, where fires are often ignited by diesel, was so black and thick it impaired their ability to see their way around the camp. They said the smell from the pit also permeated their clothing, so it remained with them for weeks.
The burn pit at Balad Air Base in Iraq, one of the largest U.S. bases in the country, was reported to have burned hundreds of tons of waste a day for several years after the war began, according to a May 2008 report by the Army and Air Force.
The base was later named Joint Base Balad and was the duty station of many soldiers with Alpha Company from The Dalles Armory during their 2010-11 deployment. Although burning had been reduced by that time, there were still open pits being used for disposal, according to reports given by veterans of Operation New Dawn.
A study of 55 soldiers who served on or near Balad during the time of heaviest burning was conducted by Robert Miller, a pulmonary and critical-care medicine professor at Vanderbilt University, and reflected that many had a rare and irreversible lung disease. With that illness, there is an unusual thickening of the small lung airways that restricts air flow, a condition known as constrictive bronchitis.
Although there is no treatment for the condition, Miller said a diagnosis could allow soldiers to receive health-care benefits they wouldn't otherwise get because they had normal results on the standard lung-function and X-ray assessments.
Jones said many Post 9/11 veterans are also facing breathing ills that are believed by some medical experts to be tied to dust storms in the Middle Eastern deserts. These tempests sent particles loosened by the passage of heavy vehicles into the air that contained uranium and other metals, as well as fungi and bacteria.
Young and previously healthy soldiers have been returning from combat complaining of shortness of breath and dizziness. In some cases, these men and woman have been unable to pass a required physical to continue with active duty.
A multi-year study of the higher rate of debilitating illnesses among veterans of Iraq and Afghanistan was recently completed by the VA Medical Center in Northport, N.Y., in cooperation with researchers at the State University of New York at Stony Brook School of Medicine.
Data from more than 7,000 veterans who served between 2004 and 2010 showed that 14.5 percent of the 1,816 who served in Iraq or Afghanistan had respiratory problems that included bronchitis and asthma. That number is extremely high when compared with 1.8 percent of the 5,335 veterans deployed anywhere else.
Jones said the list of contaminants that troops could have come in contact with is long and includes smoke from burning vehicles following explosions generated by roadside bombs.
He said a lesser publicized cause of illness among infantry units often work in unsanitary conditions is Q-Fever, an infection caused by an uncommon bacteria found in cattle, sheep and goats, and some cats and dogs. Contact with an infected animal or tainted milk can cause a range of symptoms, from nausea, diarrhea and vomiting to acute respiratory distress. A chronic form of the condition is an inflammation of the heart that can last for months or even years and is usually fatal if left untreated, with a 10 percent mortality rate among those who seek medical attention.
Jones said the VA has acknowledged that troops may suffer from illnesses related to environmental exposures and is sponsoring numerous studies on the respiratory health of warriors, including one by the National Institute of Health, an agency of the Department of Health and Human Services.
He said federal and independent researchers are trying to assess what the service needs of veterans from the two wars will be for decades.
"You look at all these things together and it's pretty scary," said Jones.
He can be reached for more information at 541-505-2502 or via email at russellj@co.wasco.or.us.