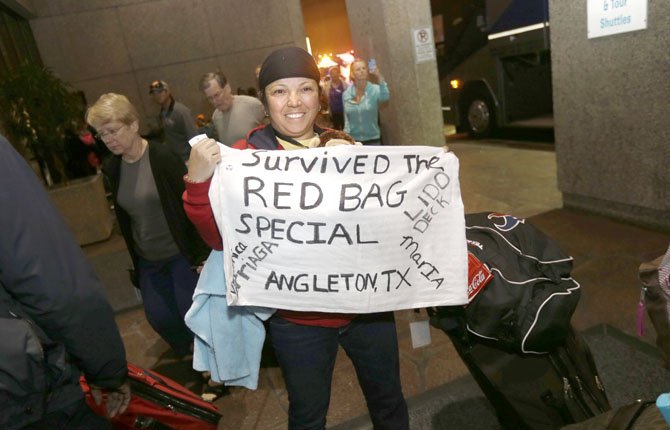 Passengers finally escape ship
MOBILE, Ala. (AP) — Passengers who finally escaped the disabled Carnival cruise ship Triumph were checked into hotels early Friday for a hot shower, food and sleep or riding buses back to Texas after five numbing days at sea on a ship left powerless by an engine-room fire.
The vacation ship carrying some 4,200 people docked late Thursday in Mobile after a painfully slow approach that took most of the day. Passengers raucously cheered after days of what they described as overflowing toilets, food shortages and foul odors.
"Sweet Home Alabama!" read one of the homemade signs passengers affixed alongside the 14-story ship as many celebrated at deck rails lining several levels of the stricken ship. The ship's horn loudly blasted several times as four tugboats pulled the crippled ship to shore at about 9:15 p.m. CST. Some gave a thumbs-up sign and flashes from cameras and cellphones lit the night.
Body IDed as rampaging ex-cop
LOS ANGELES (AP) — Investigators determined fairly quickly that the burned human remains found after a shootout in Southern California mountains are those of Christopher Dorner, the ex-police officer suspected in a rampage that left four people dead. But the answer to a second question will likely prove more elusive — how did he die?
Evidence such as descriptions from witnesses and the discovery of personal items, including a driver's license, already led authorities to figure that it was Dorner who exchanged heavy gunfire with San Bernardino County sheriff's deputies at a cabin Tuesday, killing one officer. Dorner never left as the cabin as it went up in flames.
But on Thursday the issue was officially put to rest when sheriff-coroner's spokeswoman Jodi Miller announced that dental examination had definitively shown the remains were Dorner's.
House seeks extended pay freeze
WASHINGTON (AP) — House conservatives want to extend to a full three years the current freeze on cost-of-living pay increases for the nation's 2 million civilian federal workers.
They say that blocking a modest raise proposed by President Barack Obama for the last nine months of this year will save $11 billion over the long run and that well-compensated federal employees can afford it.
Democrats, and a few Republicans, say federal workers have already done more than their fair share in helping reduce the federal deficit and they are being singled out for punishment by anti-government lawmakers.