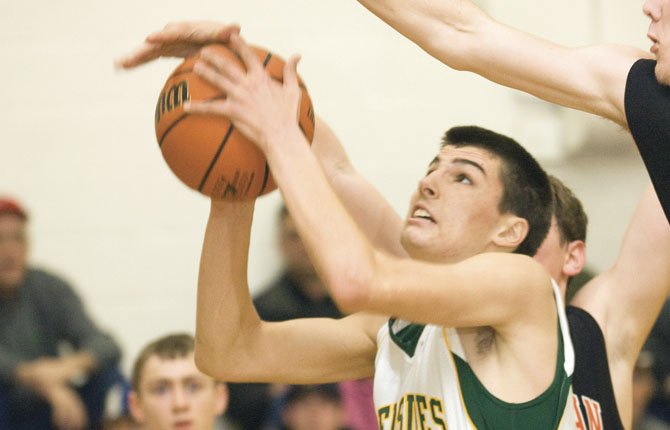 With many of the names on the South Wasco County Redside roster not having any previous experience in a district playoff setting under the bright lights, they came out and handled it like wily veterans.
Wyatt Creel and David Ocacio combined for 39 points, and the No. 8 Redsides used a successful first-half run to build up a big lead on their way to a 52-33 win over Arlington Thursday in boy's district basketball play in Hermiston.
"I told them before the game that districts were a special thing. I talk about enjoying the moment," said SWC head coach Jim Hull. "For any of these guys, it is the first-time ever at a district tournament and it was their first win in a district game. I was worried, but the way we came out of the gates and hit big shots early, I knew I did not have much to worry about from there."
Creel and Ocacio were the catalysts in the opening stanza, as the duo each sank a pair of 3-pointers to move SWC off on the right foot.
Through one quarter of hardwood play, SWC got out in front, 14-8 and then they put the screws to the Honkers using an 18-9 spurt to jump ahead by a 32-17 margin at halftime.
Arlington crept closer with a 12-9 output in the third frame to make it 41-29, but the Redsides found their stroke again in the finale with an 11-4 rally to cap the lopsided win.
The Redsides shot 52 percent in the first half and finished at 17 for 36 for the game (47 percent).
Creel (18 points, 8 rebounds) and Ocacio (21, 2 steals) matched wits for a 13 for 18 effort from the floor, while the rest of the squad hit on 4 of 18 field goals.
Nathan Duling added six points and four boards, and Loreto Morelli was good for five points.
Arlington connected on 13 of 29 shots for 44 percent.
John Grubaugh led the way with 11 points, and Ryan Blankenship had eight points, three rebounds and three steals.
SWC (19-5 overall, 11-3 league) plays Echo (13-11, 10-5) at 4:30 p.m. today in a district semifinal matchup.
Sherman defense dominates Ione
Four Sherman players hit double digits and the Huskies sank a blistering 53 percent from the floor in their 78-62 win over Ione in a Big Sky district boy's hoops contest Thursday at Hermiston high School.
Both teams had their running shoes on from the opening tip and Sherman inched out in front by a 21-18 score after one frame went in the books.
The Huskies found their groove again in the second quarter and swelled their three-point advantage out to 42-27 after posting a dominant 21-9 spurt in the second quarter.
Sherman senior Brian Simantel said the element that led to his team's early lead came on the defensive side of the court.
The Huskies held Ione to 10 of 30 from the floor in the opening half.
"We came in with a completely defensive mindset, executed our press and they couldn't handle it," Simantel said.
Coming off a 16 for 30 shooting performance in the first half, Sherman kept firing away and hitting the twine at 13 for 25.
However, even with that shooting, the Cardinals were able to creep closer in the third after a 16-11 rally to make the count 53-43 entering the fourth quarter.
Sherman is a veteran team that has played at this level before, and they responded with a 25-19 run in the final period to run away with the 16-point cushion.
Riley Brown led the way with 21 points, eight rebounds and two assists.
The team of Austin Kaseberg and Jailin Conboy combined for 40 points, on 16 for 32 from the field.
Nick Coleman tacked on 11 points, seven rebounds and four steals, and Simantel had six points, five boards and four steals.
"Today's game was decent. We played really well and enjoyed the game," Conboy said. "We went into the game to do one thing – Our thing – Run our lanes and play Sherman County basketball. Our offensive play was on tonight. We all were dishing assists to each other and had fun doing it."
For the Cardinals, Bailey Haguewood scored 21 points, and Evan Reitmann notched 19 points and 12 rebounds.
Sherman (16-10 overall, 9-5 league) plays again at 7:30 p.m. tonight against Horizon Christian (25-0, 14-0) at Hermiston High.
Sherman rally comes up short
The Sherman Huskies shot 20 percent and fell behind by as much 11 points in the third quarter, and a 20-12 rally in the final 12 minutes could not get them over the top in their 36-33 loss to Ione Thursday in their girl's district hoops game in Hermiston.
"We didn't execute like we should have, we missed several opportunities on offense, we gave up way too many offensive rebounds and we didn't have the playoff urgency that you have to have to win playoff games," said Sherman coach Steve Kaseberg.
Ione got the jump on Sherman in the opening quarter to lead 11-6, and then both teams found offense tough to come by in adding four points apiece in the second period.

When the buzzer went off, the Cardinals enjoyed a 15-10 advantage heading into the locker room.
The Cardinals extended on that lead with a 14-11 run in the third quarter, and Sherman worked a 12-7 split in the finale for the final margin.
With a big emphasis placed on getting the inside game going to open up the offense, the Sherman Huskies tried the recipe once again and the frontcourt combined for a 1 of 15 effort from the field.
Senior guard Audrey Kaseberg scored 15 points, Andi Harrison added six and Brooklyn Sandquist tacked on five points.

Ione had two players, Lacey Thompson (14 points) and Shadow Kendrick (13), doing all of its offensive damage with 27 points.
Coach Kaseberg's message is clear — he wants his returning players to learn from this experience to make themselves and the program better.
"We can't let this loss alone define our season," coach Kaseberg said. "The girls had a good year. We won games on the road in places that we hadn't won before — we won at Nixyaawii, won at Ione, won at Echo and we had 10 wins in league. Now, we have to get to camps, summer league and do extra work in the offseason to get better and we will."
It is a bittersweet moment for coach Kaseberg —this was the last game he coached seniors Samantha Coons, Shelby Kaseberg, Brooklyn Sandquist and Audrey Kaseberg.
"As for the seniors — this is the first senior class that has been playing in the program for all four years, each and every one of them have left a footprint, a positive contribution to the program today and for the future Lady Huskies," coach Kaseberg said. "And I and the program are very proud of their accomplishments and their efforts and wish them all the luck and support in their future plans."
Echo's comeback stuns SWC girls
South Wasco County blitzed Echo early on tacking on a lead as high 17 points, but the Cougars restored order and finished the game on a 34-14 run in the final quarter and a half of play to pull off a 43-40 comeback thriller.
With time running out late in the final period, SWC guard Roxanne O'Neal had one last opportunity to deadlock the score on a 3-point attempt with seven seconds remaining, but the shot did not go down and the Cougars secured the win.
In the second half, SWC hit on 6 of 25 shots to finish out the contest at 13 of 46 for 28 percent. After executing 5 of 6 free throw tries in the first half, they clanged 9 of 22 in the second stanza to end up 14 of 28.
The Redsides committed 37 turnovers and Echo scored 23 points off those miscues.
SWC dominated in the paint with a 52-37 advantage on the glass. Twenty-two of those rebounds came on the offensive side.
Everything was working in the Redsides' favor in the first quarter, as they pounded Echo to the tune of a 12-1 run to lead by double figures.
SWC then used a 7-5 output in the second quarter to run their lead up to 19-6 at halftime.
Joy Kelly notched a double double with 12 points and 11 rebounds, Molly Foreaker added 11 and Zoe Morelli checked in with six points.