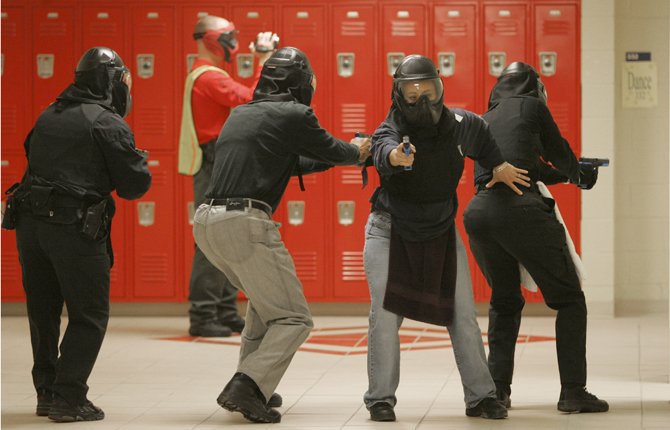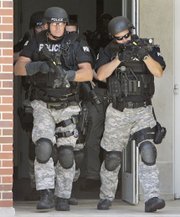 The Dalles — Over 80 area law officers will receive day-long training in responding to "active shooter" incidents over the next four days at the vacant Chenowith Middle School.
The training, which will see 20 officers a day getting trained between Feb. 18 and Feb. 21, is organized by the Oregon State Police and the state's police academy, the Oregon Public Safety Academy.
"Active shooter" training is just as the name implies: training in responding to a shooting in progress.
The training was put in motion by a local trooper following the Aurora, Colo., theater shooting last summer, and with December's mass shooting in Newtown, Conn., quickly following the shooting at the Clackamas Town Center, it has drawn wide interest from area police agencies.
"There's just been a huge need for this," said Oregon State Police Trooper Mark Jubitz. "It's been something on our training calendar for awhile and because of the recent events, it's pushed it up a bit.
"We honestly didn't expect the response from the local agencies and we went from originally planning for two days to four days," Jubitz said.
There was so much interest in the training that some troopers, for whom the training is mandatory, will have to wait to take it later. Area state police last had "active shooter" training about five years ago, Jubitz said.
He said police will be training solely at the middle school, and will not be practicing
responding to a scene. That means there won't be any patrol cars speeding to or around the school.
He is getting the word out in local media about the training so the public is not alarmed at the huge congregation of patrol cars at the middle school.
"It's not often we tell the public the training we're doing. We just do our training and show up prepared for what we're doing. But with recent events, we just want to give them some comfort knowing that we're trying to stay ahead of the curve, to be proactive."
He added that police are asking the public to stay away from the training venue. They don't want "unintended people to come in there who are going to cause unnecessary distractions or cause an unknown threat to pop up and have to deal with it and interfere with training," he said.
Officers from Wasco, Hood River, Gilliam, Sherman and potentially Klickitat County will be taking the training, which will feature classroom work for half the day, and then practical application of that training the rest of the day.
Mid-Columbia Medical Center is also sending staff to the training, Jubitz said..
He said he couldn't describe in too much detail what officers will be taught.
"It's not like its top secret but we don't want to give the information to the people who are planning these things so they can counter our training and make it more difficult for us to protect our citizens."
He would say that "when we respond to these active shooter incidents our purpose is to take care of the immediate threat. We're not there to render first aid and to make people feel good; we're there to stop the threat. And that's the down and dirty of it."
About 20 to 30 actors will play civilians, and officers themselves will play the bad guys, since that involves getting "shot" with what are called "simunition" rounds, or paintballs.
The guns that are used are called "blue handle guns." It acts like a real gun, for realism in training — although it's not as loud when fired.
Great care is taken to ensure no service weapons are even brought into the training venue, because of accidental shooting incidents across the country at other trainings, he said.
Jubitz, who is with the state police patrol tactics division, has been shot with the simunition paintball rounds hundreds of times. The "bad guy" wears padded clothing and a face shield, but the rounds can still bruise or even break skin.
"But the tradeoff is you give the officers realistic training that they can use in realistic situations," he said.