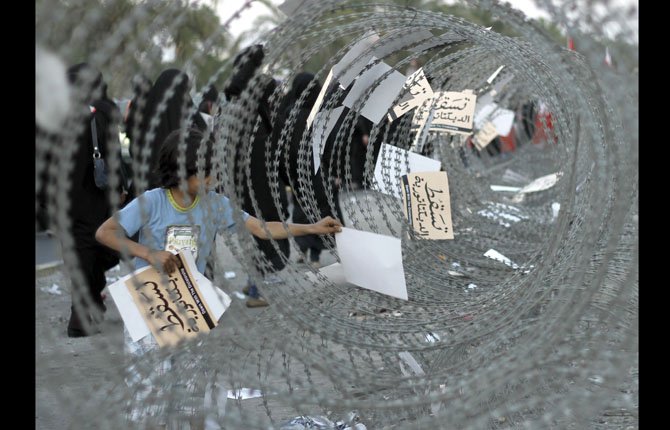 Budget fight: not so bad?
WASHINGTON (AP) — Get ready for two weeks of intensifying warnings about how crucial, popular government services are about to wither — including many threats that could eventually come true.
President Barack Obama and congressional Republicans made no progress last week in heading off $85 billion in budget-wide cuts that automatically start taking effect March 1. Lacking a bipartisan deal to avoid them and hoping to heap blame and pressure on GOP lawmakers, the administration is offering vivid details about the cuts' consequences: trimmed defense contracts, less secure U.S. embassies, furloughed air traffic controllers.
Past administrations have seldom hesitated to spotlight how budget standoffs would wilt programs the public values.
When a budget fight between President Bill Clinton and congressional Republicans led to two government shutdowns, in 1995 and 1996, some threats came true, like padlocked national parks.
thers did not.
Clinton warned that Medicare recipients might lose medical treatment, feeding programs for the low-income elderly could end and treatment at veterans hospitals could be curtailed. All continued, thanks to contractors working for IOUs, local governments and charities stepping in and the budget impasse ending before serious damage occurred.
Vatican eyes March conclave
VATICAN CITY (AP) — The Vatican raised the possibility Saturday that the conclave to elect the next pope might start sooner than March 15, the earliest date possible under current rules that require a 15-20 day waiting period after the papacy becomes vacant.
Vatican spokesman The Rev. Federico Lombardi said that the Vatican rules on papal succession are open to interpretation and that "this is a question that people are discussing."
"It is possible that church authorities can prepare a proposal to be taken up by the cardinals on the first day after the papal vacancy" to move up the start of conclave, Lombardi said.
He explained that the 15-20 day rule is in place to allow time for the arrival of "all those (cardinals) who are absent" to take part in the conclave in the usual circumstances of convening after a pope dies. But in this case, the cardinals already know that this pontificate will end on Feb. 28 with the resignation of Pope Benedict XVI, and therefore can get to Rome in plenty of time to take part in the conclave, Lombardi said.
The date of the conclave's start is important because Holy Week begins March 24, with Palm Sunday Mass followed by Easter Sunday on March 31. In order to have a new pope in place in time for the most solemn liturgical period on the church calendar, he would need to be installed as pope by Sunday, March 17. Given the tight time-frame, speculation has mounted that some sort of arrangement would be made to start the conclave earlier than a strict reading of the law would allow.