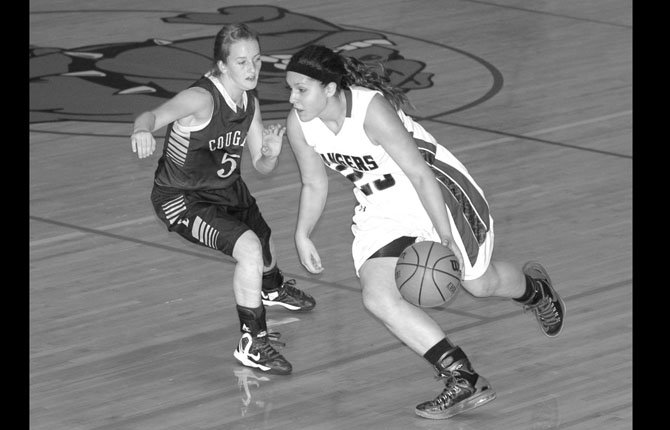 HERMISTON — It appeared as if the Echo Cougars were about to make a big run for the district championship game.
But mantra inside the Dufur huddle was to remain calm and the execution would follow.
The Dufur Rangers broke open a 27-all fourth-quarter deadlock with a 16-5 run in the final seven minutes and 22 seconds to preserve a 43-32 win over the Cougars and a dance with destiny in the Big Sky girl's district hoops championship game.
"In the second half, we settled down and we actually set up our plays, didn't rush things and did not panic or overthink everything," said Dufur forward Sammi Ghramm. "It is really important to slow the game down. When you slow things down, you get to think one pass ahead, think smarter and play more under control. If you do that, it makes everything flow more smoothly."
After that initial 3-pointer by Evangalyn Marcum, the Ranger defense held strong once again, holding Echo without a field goal in a 10-1 spurt over the next 5:38.
In that rally, Alexis Anderson sank a jumper and hit 1 of 2 free throws, Taylor Darden rattled home two baskets and Sammi Ghramm added 3 for 4 from the line to move the Rangers ahead by a 37-28 margin.
At the 1:40 mark, Echo's Elizabeth McCarty ended her team's drought with a layup, but then Dufur landed the knockout blow with a 6-2 spurt on baskets by Teneille McDonald, two free throws by Hannah Harris and a layup by Tianna Ellis to seal the win.
In the opening stanza, the Rangers shot 45 percent and tallied runs of 11-9 and 10-7 to lead 21-16 at the break.
Echo outscored Dufur 8-6 in the third quarter and tied the game at two points in the frame, but never had a lead.
Dufur displayed a balanced scoring attack in this contest with seven players hitting field goals, in a 16 of 42 shooting effort for the game.
Harris led the charge with 11 points, Darden added 10 points and four boards, and McDonald hung eight points to the scorebook.
"It is great to be well-rounded," Dufur point guard Alexa Macias said of her team. "If one person is out, you can count on the next person coming off the bench, you can count on the person next to you to make something happen. It makes it a lot more fun to play that way."
Although Macias made 1 of 5 shots, she added other intangibles to her line with eight assists, seven rebounds and four steals in 29 minutes of work.
"I wasn't having the best shooting night, so when I do that, I just try to take the focus off myself and get the ball to my teammates," Macias said. "I know that if I get them the ball down there, they are going to finish. It is good to be able to trust them down there."
With the win, Dufur keeps it season going.
This feeling of advancing and the district atmosphere as a whole is foreign for the junior guard.
"It is a first-time thing for me because my old team, I was on JV, so we don't go to these types of things," Ghramm said. "I am really excited for it and I am also very nervous about this because it is something I have never done before. I don't know what I am supposed to think or what to expect. It is going to be really exciting though."