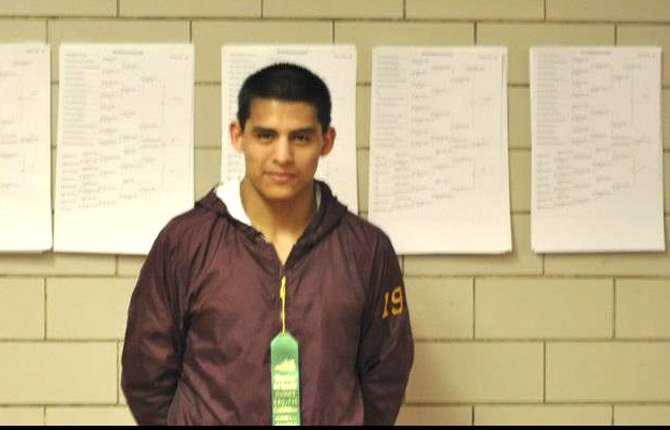 The Dalles — Eric Morales is now four wins away from achieving every wrestler's dream – a state championship.
Saturday at Marshall High School in Portland, Morales, while wrestling at the 170-pound classification, scored four wins, two by pin to end up in fourth place for The Dalles Wahtonka's only state qualifier.
"Eric wrestled really well," said TDW assistant coach Brandon Hansell. "I felt that Eric and the rest of the team grew a little bit and they matured. As the season went on, we wanted them to become a more mature team. I think this was the turning point. Everyone matured up and started wrestling."
In his first match of the day, Morales defeated Roosevelt's Chancellor Swar by technical fall at the five minute and 47 second mark of the third round.
However, in his next match, Morales wound up being pinned by the state's No. 5-ranked wrestler, Alec St. Hillaire, in the first round.
Morales' district title hopes may have been dashed, but he was still in line to go the longer route in order to punch his ticket.
First on the consolation docket was Pendleton's Marcus Taylor.
The Eagle Indian wrestler grabbed control early on and rode his way to an 11-4 major decision to keep his tournament alive.
Up next, Morales squared off against Franklin's DeAnthony Hartley, and he won by a third-round pin to move to within one win of a state berth.
If he was going to do it, Morales had to beat Wilson's Nicholas Schachner.
This tussle lasted until the third round, but Morales pinned Schachner at the 4:55 mark to score his slot.
Waiting for Morales in the third and fourth place match was Madison's Thomas Reed-Dustin.
With the score knotted at 2-apiece, Reed-Dustin was ahead 4-2 late in the match when Morales stuck a takedown out of bounds that would have knotted the score.
In the opening round, Morales, Bryan Sanchez and Damion Morris notched wins. Unfortunately for Sanchez, he had to withdraw from further competition due to an injury.
After losing in the opening round, Alex Hernandez, Luis Herrera, David Garcia and Nate Mullins picked up victories in their consolation openers.
At 160, Bo Anderson lost his first match to drop into the consolation bracket, but the senior rebounded with back-to-back pins in a combined 36 seconds.
He beat Pendleton's JD Peters by pin in 21 seconds, and he needed only 15 seconds to take out Hood River's Rafael Villegas.
Now only two wins from state, Anderson had that trip cut short after losing 9-0 to Hermiston's Jesee Rodelo.
Morris started out hot in his 132-pound bouts, as he reeled off a first-round pin at 1:27 to drop Roosevelt's Sean Brady.
He ended up losing in the next round to HRV's Charlie Mallon, but got things charging in his consolation opener with an 8-6 win over Franklin's River Reichhoff.
The freshman had his season end in his next bout against Hermiston's Mason Ballew by second round pin.
Morales has a good draw at state this weekend at Memorial Coliseum in Portland.
His opening match is against No. 3-seeded Richard Bylund, a senior from Corvallis.
With first-year coach in Greg Burkart at the helm with a state qualifier in tow, Hansell feels this could be a prominent stepping-stone for T-Dub wrestling, especially given that at least three or four other wrestlers could have captured state berths if the injury bug had not hit.
"With Eric going to state, this gives us a big step up in the program," he said. "We are trying to link the high school, middle school and club teams and this is the first step. We got one of 13 wrestlers left on the team into state. All these guys will be seniors next year, so it will be interesting."