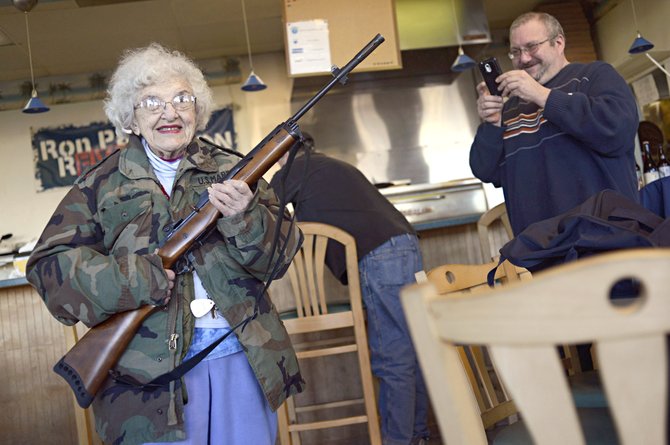 Google stock price tops $800
SAN FRANCISCO (AP) — Google's stock price topped $800 for the first time Tuesday amid renewed confidence in the company's ability to reap steadily higher profits from its dominance of Internet search and prominence in the increasingly important mobile device market.
The milestone comes more than five years after Google's shares initially hit $700. Not long after breaking that barrier in October 2007, the economy collapsed into the worst recession since World War II and Google's stock tumbled into a prolonged malaise that eventually led to a change in leadership.
Court to look at spending limit
WASHINGTON (AP) — The Supreme Court will hear a challenge to campaign finance laws limiting how much an individual can give to political campaigns.
The justices on Tuesday decided to hear an appeal from Shaun McCutcheon of Alabama and the Republican National Committee. They are arguing that it's unconstitutional to stop a donor from giving more than $46,200 to political candidates and $70,800 to political committees and PACs.
McCutcheon says he accepts that he can only give $2,500 to a single candidate but says he should be able to give that amount to as many GOP candidates as he wants. The U.S. Court of Appeals for the District of Columbia upheld the limits, but the high court decided to review that decision.
Chavez back home but silent
CARACAS, Venezuela (AP) — President Hugo Chavez is back in Venezuela after 10 weeks of cancer treatment in Cuba, but he remained silent and out of sight on Tuesday, closed away in a tightly guarded military hospital, leaving the nation to speculate about whether he can still govern, and for how long.
Government officials are insisting that Chavez remains in charge even as observers are increasingly questioning whether a leader who has been breathing through a tube and hasn't spoken publicly in more than two months is capable of remaining in office.
Drone strikes jump 72 percent
KABUL, Afghanistan (AP) — The number of U.S. drone strikes in Afghanistan jumped 72 percent in 2012, killing at least 16 civilians in a sharp increase from the previous year, the U.N. said Tuesday in a sign of the changing mission as international forces prepare to withdraw combat forces in less than two years.
The U.S. and NATO have long pledged to keep up the fight against al-Qaida and other militants even as they draw down forces. And drones are expected to take on a greater role as the Americans focus more on special forces operations.
Overall, the full-year toll of civilian deaths in 2012 declined compared to the previous year, according to an annual U.N. report. But the toll spiked in the second half of the year, compared to the same period a year earlier.
Shooting spree leaves four dead
TUSTIN, Calif. (AP) — A chaotic shooting spree early Tuesday through Orange County, Calif., left four people dead, including the shooter, and two others injured before the man stopped and shot himself to death in a stolen car, police said.
There were multiple crime scenes in Tustin and Orange and many more victims who were shot at but unhurt, Tustin Lt. Paul Garaven said.
The shootings began at 4:45 a.m. when deputies responding to a call found a female shot multiple times in a house in Ladera Ranch, said Orange County sheriff's spokesman Jim Amormino.
The city is in the southern part of the suburban county about 30 miles south of Los Angeles.
From 5:30 a.m. to 5:55 a.m., Tustin police received reports of shootings in several locations, Tustin police Supervisor Dave Kanoti.
The motive for the shootings was unclear, and it's also unclear if the victims knew each other or the shooter, Amormino said.