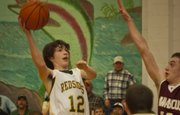 Maupin — So many positive things can come from a loss.
Three days after losing to Horizon Christian in the Big Sky conference district championship, the South Wasco Redsides rode some hot second-half shooting and a decisive rebounding effort in their 69-52 victory over Damascus Christian in opening round 1A state playoff action in Maupin.
SWC has now won five of its last six games.
With Tuesday's triumph, the Redsides are one win away from earning a trip to Baker City.
"They are playing confidently. They do have the mindset that they can be competitive and that they are capable of winning it – any game, anywhere," said SWC head coach Jim Hull. "The Horizon game put that in their minds for sure. That took out the doubt. When you are playing confident and things are working well for you and you are on a roll, good things tend to happen for you."
In the opening half, neither team had more than an eight-point lead.
With two minutes and 31 seconds left in the half, SWC padded what was a 29-26 lead with an 8-0 spurt on a rebound and putback by Wyatt Creel, a hook shot by Colton Nannini and back-to-back layups by Nathan Duling to jump ahead, 37-26 at the break.
"We were able to establish an up-tempo game and I think once that started, it just carried through the game," said Hull, the 2012-2013 Big Sky Coach of the Year. "I liked our ability to control the boards. Another big thing was that we were attacking the hoop as well. We were aggressive on offense."
With 4:37 left in the third quarter, Damascus guard Danny Vroom capped a little 6-2 spurt in a span of 1:10 to inch the Eagles to within a 42-32 deficit.
After a Redside timeout, order was restored and the No. 7-ranked team in the state fired out on a 8-3 spurt in the final 4:14 to make the score 50-35 after three frames were put into the books.
Both teams put forth their best offensive outputs of the night in the final quarter by combining for 13 field goals for 36 points.
The quarter also featured a pair of technical fouls on Damascus Christian.
At one point, the Redside lead had grown to 59-42, and then Damascus had hoops from Luke Jackson (7 points) and Taylor Crowley (18 points), to make the score 59-46 with 3:25 left.
Hull called for another timeout, and the Redsides finished the game on a 10-6 spurt, as the final two field goals came from the freshman duo of Brody Myers and Devan Dammann to put a bow on this effort.
In all, eight Redside players hit field goals and three posted double digits, as they made 27 of 50 shots, 25 for 42 from two-point territory.
On 14 of those baskets, SWC posted assists, with both David Ocacio and Duling notching four apiece.
"We have our offense dialed down and we share the ball pretty good," said Nannini, who finished with eight points, four rebounds and three assists. "It was good for us to be relaxed and play our game. We try to keep our points pretty even. Everyone is looking to make the assist. They will score if they have to, but it is more important to keep everyone involved."
For the second straight game, Duling led the Redside charge with 16 points, and Creel had another double-double with 15 points, 19 rebounds and three steals.
Ocacio hit 3 of 7 shots for 14 points and Morelli carved out nine points, eight boards and four steals.
Overall, SWC had 11 steals, forced Damascus into 12 turnovers and had a 38-15 rebounding edge.
"I think our offense and defense has been blending together pretty good lately," Nannini said. "Once we started getting our shots to fall, our defense gets more into the game too. If we are getting steals on defense, we are going to get fast-break lay-ins to get our offense pumped up."
Although just a sophomore, Nannini approached this playoff run like a grizzled veteran.
He knows there are no ticker-tape parades for winning one playoff game in a season.
"We need to enjoy our win tonight, but we know we have one more game to win if we want to make it to the state level," Nannini said. "This is what we have done all this work for. We want to keep it going. We still have to play hard and keep that do-or-die mentality."
SWC (21-6 overall) awaits its next opponent for a Friday night contest.
Depending on tonight's results, the Redsides could host another game or have to travel.
We always want more. To think that this team is one game from the final eight is pretty special," Hull said. "For a lot of these guys, it is a dream come true to have that opportunity."