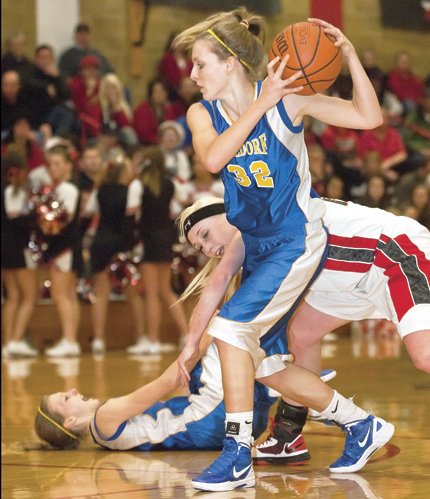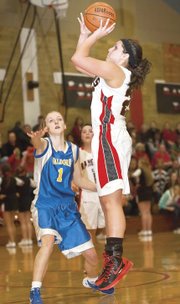 Dufur — On a rainy evening in Dufur, the twin duo of Anya and Greta Conlon rained down threes as the main weapon of choice to lead No. 19 Portland Waldorf to a 59-56 sub-round playoff upset win over the No. 11 Dufur Rangers Wednesday night at Dufur High School.
In all, the Conlon twins hit 17 field goals, 11 from long distance in combining forces for 55 points, including all 24 in the opening quarter.
In his many years of playing and coaching, Dufur's Hollie Darden had never seen a two-girl performance like this.
"Sometimes, you can't stop things from happening, it is the nature of the game of basketball," Darden said. "Sometimes kids will have a great performance, like we did tonight when you have two girls who have out-of-body experiences, where the basket was big and everything was going in."
Box Score
Portland Waldorf 59, Dufur 56
POR.....24 10 11 14 — 59
DUF......15 12 9 20 — 56
---
Portland Waldorf (59)
G. Conlon 2 6 1-2 23; Baker 0 0-1 0; Tolley 1 0-0 2; An. Conlon 4 5 9-12 32; Lindellen 1 0-0 2. Totals 8 11 10-15 59.
Dufur (56)
K. Pullen 0 0-0 0; Harris 3 0-0 6; McDonald 4 1-4 9; Macias 2 5 0-0 17; Anderson 0 1 0-0 3; Ghramm 1 2 0-0 8; Darden 5 1-3 11. Totals 15 8 2-7 56.
Total Fouls: Portland Waldorf 4; Dufur 12. Fouled Out: None.
Defensively, Darden threw everything but the kitchen sink at them, switching from man to a zone and making them handle the ball to expend a lot of energy late in the game.
"They were still able to hit 3s in the second half," Darden said. "I kept on saying, 'they are not going to keep on making those' and they did. They made enough of them to close it out. You have to just put your hand out and say 'good job.' What else can you do?"
At one time in the first half, the Wolfpack enjoyed a 13-point lead, at 28-15, with five minutes and 19 seconds left in the second quarter.
The lead was 45-36 entering the fourth frame, but the Rangers got hot for a furious finish.
Dufur scored the first two baskets in the fourth frame to make it 45-40, and then each team traded baskets.
Dufur's Sammi Ghramm hit a jumper, Anya Conlon nailed a runner and then Alexa Macias swished a 3-pointer to make it 50-45.
On Waldorf's next possession, Greta Conlon answered right back with a deep ball of her own to extend the cushion to 53-45.
Hannah Harris hit a jumper to draw Dufur to a 53-47 score.
After a Ranger timeout, Anya Conlon missed a close shot, but after an offensive rebound, she scooted behind the 3-point line and drilled a shot two feet behind the stripe to run the cushion to 56-47 with 3:18 left.
"I have never seen a team that we have played shoot the ball like that," Macias said. "No matter what we did on defense, they shot really well. You cannot take that away from them. It is frustrating to end this season. We wanted to win, but we didn't give up and I am really proud of my team."
With less than a minute left, Macias drained a 3-pointer to inch the Rangers to a 59-50 deficit.
Portland Lutheran then missed a front-end free throw, and on Dufur's next time up the floor, Macias assisted on a pass to Alexis Anderson, who sank another long ball to make it 59-53.
With 12 seconds left, Wolfpack guard Alma Baker misfired on a front-end free throw and Dufur grabbed the rebound and hurried up the floor.
Macias drilled a 3-pointer, her fourth in the quarter and fifth of the game, to draw her squad to within 59-56 with three seconds left.
Portland Lutheran then inbounded the ball and ran down the clock before the Rangers could foul.
Anya Conlon led all scorers with 32 points, and Greta, the point guard, chipped in with 23, nine in the second half.
Aubree Tolley and Karis Lindellen notched one basket each for Portland Waldorf's 19 field goals.
State Results
Girls Basketball State Results
Portland Waldorf 59, Dufur 56
Pine Eagle 47, Echo 40
Crane 55, Powder Valley 52
Triad 46, Adrian 31
Elkton 43, Trinity Lutheran 28
Triangle Lake 56, Pacific 30
Perrydale 71, Lowell 36
City Christ. 43, Country Christ. 36
Schedule on Saturday, Feb. 23
winners off to Baker City
---
Boys Basketball State Results
S. Wasco 69, Damascus Chr. 52
Sherman 80, Powder Valley 77
Crane 61, Cove 57 (OT)
Rogue Valley 59, Monument 40
Triad 77, Umpqua Valley Chr. 69
Crow 76, New Hope Christian 62
Perrydale 52, McKenzie 34
City Christian 66, Jewell 63
Schedule on Friday, Feb. 22
winners off to Baker City
---
"We knew our opponents were quality," said Wolfpack coach Terry Smith-Harris. "They had some options they could use to attack us, but we wanted to come out and attack first. It was our speed and our shooting that gave us an advantage. When they come out and have a game like tonight, it is very difficult for anybody to stay with us."
Macias led the Rangers with 19 points and Taylor Darden added five field goals and 1 of 2 free throws for her 11 points.
Teneille McDonald added nine points, Ghramm had eight and Harris poured in six to her stat line.
"I actually feel great about today's game, although it did not turn out the way we wanted it to," said Taylor Darden. "Our team came out and played hard. We never let up. We were down by 10 points and we lost by three. So, really, I am happy about this."
Although seniors Kiara Pullen and Anderson will move on to graduation, Dufur has a solid core coming back. Dufur won 19 games, claimed a Big Sky West Division title and made it to the district title game, a big jump from 2011-2012. At one point in the season, Dufur moved up the rankings to the top-5 and that is with a group of four newcomers in Harris, Tianna Ellis, Madison Pullen and Ghramm.
"I am so excited to have those girls on this team," said Darden. "When Sammi came, I was excited to have her here. Hannah has a lot of potential. She is a freshman, but she showed that she belongs. I am glad I am still a sophomore and that I have two more years with them. We look to this season as a positive thing. We could have had a lot worse, but every game we came out and we played as a team."
All fingers point to a Memorial Day return to the hardwood for the Rangers.
"We won a lot of basketball games," coach Darden said. "I felt that we played with a lot of toughness and heart. I never felt like any game that we were in that we packed it in and gave up. These girls have battled all season long. I am real proud of them for that."