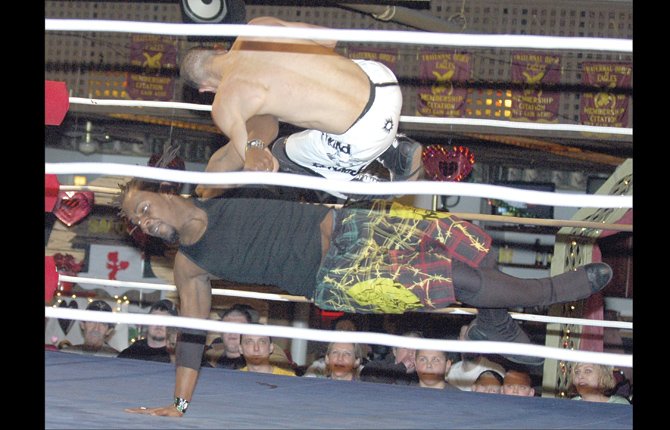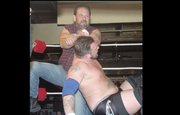 The Dalles — The raucous crowd of 200 filled The Dalles' Eagles Lodge Aerie 2126 with boisterous chants of U.S.A.!, U.S.A.!, U.S.A.! while Oregon City resident Buddy Highway locked wrestling horns with England's own 'Gentleman' George Michaels in the first bout of the night.
Edwards, Highway and a slew of grapplers including 'Maniac' Matt Bourne, tag team champions Bubba and Jeremy Blanchard and the son of 'Rowdy' Roddy Piper, Colt Toombs, were on display Thursday during a filming of Portland Wrestling Uncut.
Highway won his match and exited stage left to a cascade of cheers from the crowd — a great patriotic way to start.
In the ring, these gladiators are sworn enemies for the sake of show. There is a mutual respect and an element of trust involved in performing some of these death-defying stunts.
One false move and a wrestler could be injured severely.
Ultimately, they know it is a closely woven group where once the match is over, they share laughs, a hearty handshake and a moment of sportsmanship.
"These guys are my brothers," said the muscle-bound grappler named 'Thunder.' "We train together, we hang together, just about everything. I think it is important to have a close group here. It makes for better shows and a better product. Our fans are important. If they see that we care, it makes them want to come back."
From a fan perspective, two locals, The Dalles resident and 1953 TD graduate, Roy 'Peewee' Stephens, and Hood River's Zachary Clancy were on their feet cheering until no end.
All through the evening, Clancy and his friends, Jerry Johnson, Joseph Sheahan and 'Prospector Dan' were cheering for the proverbial 'bad guys.'
Sheahan was impressed by the show and is trying hard to get a 2014 date set for 'Rumble at the Ruins' in Hood River.
"It was a lot of fun. I am joyful to be out here hooting and hollering and having a great time with my friends," Clancy said.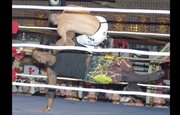 He took a lot of the results to heart — he shared his disdain for the mohawk-coifed referee, 'Romeo.'
"I am little ticked off because I feel like the referee took a couple of the true winners out of the match," Clancy added. "It was a little irritating because I thought the better wrestler who deserved to win the match got out-rooted, not because of the crowd, but because the scenario this referee played out laid a hand in the outcome."
Stephens, 79, had a look of pride in his eyes when watching the action unfold.
He had his daughter and grandchildren in attendance as well.
"Wrestling has always been a part of my family. We would watch it every Saturday," Stephens said. "I think it brings everybody closer."
Stephens himself was part of the wrestling community putting on exhibition matches in high school.
He has been a wrestling fan since the 1950s, watching Ronnie Mains, Dutch Savage and Tony Bourne run around in the ring.
"I remember when 'Rowdy' Roddy Piper first came up. He was a fine wrestler," Stephens said. "My whole family has met him. Nice guy and one of the first guys to make the sport as popular as it is."
He knew Matt Bourne when he was a young pup coming up.
Bourne is a 35-year veteran of the wrestling circuit.
This legend does not wear a fancy leotard or don a cape. His attire consists solely of Wrangler jeans and a lumberjack shirt – Even though he is in his 50s, Bourne can still fly off the top rope for his signature move, 'the flying elbow.'
He won his match by pin over 'Hexx.'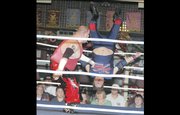 After his match, Bourne shook hands, signed autographs, took pictures with fans and shared conversations with just about everyone in the room.
"They are the reason why I still do this after all this time," Bourne said. "It is a joy to wrestle in front of real wrestling fans, especially the kids. We want to get them liking the sport early, just like I did."
It has also given Bourne an outlet of creativity and a chance to blow off some steam.
"I just love the feeling of flying through the air and landing an elbow in somebody's face," he said with a sly grin.
There are still six events scheduled this spring.
At 7 p.m. tonight, they will be at the Columbia County Fairgrounds in St. Helens. On Sunday, the crew will be in Beaverton at the KPTV/PDX Studios.
For more information on Portland Wrestling Uncut or for future dates, go to www.facebook.com/ PortlandWrestlingUncut.