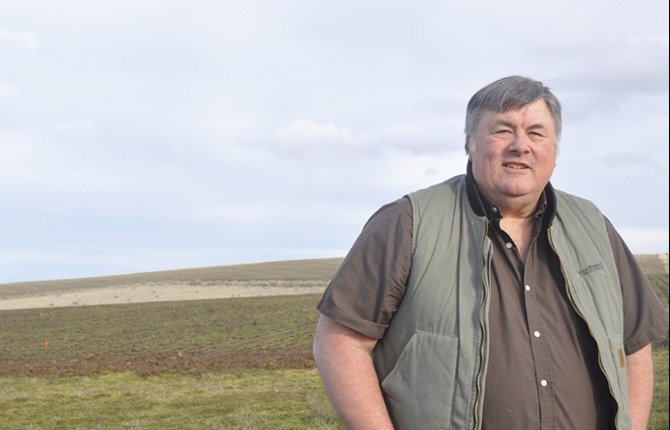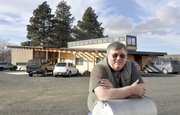 Sandy Macnab likes to tell folks he went to Oregon State University to get his schooling, then came back to the farm to get his education.
"Orville Blaylock [at 4 Kernel Ranch in Sherman County] was one of the most patient teachers I ever had and has been a strong influence in my life and career, even though he may not know it," Macnab said.
Macnab's career with the OSU Extension Service has been a long and varied one. It starting in 1979 when he was hired as an instructor. In 2012, Macnab was inducted into the National Association of County Ag Agents hall of fame, one of only 27 inductees, which also helped him earn The Dalles Area Chamber of Commerce Agricultural Achievement Award this year.
Though he spends most of his time in tiny Sherman County, the second-smallest county in Oregon (only Wheeler County is smaller), Macnab has been a full professor since 2002, something only 17 percent of the faculty at OSU accomplish.
A resident of Dufur, Macnab serves both Sherman and Wasco County as Extension faculty, doing what county Extension agents have done since the 1860s: bringing practical university knowledge to people where they live. It's something he doesn't do in a vacuum.
"If there wasn't cooperation around here, we couldn't survive," he said. He is also backed up by an army of specialists from OSU and what he describes as "a good system. I'd tell them what the farmers needed, they conduct the studies and I'd translate results back to the end users."
Being in the local area as long as he has, growing up in Sherman County, then working in Sherman and Wasco counties for the past more than 30 years, has given Macnab the chance to get to know individually the people on whose behalf he works and their needs, even those that sometimes go unstated.
"Doing good for the community — that's the bottom line," Macnab said.
In the world of Extension, Macnab is what's known as a generalist. His work touches on cattle and wheat, he has coordinated 4-H in the past, he and his Extension cohorts helped established some of the first hazardous waste collections in 1991, after a flood washed a bunch of empty drums down the a creek to the river.
"The success of the initial event and the follow-up eventually led to our Tri-County Hazardous Waste Collections," he said. "Since that has gone to the tri-county level, it has exceeded 1 million pounds of hazardous waste diverted out of the waste stream for proper safe disposal."
He also coordinated the Wasco County Bull Tour for 23 years, a social and educational highlight of the local agriculture community.
In Sherman County, he organized the Wheat and You class for fourth graders.
"In Sherman County, you've got to know something about agriculture," he said.
In the class, the students track the wheat market, talk about production, and learn how to find wheat on food labels and how many food products contain wheat, including one of Macnab's favorites, "RRL" (red rope liquorice).
"The last thing we did was made bread in a baggie," he said. The students would take the dough home to rise and bake.
The list of other activities is too long to incorporate here. Suffice it to say, he continues to keep his finger in a variety of pies.
"At one point there were 155 boards [Macnab counted them], agencies, councils and advisory boards for Sherman County," Macnab said. "Most were state-mandated. As county agent, I think I was involved in 30 at one point."
The best thing about his job, Macnab said, is "that it changes. Again, if I just did one thing, I'd be hard-pressed to come up with new ideas."
Sometimes those ideas are called upon at odd times in odd places, not just out in a farmer's field or at the Extension office.
"I've been stopped at 11 o'clock at night at the Safeway store in The Dalles — seriously," he said. He sees that accessibility as an important part of his Extension role — "being willing to do what I can, when I can."
While Macnab may find himself addressing specialized issues such as wheat stripe rust, vole infestation on no-till fields, or feral pigs (and now wolves) as they relate to agriculture, often he is called into service to serve as mediator or problem-solver.
He talks about the challenges of integrating various crops in close proximity and the challenges, cherries or wine grapes next to wheat land, for example, and how to keep the various growing methods from coming into conflict.
"Growers don't want to be bad neighbors," he said.
As far as changes since he started his career, Macnab said, "I think growers today are getting more specialized in their knowledge base. A lot have college backgrounds."
He points to the no-till group in Wasco County and the marketing clubs in both Sherman and Wasco as examples of where farmers have banded together to share knowledge and advance their industry.
Macnab sums up his philosophy this way: "I want to change the world, but I cannot force anyone to change. They have to want to do it themselves. I can only help them gather the tools for making the decision, but they have to weigh out the intangibles on their own."
He and his wife, Mary, have three adult children and now have two grandchildren.