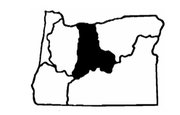 CENTRAL ZONE VIEWING
Jefferson and Crook Counties
Prineville Area
Winter conditions are present and recreational users and their pets should dress and come equipped for snow, ice, and potentially dangerous driving conditions.
The Prineville Reservoir Wildlife Management Area (WMA) offers winter wildlife viewing opportunities. With recent frigid winter temperatures many ducks, geese, and other waterfowl have moved to more temperate areas. The WMA and the north side access road are now closed to motorized access. Walk in or bike access is allowed and provides vantage points to view migrating birds and resident wildlife.
Waterfowl hunters and trappers may also be using the area and all users are encouraged to wear bright hunter orange clothing. Most trappers avoid using the more traveled areas along the north shore, but could be using remote upland areas and the south shoreline which is difficult to access without a boat or canoe. Dog owners should use care when using remote uplands or the south shore. A map of the area is available at the ODFW's Prineville Office and the Oregon State Park office located at the Prineville Reservoir State Park, or for more information, visit ODFW's Web site. 12/18/12.
Deschutes County
It's still a bit early, but scan the skyies for a glimpse of a large birds with a "V" shaped wing pattern and you could be looking at a turkey vultures as they start to arrive back into the area. You're chances of seeing one go up as the month progresses and we approach March.
Winter is an excellent time to view raptors around Deschutes County. Red-tailed hawks are one of the most numerous birds of prey and commonly seen on fence and power poles scanning meadows, sagebrush shrub steppe, and other open areas for a tasty rodent.
Stella's jays, white-headed woodpeckers, junco's, several sparrow species, ravens, spotted towhee, hairy woodpecker, cedar waxwings and red-cross bills are just a few of the species that can be found in the Deschutes National Forest and BLM managed lands. Good sites to look for birds include forest edges surrounding meadows and wetland areas. Those with patience and stealth may be rewarded by the call and possible sighting of a Virginia rail moving through thickets of cat tails.
Specific birding destinations to consider include Tumalo Reservoir (west of Highway 20 between Sister and Bend), Pelton Dam wildlife overlook and Lake Simstustus (Deschutes River northwest of Madras), and Hatfield Lakes (just north of the Bend airport), where you can expect to see. Canada geese, American widgeon, green-winged teal, bufflehead, ring-necked ducks, northern shovelers, lesser scaup, common and Barrow's goldeneye, multiple gull species, and various grebes including horned, eared, western, and Clark's.
Now that snow has melted at lower elevations, mammal activity will start to pick up a little. Squirrels may be seen on warmer days, and you might run into a black-tailed jackrabbit or two in areas where sagebrush abounds. Folks up and about in the early hours maybe treated to the sight of a coyote hunting for meadow voles and other small rodents in open meadows.
Some amphibian activity is occurring beneath the frozen surface of ponds, but for the most part, they will be absent from view for the next month or so. Likewise, reptiles are sequestered in their underground winter quarters and will remain there until warmer days return in March or April. 2/4/13.
Wasco and Sherman counties
The Lower Deschutes River can provide ample wildlife viewing opportunities. California Bighorn Sheep are frequently observed in the canyon and can provide fantastic viewing this time of year. The best spot to view sheep is from the BLM access road just downstream and across the river from Sherar's Falls (along Hwy 216). Other wildlife that may be seen along the river include the red-tailed hawk, American kestrel, Osprey, Golden and Bald eagles. Waterfowl are commonly observed on the river, and visitors can usually see many different songbirds and upland game birds that also call the canyon home. 12/21/12.