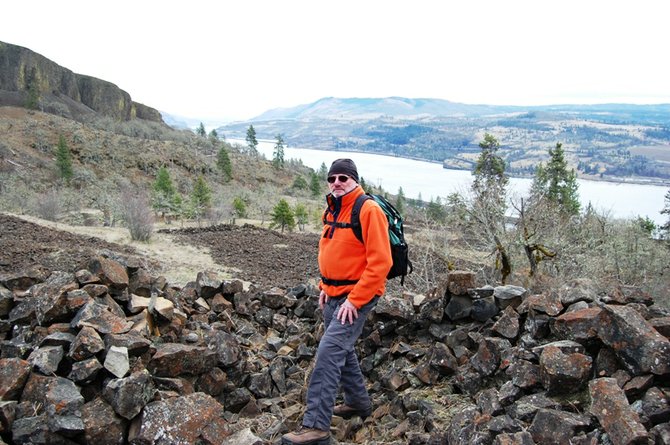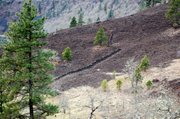 The Dalles — After hiking Washington's Catherine Creek Natural Area we usually drive west on Old Road 8 to where it connects with Hwy 14 and then head home. Over the years we have ignored a small trailhead coming in from the north just before Rowland Lake. This week we decided to see what we were missing. Well, we were missing a lot.
The area between Catherine Creek and the Mosier Syncline has had human activity for hundreds if not thousands of years. Native Americans have been active here for a very long time. In the 1900s, homesteaders began busily building homes, farms, ranches and other undertakings. Roads were a big problem back then. Highway 8 wasn't built until 1910 and Highway 14 didn't come along until the mid 1930s. That meant the homesteaders had to build goat-track roads up and over the walls of Rowland Basin and Mosier Syncline to be able to drive to Bingen and beyond.
When we started our hike we were beginning a walk through time. We were following the ruts of one of the original homesteader's roads. At 100 feet up the trail we encountered our first mystery. A very old cement pad, what looked like a cattle loading chute and an earthen platform supported by old growth timbers. Beside the trail were hundreds of irises just getting an early start on spring.
I've been around farm and ranch buildings for a long time and darned if I could figure out what I was seeing. It took a phone call to Marge Dryden, US Forest Service archaeologist for the gorge, to set me straight. This was a basalt quarry mining and crushing operation. The chute was to load trucks with crushed rock. The irises were an indication that there had been a home here.
Onward and upward, it was time to see what other surprises awaited us further up the trail. When I mean up on the trail I mean up. This track is steep, Dog Mountain steep; luckily it is not a long hike. In fact, after about half a mile, the trail levels off to a fairly reasonable rate of climbing. We are climbing towards Rowland Basin, a talus-strewn slope lying just below the basalt cliffs known as Rowland Wall.
The trail climbs over the edge of the basin and then flattens out as it heads north and arcs around the upper basin. Looking down we are stunned to see a very long rock wall crossing one of the talus areas.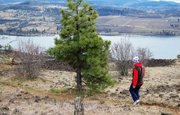 The wall seems to have no purpose as it can't hold anything in and can't keep anything out. But apparently whoever built this wall was driven, because it would have been difficult crossing the talus much less stacking the rocks. Looking around we could see more walls but none the size of the big one.
Standing in the middle of all of these piles of basalt rocks it is hard to see anything. Something like not being able to see the trees because of the forest. Soon enough, though, our eyes adjusted and we began to make out pits out of the piles of talus. At first we saw just one, it was about four feet deep and seven feet across. Then we began to see more. Then even more. At last count I was up to 13 or 14 of them.
Marge Dryden helped me out here, too. All of this rock work was done by Native Americans, probably before Lewis and Clark came floating down the river. We don't pretend to know why they were built, we can guess but don't know for sure. The best guess is that everything here was built as religious endeavors by ancestors of today's Yakama People.

This entire area is listed on the National Register of Historic Places. It is a significant archeological site. Please, if you visit this area do not disturb any of the pits or rock walls. Don't climb in them or over them. Don't give in to the urge to make your own pile of rocks, this just takes away from the knowledge of the original pits and walls.
A perfect time to visit here is May when all of the wildflowers are out. Don't forget your camera, binoculars, munchies and something to drink.