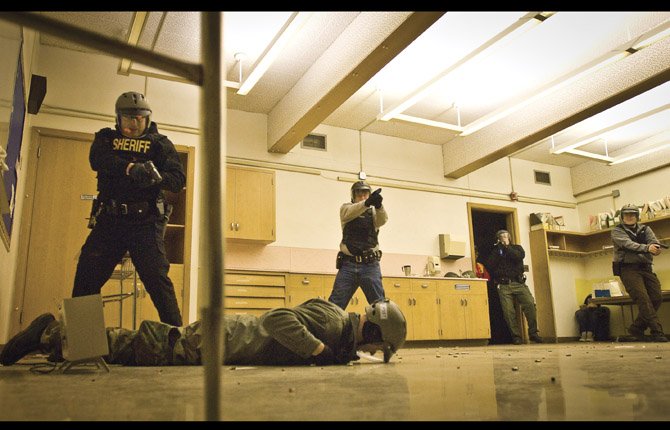 Don't shoot, don't shoot
Blog article and additional photographs on the training in "Eye of the Storm," a blog by Chronicle photographer Mark B. Gibson. Located under the Blog tab in the main menu or here.
The Dalles — Three girls huddled in the corner of the classroom, screaming. Just feet away, two shooters were firing rounds.
Drawn by the sound of gunfire, law officers burst into the classroom in a carefully orchestrated pattern, and soon both shooters were down.
This scenario, and others like it, were replayed over and over at the vacant Chenowith Middle School last week, where more than 80 officers from six area law agencies received training over four days in responding to an "active shooter" call.
An active shooter is a person who is engaged in a shooting spree, with the intent to commit mass murder. The term entered the public lexicon with the Columbine shooting in 1999 and gained renewed emphasis following the mass shooting at Sandy Hook Elementary in Newtown, Conn., where a shooter killed 20 first graders and six adults last December.
Lt. Mike Herbes, a regional/advanced trainer for Oregon's Department of Public Safety Standards and Training, led the course. A no-nonsense former prison guard who also served in the military, Herbes didn't mince words.
He talked about police tactics that didn't work, and listed better ones. He told officers when they got it wrong, and how to fix it.
Herbes also had some sobering statistics. Most mass shootings are over in seven minutes. At ones where only police respond, an average of 18.75 people die. When an off-duty officer or citizen intervenes before police arrive, an average of 2.2 people die. Those statistics were current as of November 2012, he said.
After a morning classroom session at the Wahtonka campus, officers headed to Chenowith for tactical training.
Some 20 role players — mostly high school students picking up community service credit — assisted with training. They either lay in hallways as moaning gunshot victims, ran away as scared "squirters" who might be confused for shooters themselves, or cowered in classrooms screaming for help.
A few adults helped too. Doug Brock, whose son is a SWAT team member, said, "This is about the most important training an officer can have right now, unfortunately."
Area officers found the training helpful. The Dalles Police Officer Josh Jones said, "It definitely increases the adrenaline when we have the multiple kids running around and screaming."
Sherman County Sheriff Brad Lohrey said the training was "very eye-opening" in terms of equipment the sheriff's
office needed "to make us safer."
Safety is key at trainings, and everyone who enters the training is scanned for weapons with a handheld metal detector. No outside weapons are allowed in, except for rifles, on which the bolt is switched out and replaced with one that will only fire "simunition" paint pellet rounds used in training.
After some dry runs, the dark hallways of the boarded-up, frigid school were a cacophony of sound, as role players screamed and trainers banged boards together to simulate gunfire.
Police in safety helmets with face shields moved down the hallway toward the sound of gunfire, pausing to check on bodies strewn in the hallway and yelling at others to lie down.
A key maneuver is entry to the shooter room, and it was a bit bumpy at first. "From the first scenario to the last scenario, [we had] 100 percent improvement" in tactics, Lohrey said.
If an officer got shot, that was "instant feedback" on what they were doing wrong, said Lt. Greg Peterson, a regional training coordinator for the state Department of Public Safety Standards and Training.
In one scenario, officers repeatedly missed seeing a shooter lying in the middle of the room, an AR-15 by her side. They had tunnel vision on another shooter firing at them from the far corner. To get an idea of tunnel vision, form small circles with each hand, and stack them in front of your eye like a telescope and look through. That's tunnel vision.
"You get tunnel vision in high stress situations," said Oregon State Police Trooper Mark Jubitz, who is also a trainer. "You get very focused on the immediate danger. The person shooting at you is what you're focused on."
Herbes stressed the key to entering a room is maintaining the element of surprise.
Officers have to keep numerous things in mind, from looking out for homemade bombs to ensuring when they shoot that no innocents are in the background.
One student, Aubrey Hansen, 18, a senior at The Dalles Wahtonka High School, got shot in the gut. She didn't remember if it hurt.
"I was just so scared because they weren't supposed to shoot me." She screamed and fell against a locker, instinctively covering her head. "It's OK. I signed up for it."
Ironically, she'd told the Chronicle a few minutes earlier, "Even when you're acting, a few of the scenarios get to feel pretty real."
Fellow senior Shaela Buchanan hid in a closet the previous day.
"They open the door and there's a gun in your face and they're like, 'Show me your hands! Show me your hands!'" She thrust up her hands as she recounted her immediate compliance.
Both girls said the training briefly made them consider becoming police officers, but not for long. "If it was always paint pellets, I'd be down," Buchanan said.