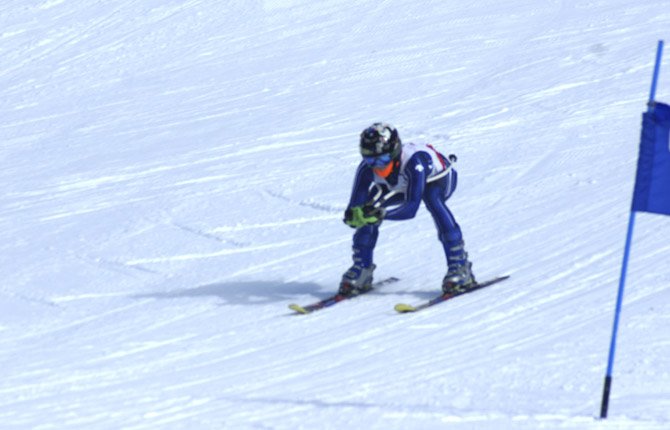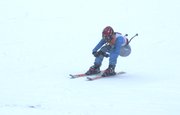 The Dalles — This The Dalles Wahtonka ski squad is moving right ahead with a state rally for a chance at hoisting gold.
Eli Holeman won for the fourth time this season and five skiers overall chalked up top-10 finishes during Mount Hood Ski League varsity action in last Saturday's giant slalom event on the Stadium course on Mount Hood Meadows.
Coming into skiing festivities, TDW head coach Jeff Cordell said the conditions were ideal on the first run, and then the winds created havoc on the field for the second attempt.
Even staked with these elemental changes, Cordell said the Tribe performed well by staying in good tight tucks.
With Holeman leading the way with two runs of 34.05 seconds and 34.57 seconds, the sophomore notched a 1:08.62 for top honors, less than a second (0.87) ahead of Hood River Valley's William Lamer (1:09.49).
Hood River's Ryan Colesar scratched across third place with his two-run marker of 1:11.59.
Eagle Indian senior Kale Underhill continued his meteoric rise up the charts with a personal record tally of 1:12.95 for fourth place in the standings.
Starting out, Underhill crossed the wire in 36.91, and then he capped his day with a rally of 36.04, fourth best of the 40 racers.
Four schools made up the rest of the top-9, and in 10th place was TDW skier Mark Jonson, who had solid runs of 39.56 and 38.86 for his combined 1:18.42.

Rounding out the Tribe competitors was Travis Diede, who kicked it into high gear with times of 41.67 and 40.62 for his 1:22.29, a finish just 13.67 seconds behind Holeman's top outcome.
Hood River Valley grabbed first place in the boy's team standings with a 3:34.48, and TDW claimed second place overall at 3:39.99, a mark 5.51 seconds behind.
Sandy High School (3:51.48) and Grant High School (3:51.78) finished in third and fourth place, respectively.
Those numbers had Cordell beaming about his boy's team and their progress made during the winter campaign.
"It was our second giant slalom of the season and our kids did really well," said the TDW coach. "Eli continues to dominate the field; Kale had a personal best and skied really strong. Mark J also had an outstanding day and continues to improve each week."
On the girl's side of the slopes, once again Hood River was the best on this afternoon with a 3:37.78 combined tally. TDW ended up 24.50 seconds behind HRV, with its 4:02.28 for second place.
St. Mary's Academy (4:03.71), Cleveland (4:03.91), Sandy High (4:14.72) and Grant (4:52.89) rounded out the rest of the standings.
Senior Maya Barnard-Davidson rebounded from her 13th place run on Feb. 9 and bobbed and weaved her way to a pair of runs of 37.94 and 37.53 for fourth place at 1:15.47, 6.62 seconds in back of individual champion, Hood River's Lucy McLean (1:08.85).
TDW's Bailey Cordell kept to her upward swing, following up her fifth place slalom rally on Feb. 9 with a combined time of 1:19.95 for ninth place last weekend.
On her first try on the course, Bailey Cordell churned out a 40.39 and then she ended with a 39.56.
Carsen Cordell helped keep TDW in second place overall in the season standings, as she tallied 14th place with a runs of 44.01 and 42.85 for a 1:26.86.
In all, there were 44 racers in the field, and the Eagle Indian trio of Alyssa Carrico (1:44.03), Emma Ell-Smith (1:56.47) and Zoe Ley (2:49.74) completed two runs to finish up in the top-37.
It is a good day when coach Cordell has his three main gunners putting out significant performances.
"Maya had a great race and so did Bailey," said the TDW coach. "The rest of the girls all finished well."
TDW finished out the regular season this past weekend for its final event, a giant slalom, on Reynolds run at Skibowl.
With the current pace staged by his team of 10, the coach feels the best is yet to come.
"Both boys and girls are poised to make it to state and we are expecting some outstanding personal results as well," coach Cordell said.
State action kicks off on for two days on March 7-8 at Skibowl on Mount Hood Meadows.