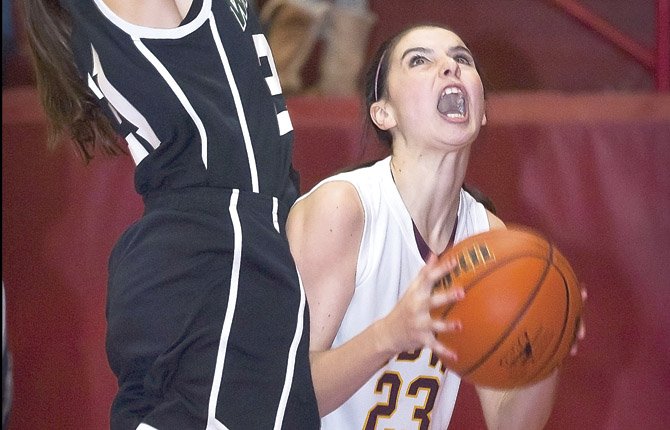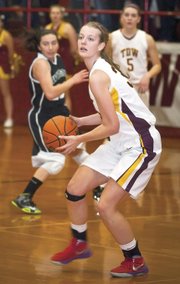 The Dalles — With 11 days between games, The Dalles Wahtonka senior Jessica Riggs discussed the importance of taking practices seriously while preparing for Wilson.
This group remained sharp and focused in those days leading up to game time, and it showed on the hardwood in a 46-28 victory over the visiting Trojans Tuesday night at Kurtz Gym in The Dalles.
"Just knowing we had this break and knowing it could make us or break us gave us a little more urgency," Riggs said. "We knew that if we took it lightly, it was going to break us and our season would be over. But, we took it seriously and we were able to get a win tonight."
With an emphasis on executing on offense, the Eagle Indian attack answered for 22 field goals from seven different players, as they outscored the Trojans in every quarter of play.
With Tuesday's effort, when the No. 9-ranked Eagle Indians (17-6 overall) score 46 or more points, they are a perfect 11-0.
Bailey liked what she saw on the offensive end of the court.
"This year we have been inconsistent offensively, but at the end of the year, we have improved," she said. "We needed to keep working on our offense and execute better. We did a good job tonight of doing that. We slowed down and controlled the tempo and made the right passes and didn't force passes, so that was important for our success."
Bailey had another all-around game, where she was an assist and a block from a triple double.
The Columbia River Conference Player of the Year finished with seven points, 11 boards, nine blocks, nine assists and four steals.
Of course offense was just one end of the spectrum, and TDW's bread and butter, the state's seventh-ranked scoring defense (39.3 points a game), went to work in holding Wilson down to just 13 field goals, five in the opening half.
"Our defense has always been kind of strong," Riggs said. "We knew coming in that this team was going to be quick, so we prepared for their quickness. We just played our game and won. We just stayed in it for the entire time."
In the first half, TDW twice held leads of eight points and broke open an 11-5 lead after one quarter with an 8-6 output in the second frame to jump ahead 19-11.
Up by eight entering the second stanza, TDW came out of the locker room in full force with Olivia Starks, who scored a game-high 16 points, nailing three consecutive layups to move her squad ahead by a 25-11 margin with five minutes and 31 seconds left in the quarter.
Once the third quarter buzzer rang, TDW worked a 12-10 split to lead 31-21 entering the final period.
"Our biggest issue is keeping up the intensity in the second half," TDW senior Shanelle Smith said. "I thought that we had even more intensity in the second half than we did in the first. I was really proud of our team. Everyone stepped it up and played hard. That is what helped us tonight."
For the first four minutes, of the final quarter, TDW put the finishing touches on the dominating performance with a 9-2 run.
In that rally, Smith hit a layup, Riggs drained a hoop and Starks added consecutive field goals to run the count up to 39-23.
Lori Cimmiyotti then hit 1 of 2 free throws, Riggs grabbed a pass from Bailey for a layup, and after 1 of 2 free throws by Wilson's Madi Lostra made it 40-23, Bailey hooked up with Riggs again and TDW was out in front, 42-23 with 3:09 remaining.
Amanda Cimmiyotti and Riggs capped the scoring with TDW's final two baskets – Riggs' hoop came with 37 seconds left and gave the team a 46-26 lead.
For the senior trio, Amanda Cimmiyotti finished with eight points, Riggs tacked on six and Smith chipped in with seven points.
As two of the three seniors on the active roster, both Riggs and Smith said it was important for this team to maintain its edge for the upcoming games so they could take the next step toward earning a state site berth in Eugene.
A road win Saturday opens that door.
"Since our coaches have been here, like 10 years, they have never been to Matt Court. I think we really want to get there because we have a lot to prove," Smith said. "We were high ranked at the beginning and then we moved down a little. A lot of people think we can't do it, but a lot of people here think we can. We need to prove to them and prove to ourselves that we have what it takes to get there."