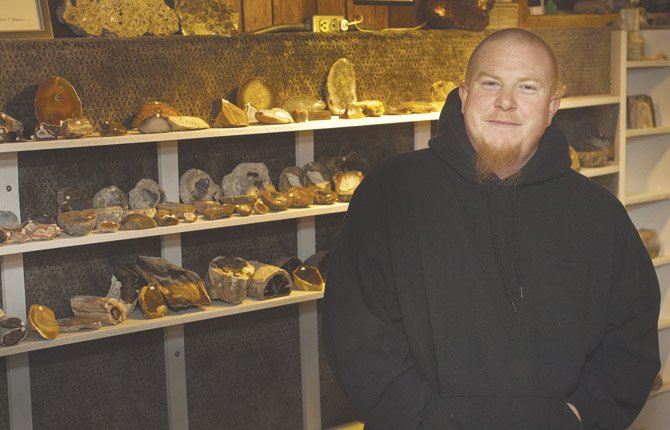 The Dalles — Like snowflakes, no two thunder eggs are the same.
That's what local expert Jason Hinkle loves about the rocks, which look plain on the outside but reveal beautiful colored centers when split open and polished.
"You never get the same one twice," he said. "I've cut well into tens of thousands if not hundreds of thousands and no two are ever the same."
When he can get away from his day job Hinkle has two mining claims in central Oregon that he works with hand tools. He also traverses the state in search of other thunder egg sites, as evidenced by a September 2012 article in Rock and Gem magazine that mentions how "our group of Wisconsin rockhounds happened upon thunder egg miner Jason Hinkle as he was in the midst of rediscovering three new varieties along a small stretch."
It is one of many times he has been referenced, quoted and even featured in numerous publications over the years.
Hinkle's geological passion started in middle school, when he took up an interest in gold prospecting. He never struck it rich, but when he was panning for gold he did pick up a lot of interesting rocks from the creek beds, and that's when he "got the bug" for rocks.
Eventually he became fascinated with thunder eggs, which are Oregon's state rock, and learned the art of cutting and polishing them.
"At first I cut anything I found but after a while I got more selective," he said.
Some of his knowledge came from picking the brains of older rockhounds he got to know and some was from reading up on the subject, but much of what he learned came through trial and error.
Now Hinkle has his own website, www.oregonthundereggs.com, from
which he sells thunder eggs to customers all over the world. He also sells
fossils, geodes, agates, crystals, cut spheres, jewelry and other items.
His second most popular item is obsidian for making arrowheads.
"Many customers just make them for decoration but some guys actually hunt with them," he said.
He is active on Internet forums and social media pages about thunder eggs and has cultivated friends from all over the world who share the same passion.
"Every year for the past three years a friend from the Netherlands has come and we travel around Oregon and prospect," he said. "A lot of people are looking for guides and I've done that a lot over the years, which has been interesting. I've met a lot of great people; maybe one day I'll return the headache and come visit them."
He swaps rocks with many of them so his personal collection as well as his inventory contain a variety of specimens — such as the large Brazilian "amethyst cathedrals" full of purple crystals currently in stock.
Hinkle looks for the best quality rocks to sell, but much of his personal collection is made up of what might be considered flawed specimens.
"I guess you could call me a freak collector," he said. "I enjoy the oddities."
For example, he picked out a thunder egg with a hole running through it. Closer examination showed the tube was six-sided instead of round, meaning that a crystal grew inside the thunder egg as it was forming but later vanished.
"It's unique what Mother Nature can slap together," he said.
Cutting and polishing can be fun, but Hinkle said his favorite thing is when he is out collecting new specimens. Sometimes he goes alone, sometimes he takes his father or a friend, but he loves spending time in nature and doesn't mind the hours-long hike it can take to get to some sites.
"I've seen a lot of back country that normal people never see," he said.
Hinkle said he loves rediscovering historical thunder egg sites that were forgotten over time. He used to have a goal of collecting a thunder egg from every site in the world but has since given up on the task — a daunting one considering Oregon alone has over 200 and more are being discovered here every year. But he does try to keep up with the Oregon sites.
Sometimes he thinks about quitting his construction job to hunt thunder eggs full time.
"But then I think that it would become work and I would not enjoy it," he said. "Now I can come home after eight hours of work and complain about it while I cut some rocks."