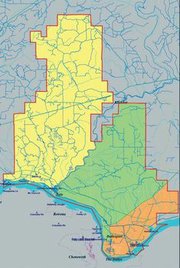 Goldendale — Lyle gets new school districts
By Andrew Christiansen, Goldendale Sentinel
New districts were on the agenda of last week's Lyle school board meeting. The redistricting, which was initiated by public petition last year, updates the division lines for the three school districts and changes the school board from a five-member board with all members representing specific districts, to a five-member board with three members representing districts and two members elected at-large.
The board voted to approve a new district map then drew names to assign members to the at-large positions. Tom Jellum will be the representative from District 1 (term expires in 2013) and Kathy Ginnett will represent District 2 (term expires in 2013). The at-large representatives will be Peggy McAnally (term expires in 2015) and Tria Bullard (term expires in 2013).
District 3 is an open position following the death of Jeff Eisland. The board is soliciting applications for District 3, due noon on April 12. Applicants need to submit a letter of interest with a summary of their connection to the school. Interviews will be held at the next school board meeting, April 18. Applicants need to reside within the boundaries of District 3 (see accompanying map).
In personnel matters, the board approved the hiring of Jen Machado for a 32.5 hour/week position that will pick up much of what Chris Barthlow did prior to his resignation. Machado was one of six applicants.
It was also pointed out that the contract for Superintendent Dr. Glenys Hill expires in June. Dr. Hill has been under contract for 55 days over 11 months. The proposed new contract is for 60 days over 12 months.
Dr. Hill discussed the school's situation during a meeting with The Sentinel prior to the school board meeting. "I feel really good about it," said Hill about the overwhelming approval for the operating levy during this month's election. Hill credits the levy committee for presenting a good case to the voters for approval of a levy calling for $627,000. The vote was 566 for and 381 against. The amount is $131,000 less than the amount asked for in two failed attempts to pass a levy during 2012. It is a two year levy, but the dollars don't become available until the spring of 2014.
Due to that delay in getting the funds, Hill points out that the school is not out of the woods yet. The school is under "binding conditions" which has ESD112 monitoring their budget. "We are required to have a balanced budget. Next year will be another tight year," says Hill.
Hill believes that the student population has been stabilized and there are a good number of students in the primary school. In fact two teachers and two paraprofessionals were hired at the primary school. There are currently 262 students in Lyle School District 406. Administration built their expectations for the year on an admittedly pessimistic projection of 220 students. While the numbers are encouraging, the district still lost approximately 50 students, compared to last year's enrollment.
This year the goal is for another balanced budget. Hopefully in the near future the school can rebuild its depleted reserve fund. They are still down in faculty numbers due to the cuts made over the past couple of years. The school continues to operate their athletic program with volunteer coaches. Hill says she wants to find a way to at least partially compensate the coaches. "They are an amazing group of people to do that (work for no pay)," says Hill.
Hill says she is pretty pleased with the current situation. "The main challenge is to have good quality programs." She says she wants the curriculum to be high quality so students don't opt to go elsewhere because of perceived lack of quality classes. "Our job is to provide a wide array of quality secondary programs."
Right now there are questions about federal funds due to sequestration, and many questions about state funds. Hill expects all of that to be resolved by end of March, at which time she will turn her thoughts toward another tight, but balanced budget for the next school year.
While the levy at Lyle was the focus of attention due to the previous failed attempts, two other schools passed levys this month. Kickitat passed a $90,000 levy at an estimated $2.32/$1,000 valuation by a 100 to 82 vote, and Trout Lake passed a $412,000 levy projected to be $2.80 in 2014-15 and $2.77 in 2015-16 by a vote of 269 yes to 117 no.