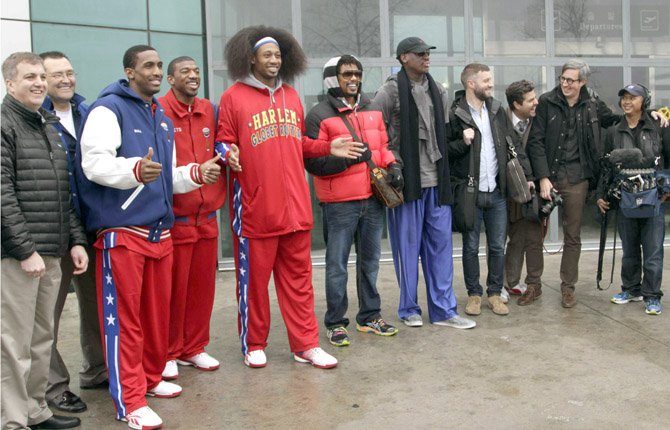 Benedict XVI leaves Vatican
VATICAN CITY (AP) — Benedict XVI has left the Vatican for the last time as pope, flying by helicopter to the Vatican's vacation retreat hours before becoming the first pontiff to resign in 600 years.
As his closest aide wept by his side, Benedict bade farewell to Vatican officials gathered in the San Damaso courtyard of the Apostolic Palace, a corps of Swiss Guards standing by at attention.
Benedict traveled by car to the helipad on the top of the hill of the Vatican gardens and boarded a helicopter along with his secretary, Monsignor Georg Gaenswein, for the 15-minute trip to Castel Gandolfo. Bells tolled as the helicopter took off.
Before leaving, Benedict pledged his "unconditional reverence and obedience" to his successor.
Cancer risk up in Fukushima
LONDON (AP) — People exposed to the highest doses of radiation during Japan's Fukushima nuclear plant disaster in 2011 may have a slightly higher risk of cancer but one so small it probably won't be detectable, the World Health Organization said in a report released Thursday.
A group of experts convened by the agency assessed the risk of various cancers based on estimates of how much radiation people at the epicenter of the nuclear disaster received, namely those directly under the plumes of radiation in the most affected communities in Fukushima.
In the new report, the highest increases in risk appeared for people exposed as infants to radiation in the most heavily affected areas. Normally in Japan, the lifetime risk of developing cancer of an organ is about 41 percent for men and 29 percent for women. The new report said that for infants in the most heavily exposed areas, the radiation from Fukushima would add about 1 percentage point to those numbers.
Manning enters guilty pleas
FORT MEADE, Md. (AP) — An Army private charged in the biggest leak of classified material in U.S. history offered guilty pleas Thursday to 10 of 22 charges against him and a military judge said she would allow the soldier to read a statement explaining his actions.
Pfc. Bradley Manning would plead guilty to sending hundreds of thousands of classified documents to the anti-secrecy website WikiLeaks, in violation of military regulations but not in violation of federal espionage laws.
The judge, Col. Denise Lind, must decide whether to accept the guilty pleas, which could carry a sentence of 20 years in prison. Prosecutors could still pursue a court-martial on the remaining charges, including aiding the enemy, which carries a potential life sentence.