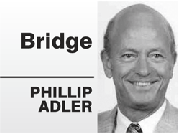 Henry Ford said, "If you think you can do a thing or think you can't do a thing, you're right."
Right — I think! And in today's deal there is not only a right suit to play first, but also a right way to play it. South is in three no-trump. West leads his fourth-highest spade, East puts up the jack, and declarer takes the trick with his queen. How should he continue?
South had six top tricks: two spades (given the first trick) and four diamonds. Looking no further than dummy's strongest suit, he played a club to the jack. However, East won with his ace and returned a spade. Declarer's 10 lost to West's king, and another spade dislodged declarer's ace.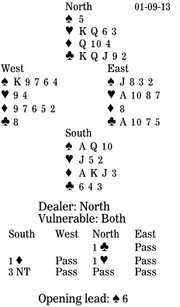 Unconcerned, South led another club, but West's diamond discard was a huge disappointment. Declarer won on the board and called for a heart, but East grabbed the trick with his ace and returned his last spade. The defenders took one club, one heart and three spades for down one.
Yes, South was unlucky, but if he had thought about a bad club break, he might have thought about the right line of play. He should have played a diamond to dummy and led a low heart toward his jack. Here, if East ducks, declarer wins the trick and shifts to clubs, taking two spades, one heart, four diamonds and two clubs. If East wins, South has two spades, three hearts and four diamonds.
Lastly, if West could capture the heart jack with the ace, a spade lead would give South a third trick in the suit. Declarer would have time to knock out the club ace and win at least one overtrick.