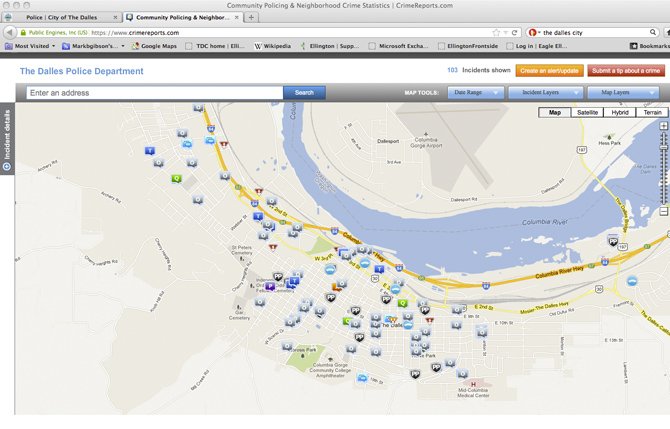 The Dalles — Residents of The Dalles can now keep track of what is happening in their neighborhoods by visiting the new crime map displayed on the city's website.
Police Chief Jay Waterbury said the map can be accessed by following the police department link at www.ci.the-dalles.or.us. Icons on the map reveal where sex offenders are living, along with their pictures and names, as well as information about assaults and other crimes that have taken place during the past 30 days.
"This is a good way for people to see what is going on in their neighborhood," said Waterbury.
He said regular traffic stops that do not involve any other offense are not shown and the location of major felonies currently under investigation or going through the criminal justice system are not shown.
"There are some things that we need to keep close but the majority of the cases we handle are going to be on there," he said.
Waterbury said the map will be updated as officers file reports so people can choose between just seeing one day's worth of law enforcement activities or tracking trends, such as car prowls, over an entire month.
"Hopefully, people will become more vigilant about what is happening around them and provide us with an extra set of eyes," he said.
Waterbury took the idea of posting the map home from a law enforcement conference a couple of years ago. He said it took some time to get the necessary software in place and the reporting system established but the program is finally up and running.
Although the final arrest numbers for 2012 have not yet been crunched, the chief said his officers handled 8,000 or more calls for assistance during the year; including two murders within a two-week period during the summer.

An investigation is continuing into the Aug. 24 homicide of Scott B. Erlenbush, 46, of Dallesport, but no suspect has yet been identified. Erlenbush died from blunt force trauma to the head and his body was found in the parking lot of AmeriTitle. His family has offered a $1,000 reward for information leading to the arrest and conviction of his killer.
Carlos Medina, 20, has been accused of killing Mark Anthony Labonte, 20, in the parking lot of Fred Meyers on Sept. 9 after the two men allegedly got into an argument that escalated into a physical confrontation. Negotiations for a potential plea deal are underway and no trial date has yet been set in that case.