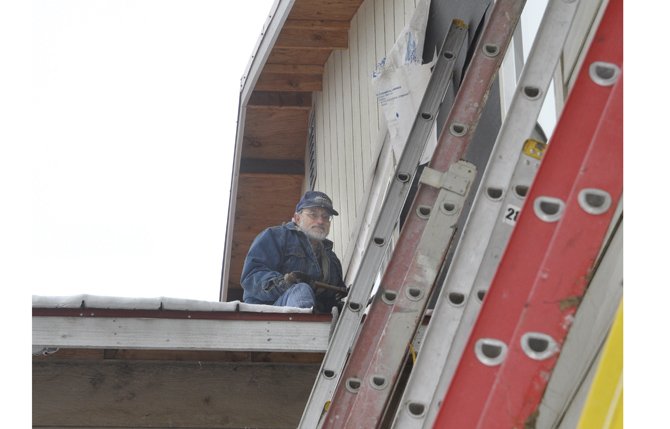 The Dalles — The temperature is well below freezing and snow is still fresh on the ground as Jack Gillis and his helpers head over to the Habitat for Humanity house on East 16th Street for a cup of tea and a break from cold outdoor construction work.
Gillis lives around the corner from the Habitat house, but is building a big house right next door. He started the four-level dwelling when he was 75. He's 83 now and the structure is coming together in his time.
"I built most of it myself," he said, holding his tea and standing at the mouth of the behemoth garage he designed to shelter a big boat-building project that can be seen just beyond the garage across the backyard at his current home on Thompson St. Right now it houses a variety of salvaged building materials and cabinetry.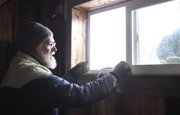 Walking through the construction, Gillis enjoys sharing the bargains he has ranged all over the Pacific Northwest and beyond to acquire: dozens of oak cabinets from Lewis-McChord military base, salvaged siding and beams, a three-and-a-half-foot door ("Easier for appliances to go through," he said) and a high-end kitchen range, among other things.
It's not the first home Gillis has built. He constructed an A-frame at the coast in the 1960s.
"But that was a lot different construction method," he said.
Gillis is retired from the U.S. Army Corps of Engineers after working at both Bonneville and John Day dams. He admits to being "mechanical" and clearly enjoys building things.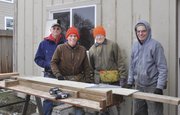 So do the half-dozen or so men who usually work next door at the Habitat for Humanity house, also currently under construction. When they had to take a break from Habitat house construction over the past few weeks, instead of sitting home and enjoying some cocoa by the fire, they decided to volunteer their services to help Gillis.
"We didn't realize it was going to be quite this big a job," Dave Neitling admitted, but they have soldiered on, working on the siding since Dec. 11.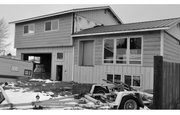 They started out by priming 1,500 square feet of siding. Among the helpers are Neitling, Walt Notter, John Adams, Bull Sherbon and Ron Fullmer. They are now finishing up under the eaves, where a row of a half-dozen extension ladders speaks to the group effort. They're on the finishing stages of the siding work, fitting in the small pieces high up at the top of the exterior walls, under the eaves.
But this neighborly effort isn't a one-way street. Gillis has volunteered his big lift truck to help with work on the Habitat house.
"While we're helping him, he's helping us," Notter said.