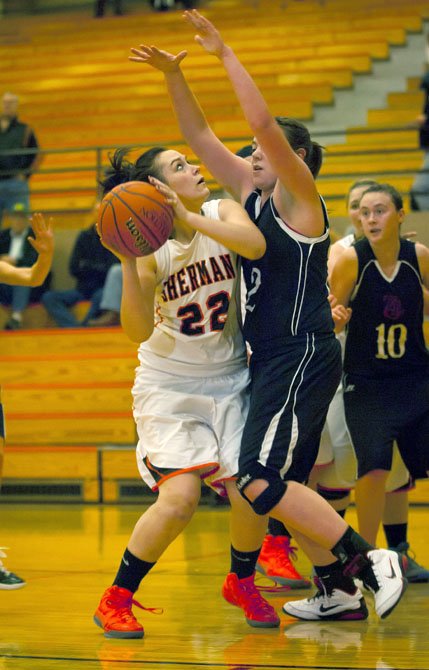 The Sherman Huskies won their second consecutive league contest and climbed to within one game of first place Dufur after posting a decisive 47-26 victory over Horizon Christian in their Big Sky Conference girl's basketball matchup Tuesday in Hood River.
As the game wore on, the Huskies displayed a little more dominance in their scoring advantage.
Sherman jumped ahead 9-4 after one quarter of action, but then added some distance after a 16-10 spurt in the second quarter to lead 25-14 at the break.
Up by that 11-point margin, the Huskies then put the screws to Horizon with a 15-6 output to run the count up to 40-20 with one quarter still to play.
Senior shooting guard Samantha Coons scored 17 points on 7-for-10 shooting and added five boards, four assists and three steals in 23 minutes of work.
Teammates Audrey Kaseberg and Shelby Kaseberg had seven points apiece.
Makenzie Blaylock chipped in with two points and five rebounds for the Huskies, who shot 15 for 37 from the floor and rattled home 15 of 34 free throws.
Leading the Hawks was the duo of Katie Tolbert and Kasia Nielsen with nine points apiece, as Horizon connected on 7 of 38 shots and committed 32 turnovers.
Sherman head coach Steve Kaseberg, even in victory, is still hoping for more from his experienced group.
"An inconsistent win for the Lady Huskies, but it was a league win on the road," said coach Kaseberg. "Sherman's girls had short stints where they played hard and positive things happened, but there were too many stretches of unforced errors and lack of intensity."
With a schedule of six games in the next 18 days, coach Kaseberg is hoping for some level of prominent play from his group.
Four of those games will be against teams at .500 or better, including two against South Wasco County and one versus Dufur, so finishing strong will help bolster the Lady Huskies' district seeding.
In order for that to happen, Kaseberg eyes a fundamental approach.
"We need to do a better job of playing intense basketball for long stretches of games, which in turn, will improve our consistency," coach Kaseberg said. "They (the girls) need to trust their own and their teammates abilities to keep us improving in the right direction."
Sherman (6-9 overall, 3-1 league) hosts Central Christian (2-9, 0-4) at 6 p.m. Friday night.